Too much pulled pork leftovers? Eight quick ways to use your extras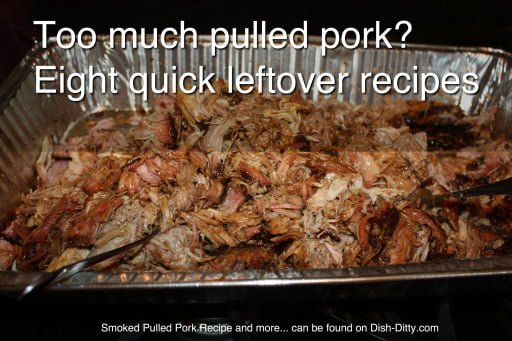 Too much pulled pork leftovers? Five Eight quick ways to use your extras
Move over Turkey, time for some great ways to use your leftover pulled pork (or roasted pork).  These are my top seven quick and easy ways to turn that delicious pulled pork into something new and exciting.
## First off, the best smoked pulled pork Recipe
You can find the best pulled pork recipe here on Dish Ditty…
#8: Top your baked potato…
For a nice lunch or light dinner, split a baked potato, add butter, pulled pork, green onions and top with cheese and sour cream. YUM!
#7: Mix it into your potato or macaroni salad
That's right, just add it into your favorite potato or macaroni salad.  Add some Old Bay Seasoning to give it an extra boost of flavor
#6: Make a Quesadilla
Use it instead of chicken in your quesadillas.  Here's how I make it: Spray some Pam in a skillet.  Add the tortilla and on one half put the shredded sharp cheddar cheese and the other half the shredded pork.  Cook on medium high until the cheese starts to melt.  Fold it in half (fold the cheese side on top of the pork side since the cheese is sticky and won't move around).  Continue cooking for a minute or two, flipping it occasionally to get both sides hot and to let the tortilla get crispy.
#5: Add it to your green salad
You can add it to your standard green salad, or try adding it to our Island Dreams Salad.
#4:Cook it with your Eggs for Breakfast
Scrambled eggs with pulled pork. Awesome!
#3: Pulled Pork Pasta Toss Recipe for 2
Pulled Pork Pasta Toss
Print recipe
| | |
| --- | --- |
| Serves | 2 |
| Prep time | 5 minutes |
| Cook time | 10 minutes |
| Total time | 15 minutes |
| By | Dish Ditty |
One of my top ways to use leftover pulled pork. The smokiness adds a fun twist to this pasta dish.
Ingredients
1 teaspoon olive oil
1 cup cooked pork (leftover pulled or roasted)
1 cup carrot (diced)
.25 cup green onions (minced)
1 cup Prepared Pasta Sauce (can be from jar or scratch, red or white doesn't matter)
2 servings of pasta
Directions
In a medium sized skillet, heat olive oil and add carrots. Cook carrots for about 2 minutes and add in the Pork and green onions. Continue to cook for about 2 minutes for the pork to get hot. Add the pasta sauce and cook for a minute or two or until the sauce is bubbly. Toss in the pasta and cook for another minute, coating the pasta fully with the sauce. Serve with Parmesan cheese.
#2: Add it to your rice pilaf or fried rice
Use it in your fried rice or rice pilaf recipe.
#1: Pulled Pork Chopped Salad
Leftover Pork Chopped Salad Recipe
Print recipe
Use your leftover pulled pork or roasted pork in this Leftover Pork Chopped Salad Recipe. A great use for excess pork.
Ingredients
1 cup cooked pork (leftover pulled or roasted, diced)
.25 cup onion (red, green or yellow, diced)
1 celery stick (diced)
.5 cup fresh cilantro (chopped)
3 tablespoons mayonnaise
.25 teaspoon Old Bay Seasoning
salt & pepper (to taste)
Directions
Seriously? You need instructions? Mix it together and put it on a bed of lettuce or put it on some bread.
Yum!  This is my #1 way to serve leftover pulled pork.
Pictures
(Visited 1,421 times, 57 visits today)