Cherri's Rolled Christmas Cookies
By : Dish Ditty | 0 Comments | On : January 2, 2014 | Category : Recipe Ditties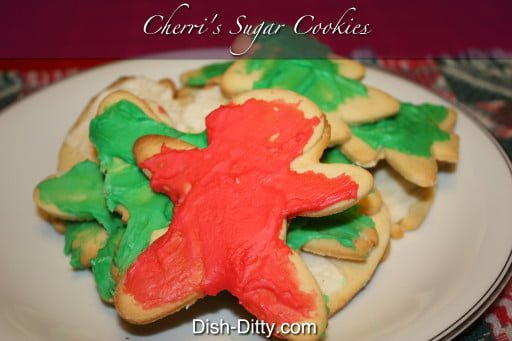 My mom got the base recipe from her friend many many many years ago.  The recipe has changed over the years, and this is the result.  On top of the many cookies that I look forward to each Christmas.
My sister Judy makes these every year and probably makes 200 or more each year.  She hands them out to her kids teachers, the classrooms, friends, etc.  These are not the sticky sweet store bought cookies.  Yummy!
Cherri's Rolled Christmas Cookies
Ingredients
1/2 cup Butter
1/2 cup Shortening
1 cup Sugar
2 Eggs
1 1/2 teaspoon Vanilla
3 cups Flour
1 teaspoon Baking Powder
1/2 teaspoon Salt
Note
Let your kids help decorate them with a simple icing and sprinkles. Our favorite icing to use for these cookies is from the back of the Powdered Sugar box.
VARIATIONS:
Christmas Wreath Cookies. Cut rolled dough with doughnut cutter. Brush with beaten egg and sprinkle with chopped nuts. Decorate with candied cherry rings and pieces of citron arranged to represent holly.
Coconut Cookies. Cut rolled dough with round cookie cutter. Brush with melted butter or margarine and sprinkle with shredded coconut, plain or tinted with food coloring.
Filled Cookies. Cut dough with round cutter. Cover half with Fig or Date Filling (p. 197). Brush edges with milk and cover with remaining cookies. Press edges together with tines of fork.
Pinwheel Cookies. Divide dough into two portions. Add 2 oz melted unsweetened chocolate to one portion. Roll each portion into the same size sheet, 1/8 inch thick. Place chocolate dough over the white dough and press together. Roll as for jelly roll. Chill thoroughly. Cut into thin slices.
Original Recipe from Margaret Strickland given to my mom, Cherri:
1/2 C Butter
1/2 C Shortening
1 C Sugar
3 Eggs
3 1/2 C Flour
1 Tsa Baking Soda
2 Tsps Cream of Tartar
1 1/2 Tsps Vanilla
Directions
| | | |
| --- | --- | --- |
| 1. | | In a separate bowl, mix the flour, salt & baking powder. Using a mixer, beat butter & shortening until blended. Add sugar, eggs & vanilla and beat until fluffy. Slowly add the flour mixture, stirring completely after each addition. |
| 2. | | IMPORTANT: Chill the dough in the referigerator for at least 3 hours. |
| 3. | | Preheat oven to 400 degrees. |
| 4. | | Working with 1/4 of the dough at a time, roll out on to a lightly floured surface (about 1/8" thick) and cut into desired shapes. NOTE: The dough will be sticky, you will need to flour the board AND the rolling pin and the cookie cutters. |
| 5. | | Bake on an ungreased cookie sheet for 6-8 minutes or until lightly browned on the bottom. |
Back of Box Buttercream Frosting
Print recipe
| | |
| --- | --- |
| Prep time | 10 minutes |
| By | Back of Sugar Box |
Ingredients
1 lb Powdered Sugar (aka Confectioners Sugar)
1/3 cup Butter
1/4 cup Milk
1/4 teaspoon Salt
1 teaspoon Vanilla
Directions
| | | |
| --- | --- | --- |
| 1. | | Beat all ingredients together until creamy. |
(Visited 22 times, 1 visits today)