It doesn't get any better than fresh smoked salmon. Simple and easy, this dish is perfect fresh off the smoker or the next day cold.

I use this Dill Smoked Salmon Recipe as the base for other dishes like smoked salmon ball, smoked salmon spread, and smoked salmon alfredo pasta.
Enjoy!
Dill Smoked Salmon
Print recipe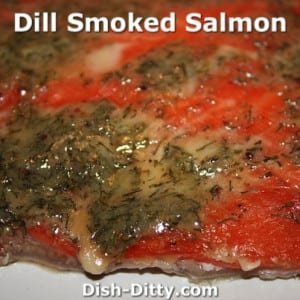 Ingredients
1 tablespoon Olive Oil
1 tablespoon Dill Weed
1 tablespoon Course Ground Mustard
1/4 cup Brown Sugar
1 Salmon Fillet (deboned skin on)
Note
You can refrigerate for up to 1 week after smoking or freeze for future use.
Directions
Step 1
Preheat smoker to the lowest temperature (about 180 degrees).
Step 2
Rinse salmon and pat dry with paper towels.

Step 3
Combine above ingredients and spread onto salmon. Put salmon onto tinfoil in a smoker. Smoke at the lowest temperature (usually 180 degrees) for about 1.5 hours. Depending on your smoker, you may need to pull it off at 1 hour. Remove from smoker and serve.
---