Sure, you can buy the crusts, and that's fine, but sometimes you need to make something a bit bigger, or a different shape, or you just want to make it yourself. The Oreo crust is no-bake and super easy, there really is no reason to buy it.
Recipe Source: Kraft Foods Website

Homemade Oreo Cookie Crust
Print recipe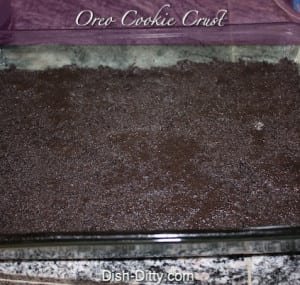 Ingredients
24 Oreo Cookies
1/4 cup Unsalted Butter (melted)
Note
Makes 1 pie crust.
Want to make a bigger batch like for a 9×13 pan? Just double this recipe. Easy.
Directions
Step 1
In a medium-sized bowl or a food processor, add the Oreo cookies and blend until the texture of coarse meal or crumbs. You can also put the cookie or cookie pieces into a large zip lock bag and use a rolling pin to crush.
Step 2
Add the melted butter to the crushed cookies and blend until well combine.
Step 3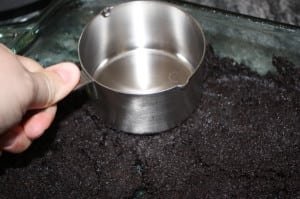 Place the ground crumb mixture into a pie pan and press onto the bottom and up the sides evenly. Try to make the crust about 1/8 inch evenly on bottom and sides. I use the back of a measuring cup to press the the Oreo mixture onto the pan.
Step 4
Refrigerate the crust for at least an hour before you add the filling of your choice. This will help prevent crumbling when you want to serve it.