Fresh chow mein at home is delicious and easy. Well, technically this is Lo Mein, but most people will consider it Chow Mein. I make this all the time for my family, and sometimes (like today), it's what we are eating for lunch. This recipe is made without meat, so it can go easily with any other stir fry dishes.
If you are looking for this recipe using Angel Hair Pasta, look no further. This recipe has been recreated for those who want an Angel Hair Vegetable Chow Mein Recipe.
Vegetable Chow Mein
Print recipe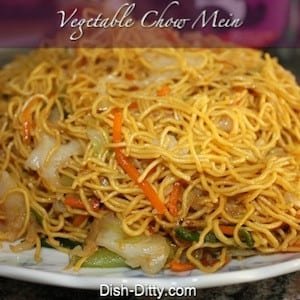 | | |
| --- | --- |
| Serves | 4-8 |
| Prep time | 5 minutes |
| Cook time | 12 minutes |
| Total time | 17 minutes |
| Region | Chinese |
| By author | Dish Ditty |
Fresh chow mein at home is delicious and easy. Well, technically this is Lo Mein, but most people will consider it Chow Mein. Delicious!
Ingredients
1 tablespoon Vegetable Oil
4 cups Napa Cabbage (shredded, more to taste)
1 cup Carrots (shredded)
1/2 bunch Green Onions (sliced in long thin strips)
1lb Fresh Steamed Thin Chow Mein Noodles
1 cup Chicken Broth
1/4 cup Soy Sauce (Light)
1/8 - 1/4 cup Pure Sesame Oil (To taste)
1/4 cup Panda Brand Lo Mein Sauce
2 cups Bean Sprouts (cleaned and trimmed)
Optional
2 cups Baby Bok Choy (sliced thin)
Note
Fresh steamed chow mein is only partially cooked and can be found in the refrigerated section at most Asian markets. If you can't find fresh chow mein noodles, then use the dried noodles by cooking them first and remove about 1 minute before the package directions. Drain them and rinse with cold water. If using fully cooked noodles, reduce the chicken broth to 1/4 cup.
Is this Vegetarian? Not as is since the Lo Mein sauce I use has chicken base in it and it uses chicken broth. To make it vegetarian, use a vegetarian Oyster Sauce, like this one from the same maker Vegetarian Mushroom Oyster Flavored Sauce, and mix 1/2 tsp of sugar with it and substitute vegetable broth for the chicken broth. Or, try using Miso base mixed with water as a substitution for the chicken broth. I just did this and it was amazing. I think it would be way better than made with vegetable broth.
Make it Vegan? That is much harder as the noodles are egg noodles.  You will need to find a vegan noodle that is thin like this one and that will hold up to a stir fry. You can try substituting rice or soybean noodles.  It will be good, but not chow mein like.
Can't find the Panda Brand Sauce? No problem, just use a standard oyster sauce, 1 tsp Better than Bouillon Chicken base, and 1/2 tsp sugar.
Directions
Step 1
In a large colander, run hot water through the steamed chow mein for about 30 seconds, separating the noodles and removing the excess flour. Set aside.

* If you don't have Chinese steamed chow mein, use Angel Hair pasta and cook the pasta for 2 minutes, then rinse with cold water.
Step 2
In large wok or pan, heat oil on medium-high and add green onions, cabbage and carrots. Stir-fry for about 2-4 minutes, or until the cabbage is wilted.
Step 3
Increase the temperature to high and add the chow mein noodles and 1/2 cup of chicken broth. Cook stirring and tossing constantly for about 45 seconds and then add the remaining chicken broth. Cook for another 1-2 minutes or so or until all the liquid is dissolved.
Step 4
Add the remaining ingredients, soy sauce, sesame oil and lo mein sauce. Continue to cook for another 2-4 minutes. Remove from heat and serve.
Step 5
Variation: You can also choose at this point to crisp the bottom by spreading the noodles on the pan and cooking on high for about 1-2 minutes without moving or stirring the noodles. Flip over onto a plate and serve.
Pictures