Wow your family with this delicious and fun Rice Noodle Recipe. It is a beautiful show stopper and is also easy to make. Serve with some roasted chicken and some stir fried chinese greens for an easy weeknight dinner. Or, do what we do, and have this as your main (and only) course.
Fried Rice Noodle
Print recipe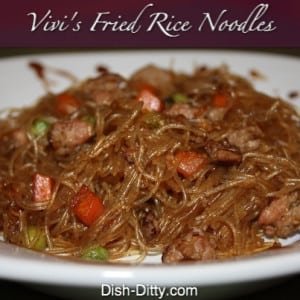 | | |
| --- | --- |
| Serves | 4 |
| Prep time | 35 minutes |
| Cook time | 10 minutes |
| Total time | 45 minutes |
| By author | Dish Ditty |
Ingredients
5 Packages Rice Vermicelli (7oz each, 35 oz total))
Water (to soak the noodles)
1 cup Marinated Meat (pork or beef)
1 tablespoon Sesame Oil
6oz Frozen Peas & Carrots
1/4 cup Light Soy Sauce
1 tablespoon Oyster Sauce
Note
Plan ahead and soak your noodles 1/2-1 hour before you plan on cooking.
Directions
Step 1
Place vermicelli noodles in large bowl or pot and cover with room temperature water. Set aside and soak for at least 1/2 hour and up to 1 hour.
Step 2
In wok or large chicken fryer, heat pan and add 1 Tablespoon of Sesame oil. Add marinated meat and cook for a couple minutes until meat is fully cooked. Add frozen peas and carrots, soy sauce and oyster sauce. Continue cooking on high for about 2 minutes or until peas and carrots are hot.

Step 3
Drain rice noodles and add to meat mixture, continuing to cook on high while folding continuously. See the pictures below on folding the rice noodles with the meat. Just take two wooden spoons or wooden forks and lift the noodles and meat from the bottom and lift up. Continue folding and cooking for about 3 -5 minutes until the noodles are no longer white, the meat and vegetables are incorporated, and the noodles are cooked. They will be shiny and clear. If the noodles are not clear, then they are not yet cooked. You shouldn't need any more liquid than what's listed above, but if it looks like you need liquid, just start with a couple tablespoons of water.

Step 4
Remove from pan and serve.