In February 2019, we took a family trip to Cozumel and stayed at the Cozumel Palace Resort. As far as Palace resorts go, a lot of people think it's small and automatically dismisses it since they think of the Moon Palace in Cancun and worry that there won't be enough to do or see. I hope to show you that this is a wonderful resort and worth going and spending time with your family.
Getting to Cozumel
First things first, Cozumel is an island off the coast of Mexico, directly across from Playa Del Carmen. There is a ferry that can take you from the mainland to Cozumel and back. In addition to the Ferry, there is a small international airport so you can fly directly onto the island. I strongly suggest getting a flight directly to Cozumel.
Flights from the US were easy to get pre-Covid. I am not sure about now, but I'm sure as the world starts healing, we will see more flights coming back to the island. If I had a choice of fly direct to Cancun or take a flight that has a stop/layover somewhere but fly into Cozumel, I would choose the latter.
If you fly into Cancun, you will need to take transportation to the Ferry (45 – 60 min), then manage your luggage, take the ferry to Cozumel (45-60 minutes), then take another car/bus to your resort (10 minutes). Many people do this, but for us, it just seemed like this would be daunting, especially with my elderly mother in law in tow.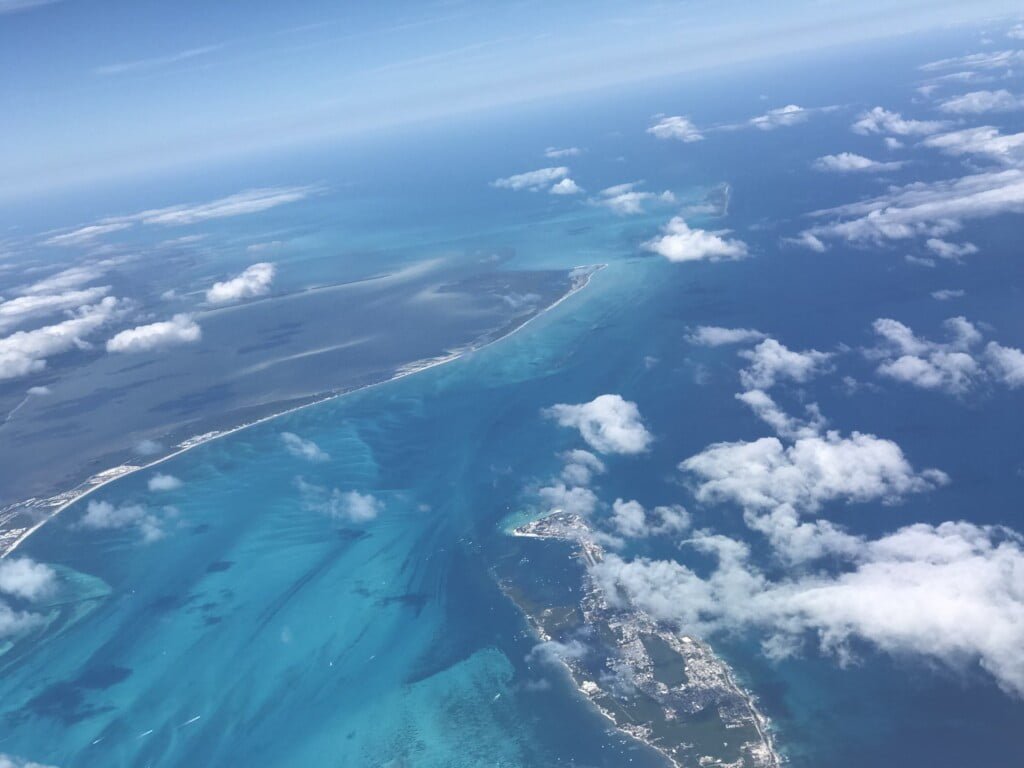 The airport is small and the customs line was a bit long. It took about an hour to get through customs. We booked through a member, so we had free airport transportation to our resort, Cozumel Palace. I will talk throughout this article about what you will get when booking through a member. For more information on booking with a member (which I definitely recommend), checkout my article The Nitty Gritty… Palace and Leblanc Resorts.
When booking as a VIP or Diamond member (we were VIP), you get the VIP checkin. No need to stand in lines and wait to get checked in. It's fairly quick, and you can enjoy a beverage or two in the process.
The Presidential Suite
Since we had 5 of us going, we chose to do a Presidential Suite instead of 2-3 rooms. This was a wonderful choice, particularly at this resort. The presidential suite has 2 bedrooms, 2 full bathrooms, 1 half bathroom, and a dining/living room that is huge. We put a cot in the living space for my son and put my mother in law and god-daughter in the bedroom with 2 double beds and a whirlpool tub. There was more than enough space for one or two rollaways which is great for a large family.
One of the bedrooms has a king bed, a full bathroom, a whirlpool tub, a sitting area, a refrigerator, tv, alcohol dispenser with 4 bottles (it varies, but there is usually a rum, vodka, tequila and whiskey) and it has a sliding door to the large expansive balcony.
The other bedroom has two double beds, a full bathroom, a whirlpool tub, a refrigerator, tv, alcohol dispenser with 4 bottles and it has a sliding door to the a small Juliette balcony (just large enough to stand on). Most of the rooms in this resort only have that small balcony, which is why the Presidential suite is well worth the upgrade.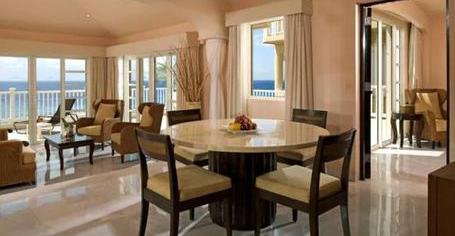 The last room is a dining/living room combo and has another refrigerator, microwave, coffee maker, alcohol dispenser, half bathroom, dining table, couch, tv, chairs, and sliding doors to the large patio.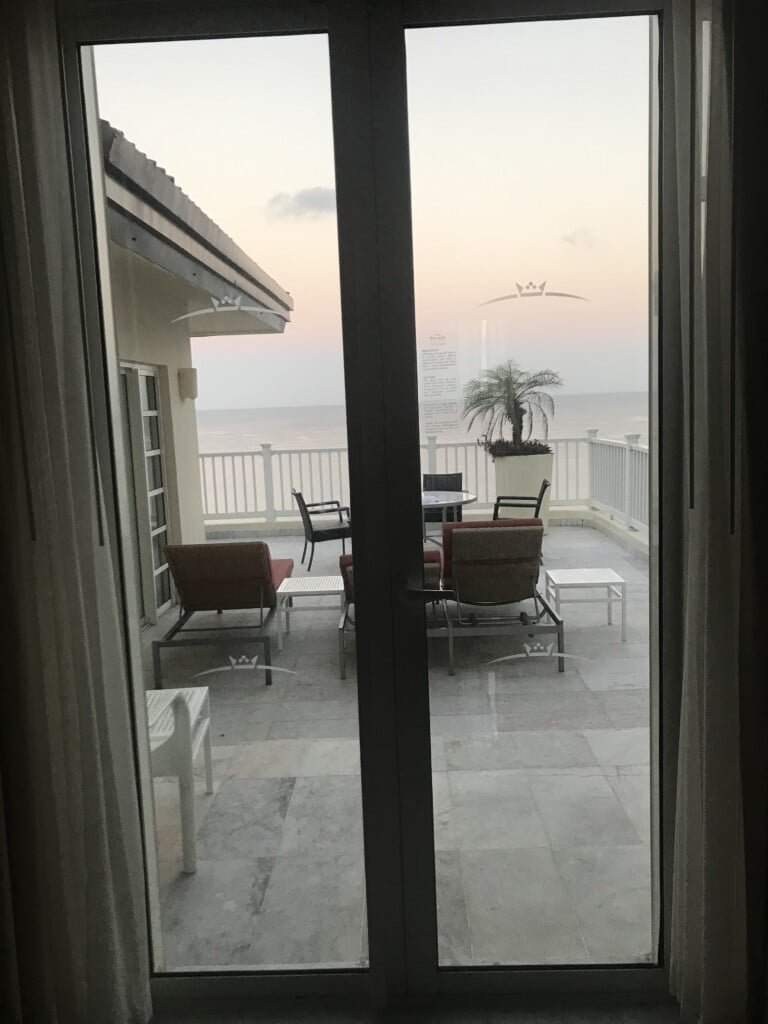 The main thing that sets this room apart, is the expansive balcony. It was wonderful to have outdoor space with several lounge chairs and a large table with 6 chairs.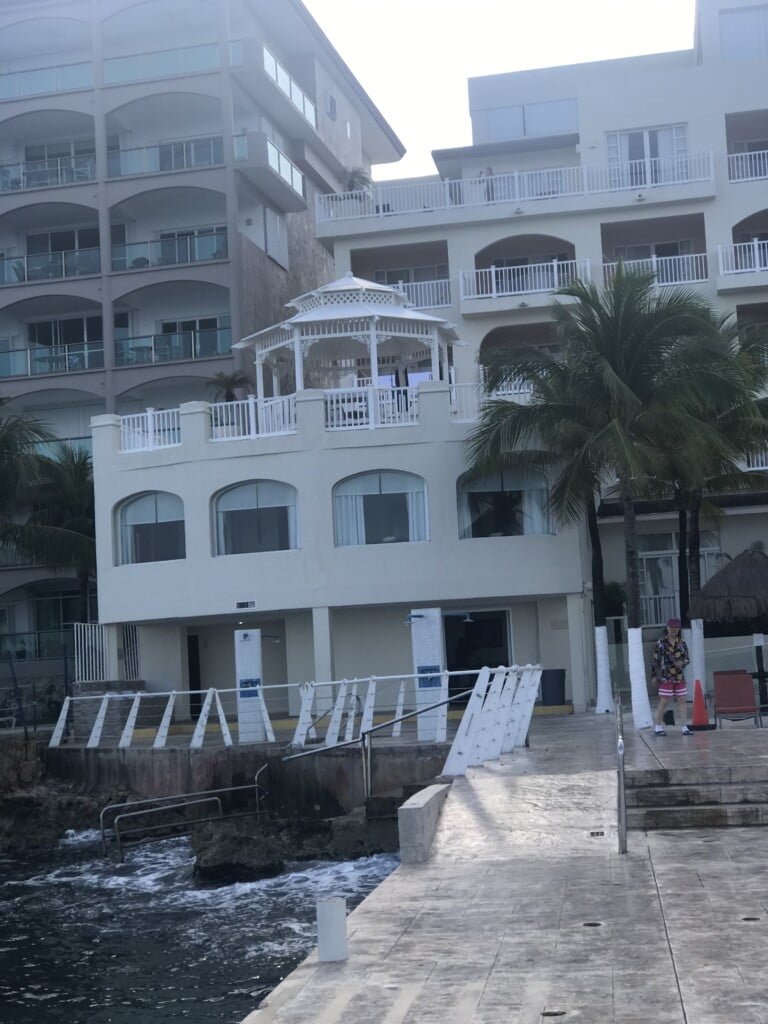 From the picture above, you can see that most of the balconies are pretty small. At best, there is a hammock. At worst, there is just enough room to stand on it. Most of the rooms are ocean view. There were some rooms that faced the street, so just make sure you get the ocean view rooms.
---
All inclusive! Alcohol, food, and more…
The great thing about Palace resorts, is that it is all inclusive. There is 24 hour room service that is FREE, multiple restaurants, alcohol in the room, bars all over the resort. The swim-up bars close around 5pm and don't open again until about 10am. The lobby bar, I believe, is open 24 hours. Not all the restaurants are open for all meals. Breakfast is a bit sparse. Only the buffet or the outdoor patio dining is available (as is room service). Lunch had more options, and at dinner, all the restaurants were open.
Tips are the one thing that is not included. So, if you can, be generous with the staff as they work for very low wages and really work hard to make your stay amazing. And especially with Covid, many of these workers did not have income for over half of 2019, and even after that, their tips were very low as occupancy was low.
The other non-included items are tours, fly boards, scuba, and food/alcohol upgrades. Don't fret. The upgraded food and alcohol is just a small set of expensive items like lobster, tomahawk steaks, expensive wines, and upper echelon liquor. Things like Grey goose, jack daniels, etc. is not considered an upgrade.
---
Extras when booking with a member
When you book with a member, you can expect a few upgrades:
Free airport transportation
2 Free tours (the tours are set by the resort) – at the time we went it was a snorkeling tour and the stingray beach. Both were fantastic.
Free manicure
Free pedicure
Free 20 minute massage
If you book and have a VIP (black) band, you can expect all of the above, plus the following:
1 bottle of premium alcohol per room (we asked for Malibu rum). I'm not sure if this is per day or per room. At the time, we were able to order multiple times.
VIP area access (pictured below): This is a sandy area that is next to the dive area. There isn't any pools nearby, but there is access to the ocean. However, the access there does not have a lifeguard.
Resort credits, if booked through a diamond member; or if booked through a VIP member and traveling at the same time as that VIP member
If you book through a Diamond member and travel with them (white diamond band), then you can expect all of the above, plus the following:
Restaurant reservations for all restaurants
Reserved pool chairs
Up to 3 bottles of premium liquor delivered to your room (not sure if it's per day or per stay, the rules have recently changed)
Diamond concierge to help you with your reservations
If you don't book with a member, don't fret. You will have an amazing time. Also, the black band really doesn't do a lot for you at this resort. The main thing is the VIP area, but I didn't feel like we got great service there as it is so separated from the pool/bars. The diamond band would be desirable just to get the reserved pool chairs, assuming that is still offered.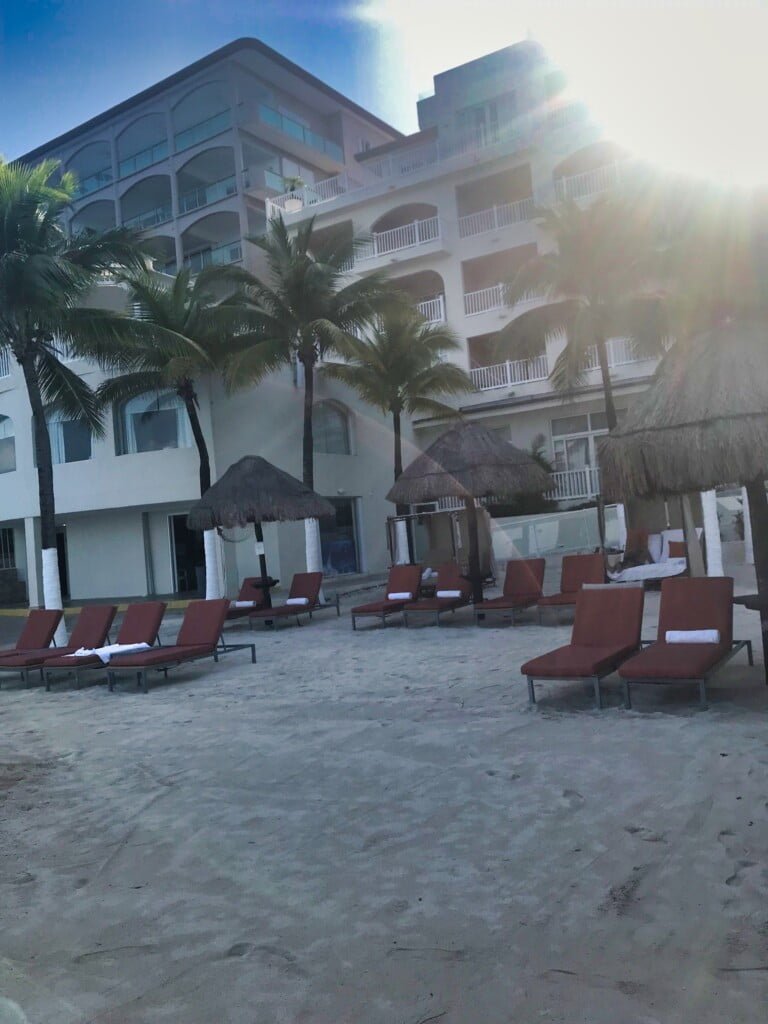 ---
It's all about the FOOD!
The best thing about Palace is the food. There is enough variety so that most people will find something they love. The resort is very good about handling allergies. As all palace resorts, I'm not sure the Vegan options will suffice for a weeklong stay. They have options, just not plentiful.
TURQUESA Buffet *breakfast/lunch
For breakfast and lunch, this restaurant is their International Buffet. You will find a lot of options. The menu changes daily, but some things are offered regularly like omelettes at breakfast and hamburgers at lunch. The buffet is extensive, but not as large as the Grand buffet.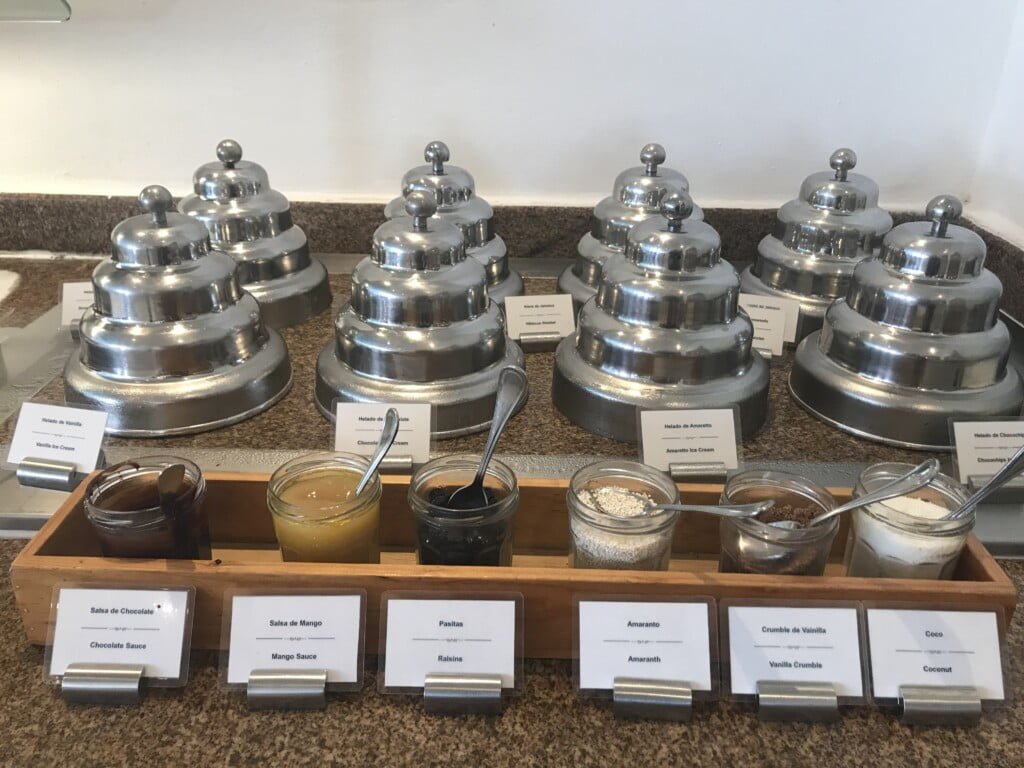 TURQUESA Italian *dinner only
The International buffet is turned into an elegant dining experience for dinner. There is a dress code for dinner, so be sure to check. Collared shirt, shorts, and tennis shoes are ok. But, it's a nice restaurant for having a dressed up night out. I thoroughly enjoyed this restaurant. I don't remember what we ate, but I just remember everything was so so good. And the best thing? The chocolate martini was to die for.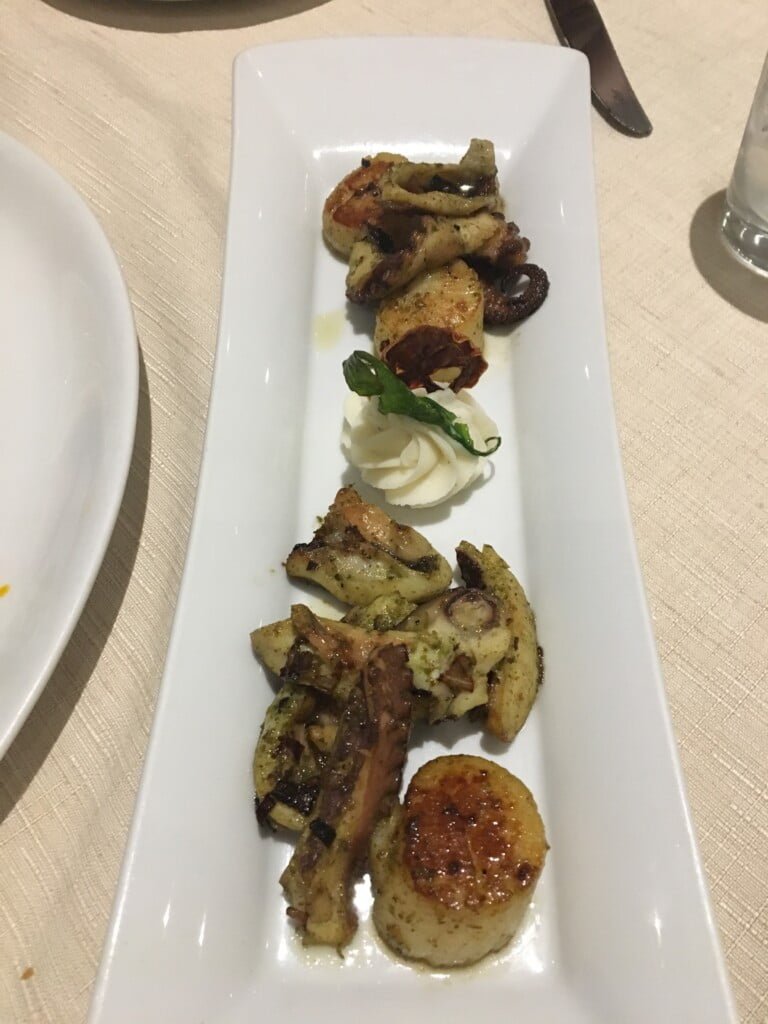 Agra Mexican *dinner only
I don't remember going to Indian food, so I'm not sure if this was open at this resort when we went.
Bugambillias Mexican *dinner only
A beautiful representation of Mexican food. The blue corn tortillas are made by hand right in front of you in the traditional way. We had a delicious dinner here. I had broken my phone by this time (yeah, it was destroyed while free diving while snorkeling, the pressure was too much), so there are no photos of the food we had.
MOMO Asian *dinner only
By far my favorite restaurant. The menu was quite extensive and the drink menu was just as creative. Beautiful and delicious asian food. The sushi was fresh and delicious.
Flamingos Poolside *lunch
From 11a-5p, this poolside restaurant serves an array of snacks and lunch items including fish tacos, burgers, and more.
Flamingos Poolside Pizza *lunch/dinner
You can get pizza cooked in the brick ovens from 1p-9p. The pizza is a thin crust pizza with many topping choices. I felt the pizza at Leblanc Los Cabos was way better, but I prefer the thicker crust pizzas. Definitely great for the kids.
Flamingos Buffet *dinner
The outdoor space is transformed into a dinner buffet. They had some delicious options on the night we went here. A lot of people like to have dinner and then just stay for the evening show, as those are performed right next to this space.
---
Spa
The spa here is not at the level of the Moon palace or Leblanc. The waiting area is just chairs in the lobby. There isn't a hydrotherapy, hot tub, or any of the relaxation areas in the larger spas. They offer massages, facials, wraps, manicures, pedicures and hair stylists. We had pleasant services, nothing extraordinary. They didn't allow under 18 to get massages, so my son wasn't able to get a massage here (he was able to get the manicure and pedicure).
---
Tours & Activities
We utilized the free tours that were available and did a couple other activities, I'll give a quick rundown of the activities we did. I think the best part of Cozumel is that it was so much safer than Cancun or the other touristy areas of Mexico. The crime rate there is so much lower, and I felt comfortable wherever we went.
Jetpack
The cost of the Jetpack was $95 resort credits plus $15/cash for 30 minutes (the cost has likely changed since then). My son and god daughter did this many time and had a blast. It takes at least one session to get the hang of it. Then you can start learning the tricks.
You are taken via jetski to another jetski that is a couple hundred yards from the docks. That jetski is what is being used as the propulsion for the jetpack. The jetpack attaches to your feet and the water jets shoot out from there.
Stingray Beach
This was one of the free tours. It is just a mile or two down the road from Palace resorts and it's close to the ferry. If you like being in the ocean and getting up close and personal with the ocean wildlife, this is the tour for you.
The tour is broken into two parts. One part is the education portion where you get into the water near the shore where you can stand and the guide will tell you all about the stingrays. You will get to touch the stingray and get a picture with it (taken by the resort).
The second portion is the snorkel part where you swim in their enclosed ocean site. They have stingrays, pretty fish, sharks, and more here. This was a lot of fun. But note, it is the ocean and not a pool. This is where I destroyed my phone. I forgot I had it in a water proof case and dove down and that was just too much pressure for my old iPhone 7 plus. It kinda worked after that, but the screen and cameras were wonky.
Cozumel Snorkel Adventure Tour
This was the second free tour for booking through a member. As I am a sucker for a good snorkeling trip, I couldn't say no to it, especially since it was free. This trip took you via boat out to the snorkeling area that is near all the cruise ships. This was pretty sad to see how close these cruise ships sat to this amazing display of marine life. I'm curious how the ocean life is rebounding during this pandemic since the cruise ships are mostly non-operational.
As for this tour, the boat will pick you up on the dock at the Cozumel Palace and drop you off just past the cruise ships. You will snorkel along the shore and see beautiful fish and some interesting corral. The snorkeling is about an hour to an hour and a half. The total trip is less than 3 hours long.
And in conclusion…
This is a fun small family resort. I highly recommend it. Just be sure you know that most rooms don't have more than a tiny balcony. If you can afford it, upgrade to the presidential suite. It is definitely worth it. Enjoy!