I just recently came back from a quick trip to Joshua Tree National Park and thought it would be best to put down my thoughts and experiences from the trip.
Before you go… PREPARE!
If you read only one thing, read these tips. Always be safe and prepare before you go…
DOWNLOAD your MAPS! There was NO CEL COVERAGE IN THE PARK… at ALL… Having all the maps downloaded on Google maps was so helpful. Safari doesn't allow you to download the maps, but Google does. I did notice that when I was in/out of zero to no bars, that Google would still try to get the maps from the cloud. I found putting the phone temporarily in Airplane mode forced Google Maps to use the downloaded maps. I downloaded the whole trip in like 9-10 different downloads.
Definitely purchase an America the Beautiful pass 6 weeks or so before you go. This will be used at all the National Parks, National Monuments and also at Sedona Red Rock Parks that use parking passes. If you are only going to Joshua Tree National Park this year, it might be ok just to pay for it at the entrance, up to you.
If you are going for more than a couple days, buy a couple one gallon bottles of drinking water and then bring a Brita water filterer so you can refill those gallon bottles with drinkable water wherever you are.
If you are hiking, pay for the AllTrails Pro subscription so you can download your maps locally. Do not try downloading all the maps at one time or AllTrails will crash (I'm speaking from experience). Download the trails the day before you go and delete the downloads when they are no longer needed.
If you want to start using the points game, I suggest taking the free course at 10x Travel and utilizing the facebook groups for 10x Travel and The Points Guy. There are lots of chain hotels in Palm Desert, Palm Springs and surrounding areas which can utilize points.
Always bring extra water with you. There are a few water filling stations (one at the west entrance).
Always use sunblock. I bought some travel sun block to keep in my hiking bag and car just in case I forgot to apply it or ran out. I found I needed to reapply at least once during the day.
Wear a wide brim hat with a strap to keep it on your head during the big gusts of wind. This hat saved my head, face, shoulders and chest from getting sunburned.
There isn't any food in the park that I could find, so make sure you have enough food for your day of hiking and exploration.
First things first, we went the first weekend in May and it was a bit warmer than I like for hiking, but it was a trip I didn't want to miss just because I might be 'too hot' lol.
We live about 7 hours from Joshua Tree NP. Initially our rooms were booked for just Friday and Saturday nights. But, we decided to leave after work on Thursday and drive part way, get a cheap room on points, then continue on Friday morning. We were able to leave a little earlier than planned and decided when we were half way, to just go all the way and change rooms from Bakersfield to something closer to the park.
The original hotel booking was a Hyatt in Bakersfield. I went online to the Hyatt app and was able to cancel that booking (at 6p the day of the booking) and still get my 8,000 points refunded (wow, I expected to lose them). Then I booked a room at the Desert Oasis in Cathedral City, which is about an hour from the park. The cost of the room was 15,000 points. The shocker to me was that this was one of Hyatt's vacation properties so we had a full kitchen and living room in addition to our king size bedroom.
We arrived really late (around 11p) and the front desk was super nice. The grounds looked pretty, but there was one main issue about the property that made me a bit uncomfortable and surprised. The building entrances did not have any keycard or key locks, they were completely unlocked for anyone to enter. This is very unusual and I am a bit surprised that this is the case. The rooms of course have locks and extra locks for safety, but this is a big safety hazard. Other than that, it is a nice property and I would potentially book again.
We woke up early in the morning, packed up and went straight to the park (unfortunately leaving our luggage in our trunk while we hiked). The drive was just ok, some areas were pretty, but for the most part it was pretty desolate and not much to see.
Desert Queen Mine and Eagle Cliff Boulder House trail
Desert Queen Mine and Eagle Cliff Boulder House on AllTrails
This was our first hike of the day. The All Trails navigation did not match up with the actual trail and was off between 5-20 feet at different times of the trail. Having the All trails app in navigation mode helped make sure we went back the right way (it would have been very easy to get lost at this location). Less than a mile in, there is this cool set of ruins of a house. I'm guessing this is the "Boulder house" part of the trail. Definitely a cool point of interest.
From there we went to a hillside that had several old mine shafts and some old abandoned mining equipment. All the mines had been blocked from entering. Super cool to explore. After a while we decided to turn back and go on to the next trail as it looked like the trail was getting very narrow with a drop off cliff (not my cup o' tea). Again, using the All Trails navigation was helpful to make sure we got back to the car.
Skull Rock Nature Trail
Our next trail was Skull Rock. This is a very popular stop as Skull Rock is right off the road. Lots of parking in and around skull rock right on the road. However, this was a Friday and not the weekend, and I am sure it would have been tough to find parking on a Saturday or Sunday mid day.
Most of the people were just at the rock and surrounding area. We started at the Skull and then worked our way through the trail, which lead through the campgrounds and then across the road to the other part of the trail. I enjoyed this hike a lot. Even though it was pretty hot and there wasn't much shade (I bounced between the little shade available), there was a lot of wildflowers and cool rock formations. Also lots of lizards and a few eagles. Not a tough hike but a few areas where a little careful footing is necesary and one spot where we had to squeeze up and through a small canyon. Not too difficult (I'm a wimp, so if I can do it, most can).
I recommend this trail for sure… however! Please please start your all trails navigation when you start. Before we went to the skull rock we stopped at one of the bathrooms (well port-a-potty) and a group of 4 women stopped us and asked for help. They had gotten lost when hiking skull rock and had already walked 7 miles. OMG. None of them started the all trails app and they were just lost. We drove 2 of them to their car, which was where we were going anyways. So, please don't take it lightly. It is pretty easy to get lost since most of the rocks and terrain look very similar.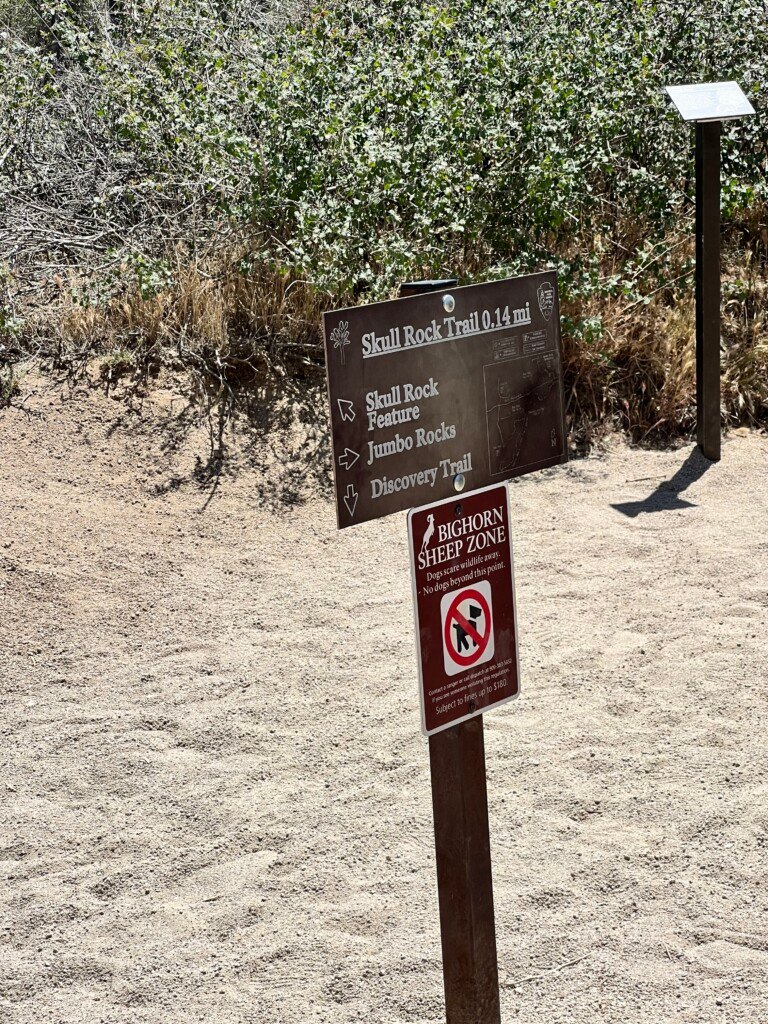 Arch Rock and Heart Rock trails
Arch Rock Trail on AllTrails
This was the end of the day for us and I was quite done. We had been in and around the park since 9:30a and it was after 4:00p when we started this trail. Definitely and easier trail to do as there is little to no elevation. Just sun sun and more sun. The rocks are cool and all, but I probably would have liked this better earlier in the day. It was closer to 2 miles by adding the heart rock portion of the trail (which has one small section where you need to go down and up a small incline). Overall an accessible trail and worth the hike, but maybe not at the end of a long day.
Wall Street Mill Trail *FAVORITE*
Wall Street Mill Trail on AllTrails
This is probably my favorite of the trails we did. It had more of the iconic Joshua trees and so many cool interesting things to see along the trail. Some of the trail was soft sand which was not ideal. Also, you can park at the entrance to Wall Street Mill and not where all trails points you. As you enter the first parking lot, you will see a sign to "Wall Street Mill", take that and it'll save you a mile or so of hiking. Honestly, that mile of hiking was pretty and also had some nice views and things to see, but it depends on how much time/energy you have.
Along this trail you will see an abandoned house, abandoned truck and at the end, an entire gold stamp mine along with a lot more abandoned cars and equipment. Super cool and interesting to explore. Give yourself some extra time on this trail to find all the gems.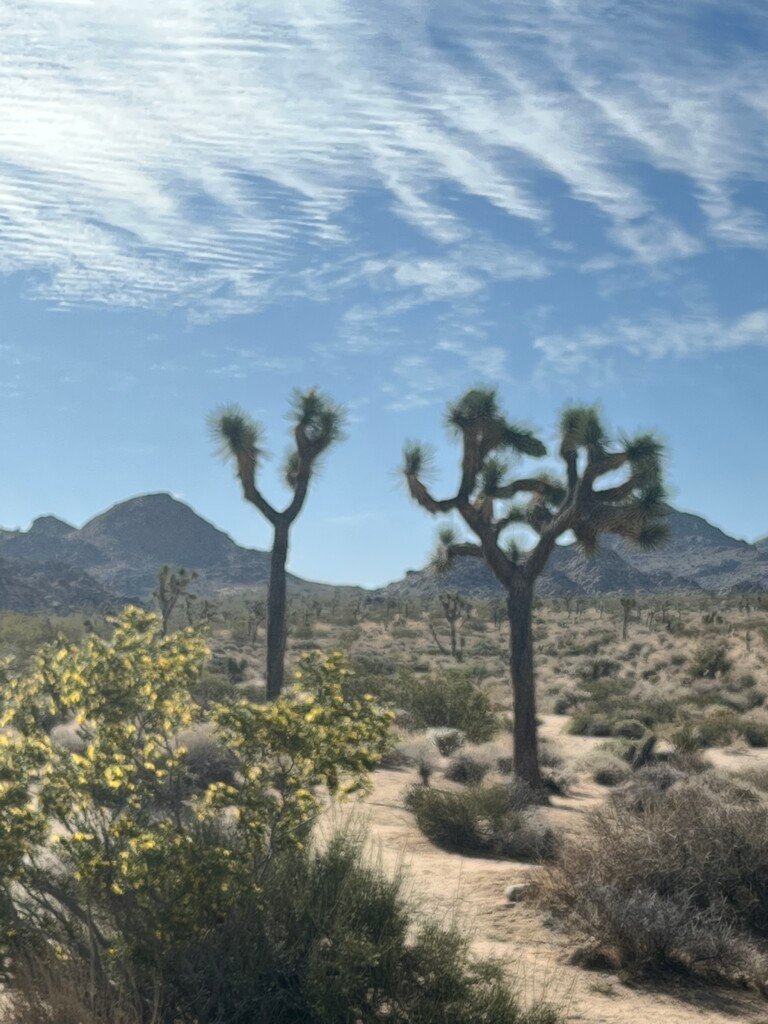 Keys View Lookout
Keys View on AllTrails
We were looking for a different view and lookout spot, and drove to this one. It is quite a bit off the beaten path, but is a nice drive. It is a pretty view and worth the quick stop.
Cap Rock trail **Short family friendly nature trail**
Cap Rock on AllTrails
On the way back from Keys view, we saw this stop and decided why not! I have to say that this is probably a must stop. Some of the most beautiful flowers were here on this super easy, family friendly accessible nature trail. Lots of plaques to help you understand the desert landscape and just a beautiful walk around Cap rock. Definitely worth the short hike.
Cholla Cactus Garden *DO NOT GO OFF TRAIL! DANGEROUS!*
Cholla Cactus Garden on AllTrails
This is a special kind of cactus that has a great defensive mechanism, it SHOOTS it's SPIKES at ANYTHING including YOU!
If you follow the trail and don't try to take pictures right next to the cactus, you will be fine. The stupid people who put their kids next to these plants to get a great "photo op" need to take a lesson in safety. There are signs everywhere, please take heed and do not get close to these cacti that just want to hurt you!
If you aren't convinced, this is a great article and visuals that will explain why you want to stay away, from Debra Lee Baldwin's blog post.
I didn't go into this cactus garden, so sorry I don't have any pictures.
Other things…
There are lots of "Exhibit" stops. Just pull over and read the sign to see more interesting things about the park. There are several different Visitor centers that are located outside the different entrances. I found it odd that the visitor centers weren't inside the park.
As usual, go earlier than later for many reasons. It gets hotter as the day goes and a long line of cars can make getting into the park a little longer than you'd expect.
I think that's it. If you got this far, Thank you! If not, oh well. Happy trails!