Bear with me, this is going to be a long one. We just got back from a trip we have been talking about for probably 20 years or more. The plan was to go to as many of the bucket places as we could for as cheap as possible. I know I know, that's everyone's goal, but we did manage to get 17 nights with just $445 for our lodging.
This post will talk about the details of the trip, where we stayed, what we did, as well as what we liked or what we would have done differently had we known. So bear with me and feel free to jump to the area that you care about. I'll end this post with how we paid so little for this trip.
The Details:
We drove 2457 miles
17 nights lodging (we checked out one day early and only did 16 nights)
We visited: Barstow, Sedona, Grand Canyon South National Park, Page AZ, Antelope Canyon, Koab, Bryce National Park, Zion National Park, and Las Vegas.
Lodging total was $445
Gas was $594
Food was our biggest expense, about $1200 (this can easily be cut in half if you are frugal, but we saved on lodging so splurged on several meals and ate usually one meal out a day). This doesn't include food I bought to bring with us on the trip.
America the Beautiful pass: $80
Other costs (entrance/parking/laundry/etc) were about $150
That brings our total costs at: $2500
Quick Notes:
DOWNLOAD your MAPS! There were so many times that we had no cel coverage and having all the maps downloaded on Google maps was so helpful. Safari doesn't allow you to download the maps, but Google does. I did notice that when I was in/out of zero to no bars, that Google would still try to get the maps from the cloud. I found putting the phone temporarily in Airplane mode forced Google Maps to use the downloaded maps. I downloaded the whole trip in like 9-10 different downloads.
Definitely purchase an America the Beautiful pass 6 weeks or so before you go. This will be used at all the National Parks, National Monuments and also at Sedona Red Rock Parks that use parking passes.
If you are going for more than a couple days, buy a couple one gallon bottles of drinking water and then bring a Brita water filterer so you can refill those gallon bottles with drinkable water wherever you are.
If you are hiking, pay for the AllTrails Pro subscription so you can download your maps locally. Do not try downloading all the apps at one time or AllTrails will crash (I'm speaking from experience). Download the trails the day before you go and delete the downloads when they are no longer needed.
If you want to start using the points game, I suggest taking the free course at 10x Travel and utilizing the facebook groups for 10x Travel and The Points Guy.
Always bring extra water with you. The national parks had water filling stations, but the others did not.
Always use sunblock. I bought some travel sun block to keep in my hiking bag and car just in case I forgot to apply it or ran out.
Starting our trip…
We live about 12-13 hours (without stops) to Sedona. So, instead of pushing it we stopped halfway in Barstow, CA. One of the things we wanted to do was to be able to stop and explore when we wanted.
We stayed one night here. We got in around 4:00p and checked in. Our room was a King suite. It was really big and was pleasantly surprised. There was a small couch, mini-refrigerator (with a freezer section which is not included in the 2 queen room), and a microwave. I hadn't stayed in Holiday Inns for ever, so I was surprised that it was as comfortable as I remembered.
When growing up, I mostly remember staying at Holiday Inn's with my parents. The most memorable was when we moved to Brussels Belgium when I was 4. We had to stay a whole month at the Holiday Inn before we got into a house. I remember ordering room service every night (spaghetti and meatballs every night), learning how to swim in the pool (well my sister and I being thrown into the pool by my brothers so we can learn to swim), and the cool ice which was the first time I had seen an ice machine. This was the circular ice which to me was the best. Oops, I went off topic. I'll veer back to this trip.
Cost: $0 – Paid with 22,000 IHG points for one night
Afternoon Exploring Barstow
After we checked in we tried to go to the Western American Train Museum and Route 66 Mother Road Museum. Both were closed (we neglected to look up the hours). Then we drove to Calico Ghost Town and it had also closed at 5:00p. oops! We should have looked into the hours a little further.
So we just went and had a really nice diner dinner at Peggy Sue's 50's Diner. Not only is this the original site for a 1950's diner, but they had tons of cool kitschy memorabilia, amazing service, and best of all the food was really good. The portions were INSANELY big. I mean big. Big big big. I'm a big girl and it was too much for me. I suggest splitting the meal if you don't want leftovers. I swear I saw an omelette pass me that was made with 8 eggs (I'm probably exaggerating, but not by much).
Cost: $Unknown$ as we never made it inside
Movie time!
Then we went to the local movie theater (Barstow Station Cinema) and watched The Lost City. I felt like I had gone back to my high school days to our local movie theater, Serra Twin Theaters in Milpitas. It was so nostalgic. A little sanitizing wipes to clean the seats and arms (it really wasn't dirty, but I had to) and we had the theater to ourselves.
Cost: $26
Try 2 Exploring Barstow
So, we woke up and had the free breakfast at Holiday Inn Express, packed up and checked out. We again, tried to go to the two museums, explored outside the railroad museum waiting for it to open. Well, we didn't pay attention and both were closed for the day.
Well, that failed, so we went back to the Calico Ghost Town. This was open! Yay!
We had fun, however, it was one of those places that cost $MONEY$ at every turn. I had fun and we just went with it. If you are low on funds, skip it. But, for a little silliness and history, it's a cute stop. There's an entrance fee and fees for all of the simple attractions. The railroad was cute with some interesting history. We also did the mine tour. Again, cool to go inside the mine and hear the history, but it can get expensive if you have kids.
Cost: $50
We signed up for this when it was owned by Diamond Resorts, a timeshare property. We signed up for 4 nights at $189 total (not per night) plus $17/night resort fee. 4 nights… in Sedona with a total of $257. That's all we paid. Total.
Diamond Resorts has recently been purchased by Hilton and is in the process of getting converted to a Hilton Grand Vacations property.
The good: Big rooms, beautiful property, next to a ton of hiking trails, full kitchen.
The bad: Horrible wifi (maybe when Hilton takes it over completely the wifi will get better) and zero to 1 bar of cel service with Verizon. Not 5g and not LTE… old school. So, that sucked. Also, many of the well know hikes and attractions (Cathedral rock, Bell rock, Chapel of the holy cross, etc.) were on the other side of Sedona making us drive through the busiest section, which was painful with stacked roundabouts.
Where would I stay next time? I would not stay here again as the wifi was unacceptable. I would probably stay near or in the Village of Oak Creek. This area is where most of the hikes are and would be a lot less driving. If you are looking at doing a timeshare presentation/deal, try looking at the Ridge in Sedona. They were owned by Diamond and are now owned by Hilton. Just be sure that you can say "NO" to the timeshare presentation otherwise your frugal trip will become one of the most expensive ones you've ver taken!
Cost: $257 total
Sedona Day 1:
This trail will give you 3 major sites:
Seven Sacred Pools
Devil's Kitch
Soldier Pass Cave
Parking: free at the shuttle pick up location. Shuttle is free.
PLEASE BE AWARE: NEW SHUTTLE SYSTEM… Sedona had just added a shuttle system for many of the popular trails to prevent parking and congestion issues in the neighborhoods of these trails. Please look up your trail on the Sedona Shuttle website (and download the app) so you are aware of the days of the weeks and times of the shuttles. It is likely that more shuttles will be added if these initial systems are successful. Look up the shuttle routes and parking in advance at sedonashuttle.com.
My all trails recording (which failed at some point, it was closer to 5 miles): https://www.alltrails.com/explore/recording/soldier-pass-trail-93d9033–8
Start at the "Soldier Pass Trailhead" and head up the blue line on the left. You will first hit Devil's kitchen.
Once you pass Devil's kitchen continue on the trail and you will see the Seven Sacred Pools. We met up with a tour guide who gave us a great background on all the different rock formations and what they meant to the indigenous.
Continue on to the Soldier Cave. The trail is moderate at this point. When you get to the last couple hundred yards to the cave, I would say it is more difficult at that point. I rested at a beautiful rock where I could sit and enjoy the view while my husband went onto the caves.
From there either make your way back the way you came, continue to the full loop, or take the ATV road back down which will again, pass you by the seven sacred pools.
Some All Trails hikes for these:
My All Trails recording didn't record everything, but you can see where the trail starts and where it would have gone.
Cost: $0 – Free parking + Free shuttle
Sedona Shuttle
Things to know: Sedona has just started a Shuttle system for the most popular trails. This is one of the hikes that uses this shuttle. You will see signs to the shuttle as you try to head to the trailhead. Get there before 8am so you can get the first shuttle.
I did NOT go up into the cave, I stopped when the trail started getting a little steep and let my husband continue to the cave. I'm a bit of a wimp like that, but I'm ok with it. I enjoyed sitting on a cool rock enjoying the beautiful Sedona landscape.
This is probably one of my favorite hikes on this trip.
This is a pretty cool site but was really crowded when we went. A lot of history and a peek into how some of the Native Americans lived.
This is a National Monument which allows you free entrance for you and 3 guests using your America the Beautiful pass. If you don't have this pass, I'm not sure I'd spend $10/pp to enter. Just park and bring your pass with you and you will get free entrance. Be sure to have your drivers license to show with the pass.
Cost: $0 with the America the Beautiful pass
This National Monument can be entered with either the America the Beautiful pass or you pay for Montezuma Castle and keep your receipt to get free entrance to Montezuma Well.
This wasn't as impressive as Montezuma Castle. It was a short little 1/6 mile hike to the well and had some cool dwellings to view. If you are short on time, skip it.
Cost: $0 with the America the Beautiful pass
Sedona Day 2
Bell Rock Trail
This is a fairly easy trail and gives a close up of Bell Rock. Many people climb up the side of the rock to a viewpoint. We even saw a few crazy people at the very top of the rock. I have no idea how they got up there. Not for me! This a fairly exposed trail so go early, bring water, wear sunblock and be prepared to get hot. This is an easy flat trail (unless you climb the rock).
Forest Service trail information: https://www.fs.usda.gov/recarea/coconino/recarea/?recid=55230
All Trails: https://www.alltrails.com/explore/trail/us/arizona/bell-rock-loop-trail
Cost: $0 with the America the Beautiful pass (acts as a Red Rock Pass)
Chapel of the Holy Cross is a Catholic Chapel that is built into the Red Rocks and is stunning. A holy site that is truly awe inspiring. I give it only 3 stars for a couple of reasons. This was crazy busy. Crazy busy. Parking was hard to come by, and once you got parking it was just a ton of people. I went into the chapel and lit a candle in memory of my mom, sat for a few minutes and that's the only time I felt the power of the chapel. It didn't take long for that feeling to dissolve once I had to push through the throngs of people coming and going. Visit this on a weekday and it probably would be much better.
Cost: $0 parking ($1+ for lighting a candle)
This is another interesting National Monument to visit. We did this as our last stop and only had 30 minutes before they closed. That wasn't enough time. This site had a lot of amazing ruins to see and more. I think it's worth spending a little more time. Again, this is $10 entrance per person or use your America the Beautiful pass.
Cost: $0 with the America the Beautiful pass
This is on most people's top 10 places to visit and it is where everyone wants to see the Sedona Sunset. I'll try to explain why I would say this can be a pass.
Parking was pretty expensive, I believe it was $10,
Parking was full about 30 minutes prior to sunset. You really need to get there well over 1 hour before sunset
The road leading to it got backed up and was a real pain in the butt.
The viewpoint was so crowded it was hard to actually get a picture without peoples heads in it.
The sunset wasn't spectacular, it is just a nice overlook over the city of Sedona
I know that so many people will tell me I'm crazy, that this is the best place to see the sunset. I beg to differ. I think the best place is at the Cultural Park Trailhead located at 77 Cultural Park Pl #73, Sedona, AZ 86336. There's a viewpoint off of the Centennial Trail (only about 1/4-1/2 mile in on the flat trail) which is an amazing quiet place to view the sunset (hopefully not too many read this lol).
Cost: $10 parking
Sedona Day 3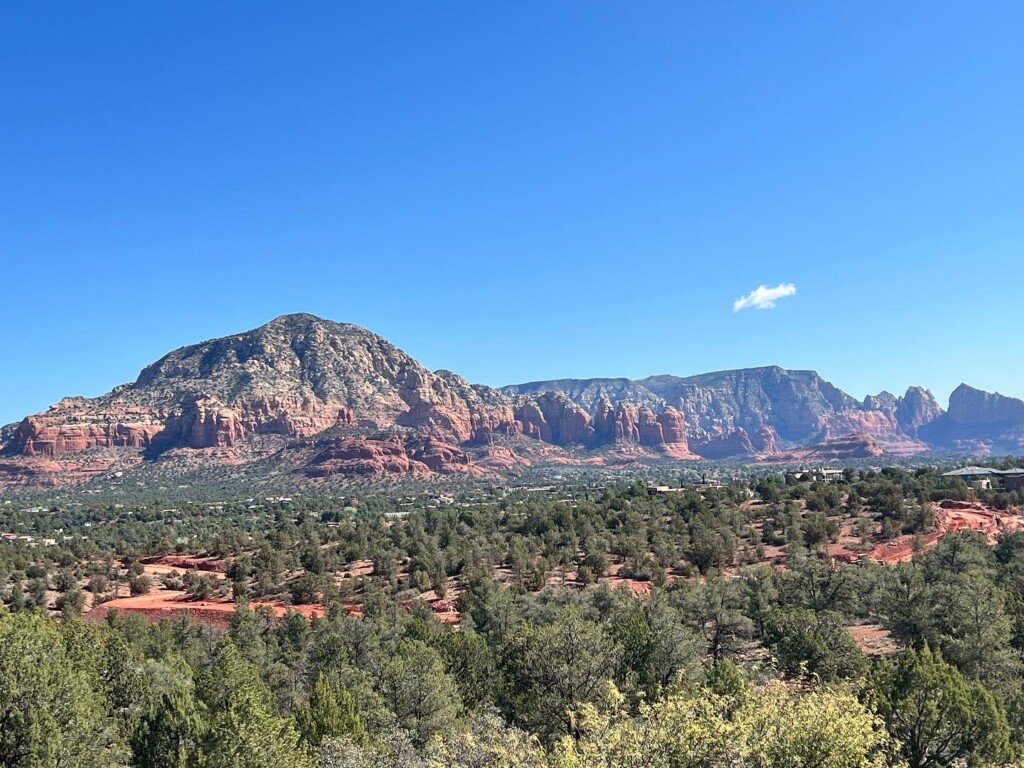 This is one of those trails that is underrated. The small little Centennial Trail has a lot of really cool information, plants, and more. But, the real kicker is it is lightly trafficked and can take you to a ton of trails if you are one who likes to do long hikes. You can even get to Devils bridge from here (if you are an amazing hiker). But the thing to note is this is a beautiful quiet place. There's several Van Lifers here, I'm not sure if it's legal or not, but what a great place to park and camp.
Cost: $0 with the America the Beautiful pass (acts as a Red Rock Pass)
Timeshare Presentation and Shake Down
Let me start by saying I actually enjoy timeshare presentations. It's interesting to me. The timeshare salesman was super nice and actually made us think maybe we should. No no no we shouldn't! lol
They did the bring the manager to "see what deal they can do for us" where they gave us an even better deal! Considering it is a timeshare, it wasn't horrible a horrible offer. They set the price point at something reasonable and made it sound like it was worthwhile. Still, it is cheaper to get on the resale market, but the real issue is that it is getting bought by Hilton and who knows what that means in the long run for those with Diamond Resorts timeshares. As nice as everyone was there, it just is too big a risk. Glad I did turn it down as half of the things said in the meeting were not true.
The last package we were offered was $10k for 5000 points every other year + the next 10 years being every year instead of every other + maintenance fees don't start until 2024. Which is way cheaper than the Hilton timeshare offer we were given at the end of our trip. I'll have that info later. That was one true thing that the diamond representatives did state. They were way way lower than anything at Hilton.
Stargazing Tour
I didn't pay for most of what we did in Sedona, but I did think a Stargazing tour would be fun. The Tour started just after sundown and was about 2 hours long. We parked at a gravel parking lot and walked out to the middle of a school field (I think soccer maybe). There were chairs for us to sit in with six people to each high powered telescope. The guide would talk about what we were going to see and each person would get to look through the telescope.
I enjoyed it, my husband not so much. It was pretty cold, the first time I felt cold in Sedona. Bring a thick jacket, gloves, a blanket for your lap and if you want, hot chocolate. However, even though I enjoyed it, it really wasn't worth the price. It was one of the more expensive things we did.
Cost: $250 ($125/pp)
Bye Bye Sedona, off to Grand Canyon
After four nights in Sedona, it's off to the Grand Canyon South. It was about a 2 hour drive from Sedona to the Grand Canyon. We stopped at a rest stop to get a view of the amazing canyons and found they had several arts/jewelry booths available. Well, I picked up a few things.
Next it was time to check into our hotel…
This is about the best you can do at the Grand Canyon South (short of staying in one of the hotels inside the Grand Canyon). The hotel was clean, had a good breakfast, decent size rooms, and was very convenient. I recommend staying here and try to book for free with points if you can. Get an IHG credit card and you will have plenty of points for a free stay.
This area is just minutes from the entrance to the grand canyon. And from the entrance, it's just a short 10 minute drive to most places in this side of the park. The surrounding businesses don't provide a whole lot of services. You have a McDonalds (indoor dining closes at 7p), Wendys (indoor dining closes at 7p), a Mexican restaurant, a pizza/pasta parlor (seemed to be the most popular place, but was too busy for us to get food), a deli (closes really early), a BBQ and steak house, and a candy store. Not a lot of options for food shopping either, just one general store. So, stock up before you come here and don't plan on eating out if you are going to be coming in after 7p from the park. Trust me, the options are very limited. Especially since once you get parking at your hotel, you won't want to move your car since the parking lots fill up fast.
Cost: $0 – 90,000 IHG points for the 2 nights (45,000 points a night)
Our first look at the Grand Canyon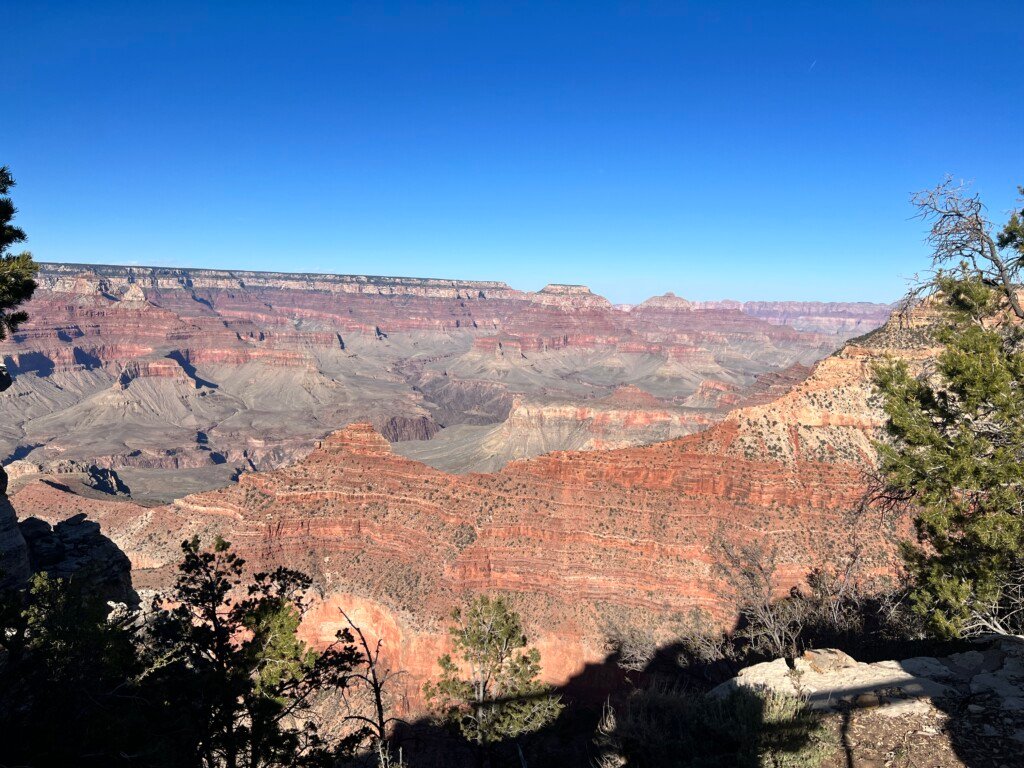 We just parked at the visitor parking lot 2 and walked to the nearest lookout point (just a few feet from the visitor center). It was quite amazing. But then we just started walking the Rim trail to the Geology Museum and that was where we got to see some amazing sites. We continued on the Rim trail until we realized we needed to get on the bus before it became the last rush to get the last bus. The Rim Trail is a great way to see the views of the grand canyon. Each turn and lookout is better than the next.
Cost: $0 with the America the Beautiful pass
Navigating the Grand Canyon South using Shuttle Busses
A couple things to note:
MASKS ARE REQUIRED on the SHUTTLE busses! They may not have them available for you, so bring a couple masks with you (always have a backup). The busses got super crowded at times, so even if it's not required, it would feel much safer to wear one for sure.
They packed everyone in including standing and holding onto the bars. Be prepared to let someone older or disabled take your seat.
There are several bus lines, one of the lines (yellow) was not running when we went (only open part of the year). Get familiar with the bus lines before you go. See the bus schedule and map here.
The Red shuttle line is an area where cars are not allowed. We took the yellow bus to the "Village Route Transfer" station and walked over to the red bus.
If you want to go to any of those areas on the red line, be sure you know the last bus time and get on the one BEFORE that bus. If the bus fills up and you are standing there, too bad so sad. You will have to walk the 7-10 miles to the visitor station. Not the best way to end your day.
If you want to see the sunset in its entirety, don't plan on using the shuttles as the last pickup is about 30 minutes before sunset. You will be so sad if you hiked 7-10 miles just to have to hike that amount back to your car.
The areas in Yellow and Blue do have other parking lots that you can use instead of taking the bus. I would suggest trying to going to one of these parking lots super early in the morning that is closest to the Village Route Transfer station so you can see the sunset and walk back to your car.
Hopi Point was the most recommended area for seeing the sunset (which is on the red line where you either have to hike back or take a shuttle)
Hiking the Grand Canyon
On Day 2 we took the yellow shuttle bus to the Village Transfer and then started walking the Rim trail from there. One of the more popular trail to hike down into the canyon is the Bright Angel Trail. We didn't want to spend our whole day hiking in the Canyon, so we just walked down for 30 minutes and then back up. Be sure to take water and understand the weather conditions. This is a canyon trail so just be smart.
Next we continued on the Rim trail and just hiked and went to each of the lookout points. At one point we realized we wouldn't get to the end, so we took the bus a couple stops then walked another section of the trail before hoping on the bus to go back to the visitor center. Once you pass Monument Creek Vista, you will be walking on the road with the busses (unless I'm missing something). I'm not a fan of walking on the road, so we just took the bus and were done for the day. I'll be honest, at some point, the view of the grand canyon became monotonous. I know, blasphemy! But it just did seem to be like "been there, saw that".
Cost: $0 with the America the Beautiful pass
Driving from Grand Canyon to Kanab
Well, we took off from our hotel and the best route was right back through the park and leave through the East entrance. We decided to stop at a couple of the lookout points along the way while we were still in the grand canyon.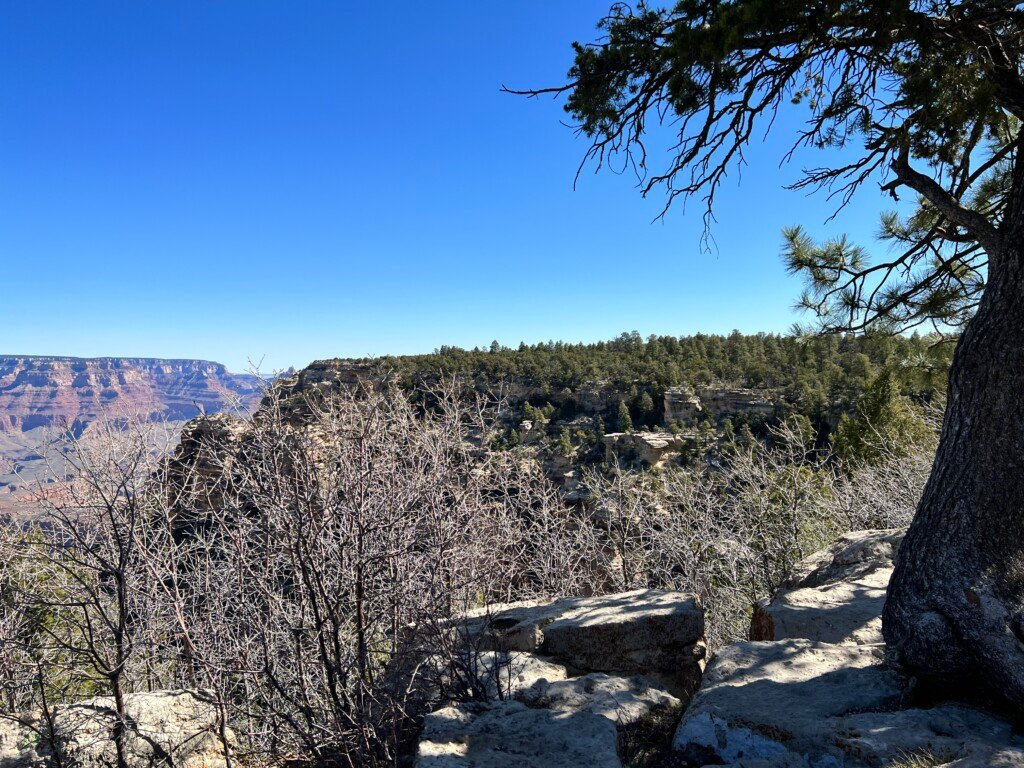 Little Colorado River Gorge
On the way to Kanab, we did a quick pull over to get a look at the Little Colorado River Gorge. There's a Native American jewelry and pottery stand at the entrance to the path to the Gorge. The walk is on a gravel pathway and less than 1/4 mile. The view is spectacular.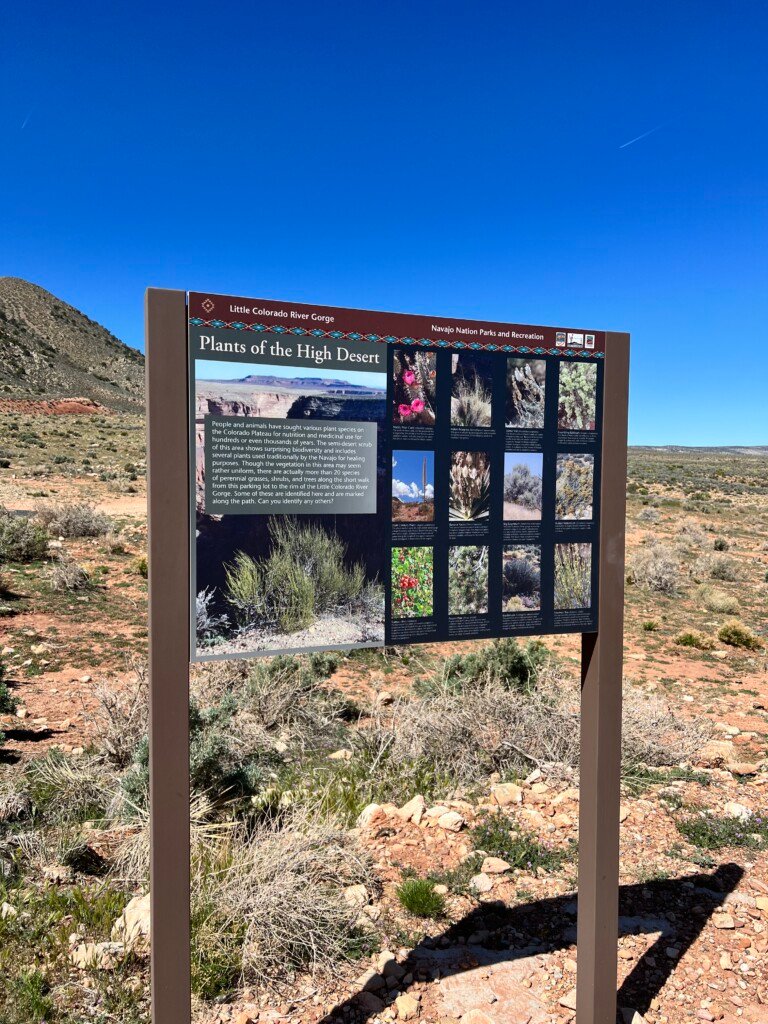 Glen Canyon Dam in Page Arizona
The drive was quite long to get from the Grand Canyon South Rim to Kanab, but we also wanted to see a few things along the way. So we also stopped at the Glen Canyon Dam in Page Arizona. I suggest going in and looking at the wall of interesting things to do in the area and going and talking to the information desk. They can give you a paper map and other information on the area. Ask about the free "slot canyon" hike. We didn't have time to go there, but I would have if I had the time.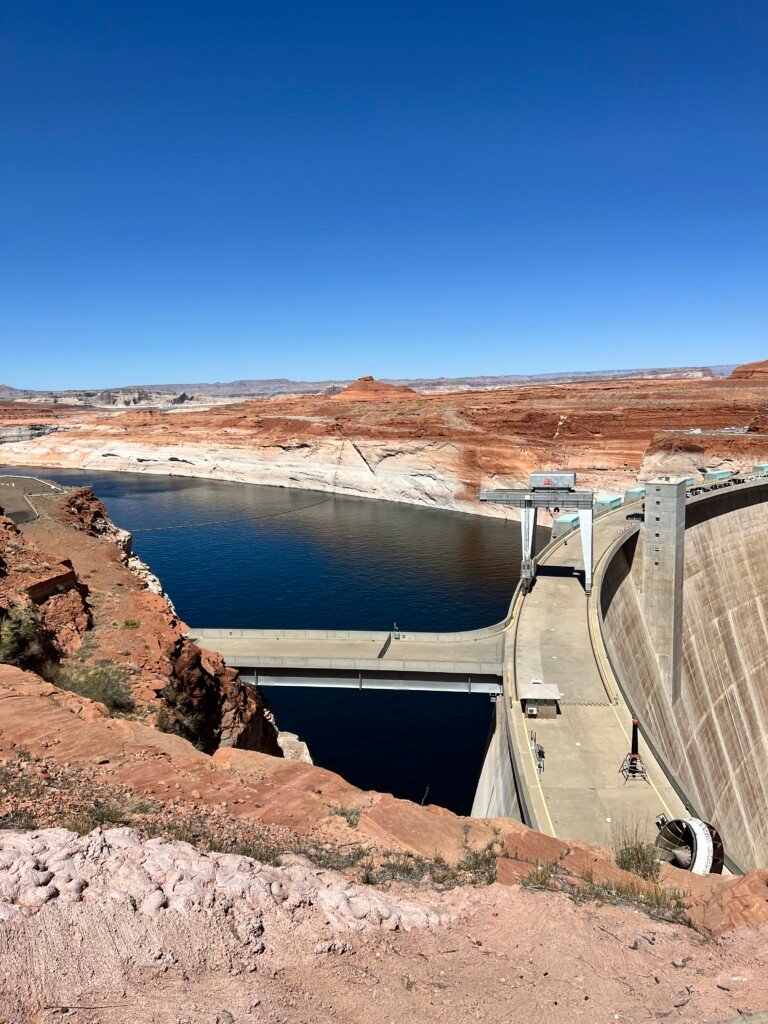 Cost: $0 (the visitor center is free, there are tours, but we didn't pay for any)
And then more driving…
From Page, we were driving to Kanab to checkin to our hotel. The drive is beautiful and is over an hour. If I had the choice again, I might decide to stay two nights in Page and then two nights in Bryce instead of trying to stay in Kanab for three nights and driving between the two.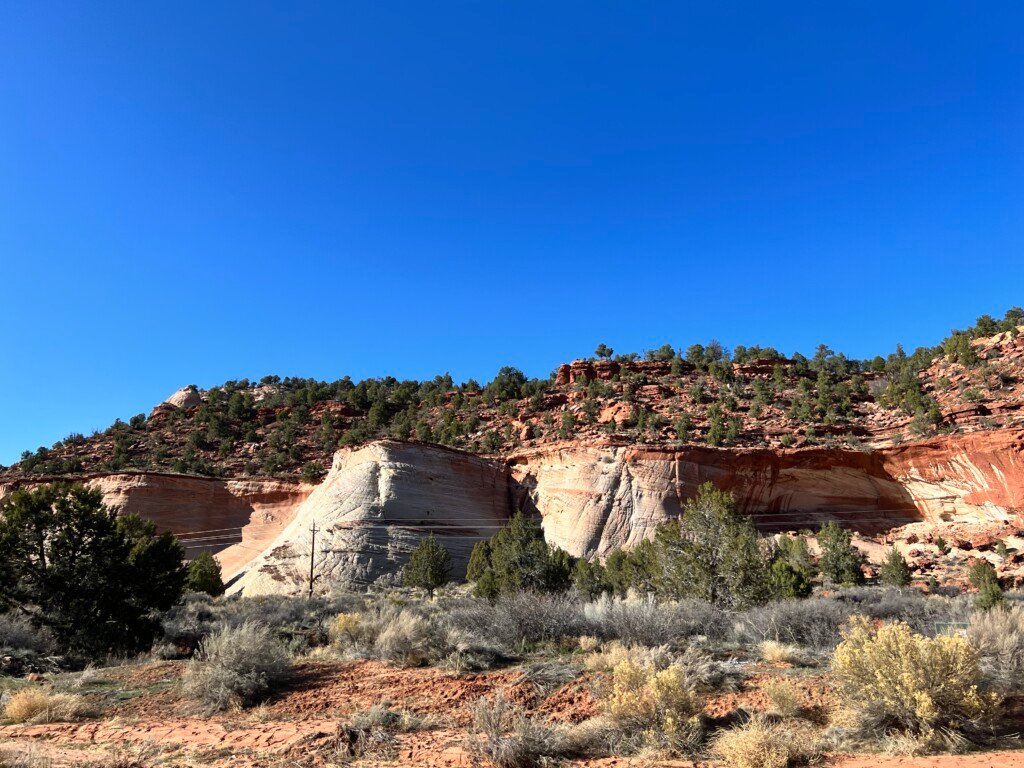 Kanab for 3 nights at Holiday Inn Express Kanab
We checked into our hotel and quickly moved on to drive to Bryce so we could get there before sunset. The Holiday Inn is a nice one as well. We enjoyed our stay. It was clean with large room and services. The setup is the same as the others. If staying in Kanab, this is a good location. But, other than the quaintness of the town and the surrounding beauty, it maybe more convenient to stay in Page and then Bryce.
Cost: $0 – Paid with 62,000 IHG total points for 3 nights
Beautiful Bryce Canyon National Park
It was about a 1.5 hour drive to Bryce from Kanab. Mostly a pretty drive, some bland boring areas. Not a lot in between. Not many restaurants, only a few gas stations (get gas in Kanab before leaving), no fast food that I could see… it really was pretty desolate. Don't plan on getting food or anything else along the way. Pick up what you need in Kanab.
We made it there about an hour before sunset and just hiked around the Sunset and Sunrise points (they are about 1/4 mile from each other). I really do want to go back, but it probably doesn't need more than 1-2 days. There is a lodge there right at Sunset point which looks pretty reasonably priced, but not sure how nice it is. It looked rustic.
There looks like there are some great hikes right at Sunrise and Sunset point that walks down into the canyon. We did a little bit of it but I didn't have the right shoes and gear so we just went for a short bit and came back up. I plan to go back.
Outside of Bryce there is a Best Western Plus which looked like probably the best place to stay just outside of the park entrance. I can't guarantee it, but there doesn't look like a whole lot of choices.
Cost: $0 with the America the Beautiful pass
The New Wave Trail
If you have looked into beautiful places in Arizona to hike, I'm sure you've heard of "The Wave", which is a beautiful amazing hike that is extremely difficult to get into since it's by permit only.
Well, since it's near impossible to get to the Wave, others have found that there is a beautiful place in Page where you can see some similar sites as the Wave and has been dubbed "The New Wave".
As far as I can tell, this is not a maintained trail but more of a location people tend to go. We spent less than 2 hours there and we could have spent all day. It was beautiful and super cool. Definitely take the time to go here if you can but BRING LOTS OF WATER… BRING SUNBLOCK… WEAR A HAT! It is hot and exposed and be safe when you go. Always track your hike using something like All Trails since there aren't any trail markings and you will want to make sure you can get back to your car. It is EASY TO GET LOST if you aren't careful.
The New Wave trail can be found on All Trails. We went to this spot that I think was wrong. We wound up close to some very deep sand and had to walk through the deep sand to get to the area of the new wave. On the way out, we saw some people walking between the two Rock mountains from this small little parking area. So, when you are driving into this area, you will see a campground on the right and on the left you will see a small parking area with maybe room for 3-4 cars. Park there and you should see a way to get to the trail from straight past that parking, which will go in between the two big rock mountains, in the canyon between them. I didn't go this way, but it looked way easier.
This also looks like a favorite location for jeeps and ATVs.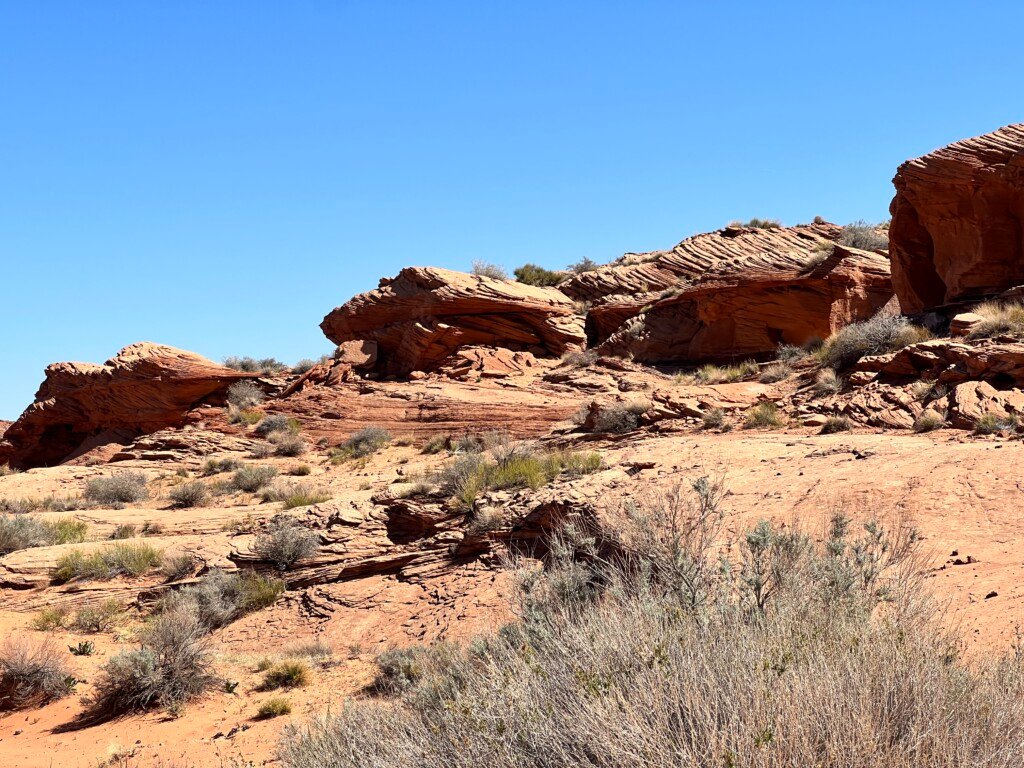 Antelope Canyon WOW
Slot canyons are quite incredible. Most people hear about Antelope Canyon, what you may not realize is the slot canyons in the area are about 6 miles long. Most people hear only about Antelope Canyon. But there are half a dozen or more slot canyon tours you can do, not just ones called Antelope Canyon.
We did the Antelope Canyon X – Photography Tour and I HIGHLY RECOMMEND THIS TOUR!
I will explain…
The tour starts by parking and checking in with the tour. You are told to get in your car and line up to drive to the canyon. You follow the lead car about 10 minutes to a parking lot near the slot canyon. Then walk a couple hundred yards to meet up with your guides. Now, the main thing to note is DO THE PHOTOGRAPHY TOUR even if you only have a cel phone. The differences are huge:
No bags at all (not even a purse) are allowed for the standard tour. The photography tour, you are allowed one bag
About 20 people per tour guide are on the standard tour. Only 4-6 people total per guide for the photography tour (we just had one other couple)
The standard tour spends about 30-45 minutes total in the canyon, the photography tour is given up to 3 hours in the canyon.
It is difficult to get pictures in the standard tour without people in them. The photography tour you have a lot of time with just the small group.
You have access to the port-a-potty by the canyon that the other guests are not allowed to use
This was probably the highlight of our trip. Stunning and amazing. Please note that it is quite a bit of steps down (and then back up) so this is not an accessible tour.
Cost: $300 ($150/pp) including fees
Horseshoe Bend
We went to Horseshoe Bend right after Antelope Canyon since it was pretty close. It is a 1/4 mile walk from the parking lot to the overlook. It is a hot and exposed walk that actually is pretty easy, outside of the sun. Maybe if we had done this first, we would have been more in awe. But it really did pale in comparison to the slot canyons.
The other issue? it was a $10 parking fee that was not covered by any of the passes. So, for a short walk and just one viewpoint, it is something you can pass if you are short on time. Also, at this time, the water is really low due to the current drought conditions.
There are some tours that you can take where you raft through the bend, or an all day thing where you can go and kayak. These tours should be booked and planned for in advance as they are usually half or all day tours.
Cost: $10 parking
A quiet day
Well, after being on the go for well over a week, we needed to do laundry and just not be driving all over. So, we spent the morning at the laundry mat, had lunch, and then took in some local Kanab sites.
We started at Moqui cave, which is a museum depicting life in southern Utah spanning the centuries. It houses Native American Artifacts, dinosaur tracks, florescent mineral, rocks and fossils.
Then we decided to try to find the Sand caves (which we missed and just said forget it), visited the Best Friend's Sanctuary, and then drove to the Coral Pink Sand Dunes. We did not go into the park since that was about $10 and it was so windy that we knew we weren't going to do more than 5 minutes looking at the dunes.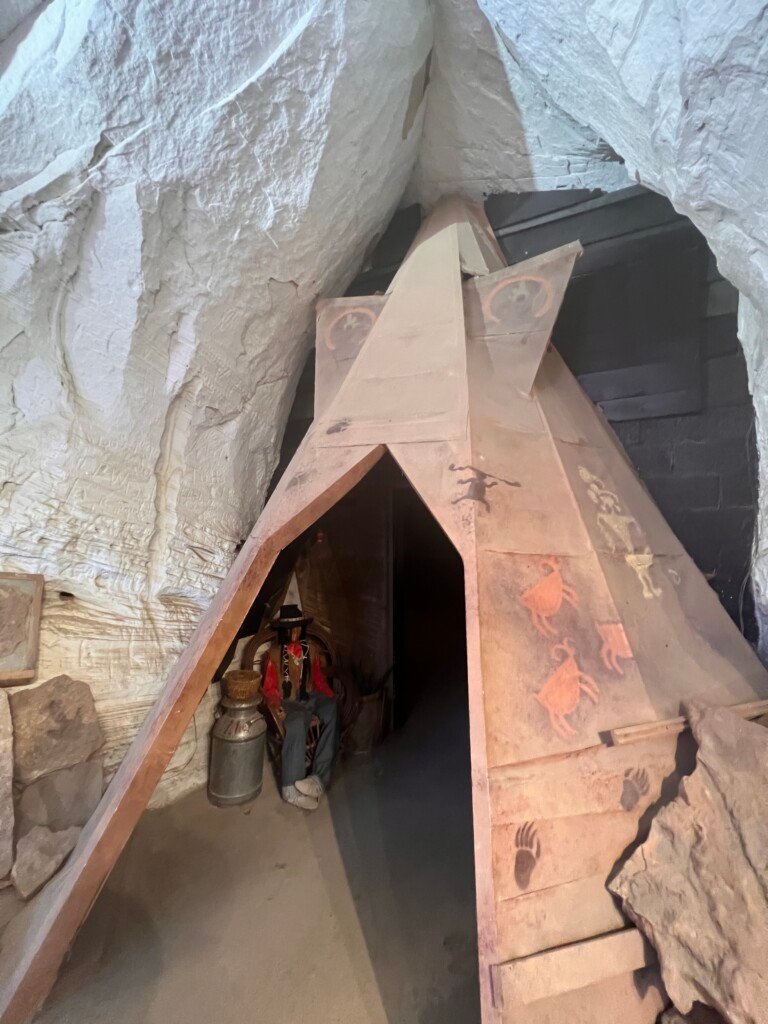 On to Zion National Park
The drive from Kanab to Zion is very short. It was only about 45 minutes to get to the East entrance to Zion National Park. We had to drive through the park to get to our hotel in Springdale. Driving through the park was beautiful albeit a bit painful with traffic as one of the tunnels was only allowing one way traffic, so there was a long line of cars waiting.
This was the cheaper of the two Hilton properties so we spent the first two nights here on points. This is a really nice hotel that is on the Springdale Shuttle line at stop number 6. In general, this stop is pretty safe at getting onto the bus. However, one time the line was so long, it would have taken 2 busses to get there so I walked to bus line 7 (probably 1/2-1 mile walk down hill so easy to do). At bus stop 7 it is almost guaranteed you would get on. The bus I was on from stop 7 just passed by the 6 stop and didn't pick up anyone there (this was around 10:30am). So, go earlier to the park.
Along with free breakfast, this hotel provided snacks to take with you on your hike. They had granola bars, Uncrustable Pb&j sandwiches, and raisins. Which was really nice to add to our snacks for the day. Bravo Hampton Inn!
Cost: $0 – Paid with 140,000 Hilton Honor points (70,000 per night)
This hotel is considered a premium hotel and is priced almost double of the Hampton Inn. I highly recommend staying here if you can afford the price or get it free like we did. However, in some ways, the Hampton Inn was nicer. I'll explain.
The pros:
WALK into the park. Just head to the back of the property and there's a path along the river that is an extremely short walk that takes you right into the parking lot for Zion. There is only one hotel that is closer, and it's not by much. No need for getting on the shuttle.
They have a restaurant on site and also they provide room service. The restaurant is a partial open air seating, which in the cold and wind isn't ideal. But, the food was really good.
Depending on your Hilton Honors status, you may get $15/day per person for food. We used it for room service breakfast and it was perfect.
They have a spa on site where you can get massages and other spa services. We each got a massage and it was very nice. Definitely a plus.
The pool and hot tub was clean and large. Similar to many hotels, but it still was nice.
They sit along the river, so you can actually go hang out at the river if you want.
They have a decent laundry room where they provided the laundry soap and bounce sheets.
The cons:
Unfortunately, we couldn't get the king suite, so we got the room with 2 queens. It was cramped.. The room would have been fine if it was one king, but with the two queens, there wasn't enough room to walk around each other.
In addition to the small room, there was only one chair, so we had to bring in a chair from the patio to eat breakfast together cramped in the room.
Ok, not a lot of cons and the pros outweigh anything negative. If you go, get the King suite if you want to be a little more spacious.
Cost: $0 – 2 nights Paid with each of our free night awards (rooms can be between $400-1800/night)
Hiking Zion: The Narrows
This was the one thing I really wanted to try. I knew it would be tough, and that we were going at the hardest time of year (Spring run off makes the river colder, faster and higher).
The first day we got in, we didn't have a lot of time, so we just took the shuttle to the Riverwalk and walked that route to the entrance of the Narrows. We were hoping to see what people are doing so I could mentally be prepared. However, the Narrows were closed that days since the cubic feet per inch was too fast and they closed the Narrows for that day.
The Riverwalk Trail is about 1.25 miles each way and is paved for a lot of it. There were wheelchairs that went the whole route, even on the unpaved section. It is a pretty walk that takes you alongside the river. The downside is the crowds since this is a highly trafficked trail. There is a non-paved path that goes in/out and follows alongside the river. We used this on our walk back the first day since it got us away from the crowds and was more 'hiking' than walking (still very easy).
Day 2, The Narrows was open… I didn't know they were going to be open. I looked on the website and the website said they were closed. Don't look there! It is not up to date. I should have called the Zion Outfitters shop and they will tell you if it's open or not. We found out the Narrows were open when we got to the entrance of the park and everyone was gearing up.
So, we got in line to get gear. Due to the cold, it was recommended to do the neoprene socks, water hiking shoes, dry suit and pole. Well, the dry suit didn't fit me (well, it fit but I couldn't move comfortably), which was very disheartening. I had a plan knowing this was going to be the case, but it was to wear wetsuit pants. Unfortunately, they were back at the hotel room on shuttle stop 6.
So, I rented all gear (excluding the dry suit) and left my husband to wait patiently with it while I hopped on the shuttle, went to the room to change into swim suit bottoms (they are like bike shorts but swim suit material and look like just regular hiking shorts), a swim cropped top (I didn't want it to be too long and get wet unnecessarily), and grab the wetsuit pants. Then back to the bus stop.
But yikes! This was the day the line was wrapping around the parking lot. I hustled to bus stop 7 and had about a 10-15 minute wait while that bus stop started filling up. Then on the bus and whew! I made it back to the entrance of the park. I changed shoes and put some dry clothes and my shoes in a locker and off we went.
Now it was a hustle to get to the shuttle inside the park… the lines to get onto the shuttle bus was insane! We had at least a 20 minute wait to get onto a bus. Then the 1.25 mile hike to the entrance of the narrows, a quick change into the wetsuit pants, neoprene socks and try to put the rest in my bag. My husband rented a dry backpack so we put anything in there we cared about not getting wet. I did buy a holder for my phone to hang around my neck and keep it dry/safe.
So, let's just start by saying I was very timid and overwhelmed. I love water and swimming, but rocking on uneven rocks (that you can't even see) in rushing water was very hard. I fell within 20 feet when I tripped on a rock. Ugh. All the way in and scraped up my hand and knees a little (knees would have been worse if I didn't have thick padded pants on) and got almost fully drenched. But, the good news there was I fell, got wet, and all was well. So, the fear of falling wasn't as bad as I went.
It was crazy fast water, and a slow slow process. I wish I had rented two sticks, not just one. I saw people with two and it would have been 100% easier. Oh well, live and learn. I only made it about .6 miles before I turned around. I had been going about an hour and I was mentally done. I know that at 1 mile, there's a change that makes it even more incredible, but honestly, I was done and knew I needed to make my way back. So, I turned around and slowly, oh so slowly, worked my way back to shore. What a trek. It was hard going back since the water wanted to push you down. I was amazed at people who just bounced across the rocks like it was nothing. I wish I had that agility and confidence. But, alas, I don't and I just trudged slowly slowly along. And made it back safe and sound! Yay!
Would I do this again? Probably not. It just wasn't fun to transverse the rocks and not be able to just get in and swim. If I had the option to swim instead of walk, I'd be all over it. Below is a video at about the .5 mile marker.
And a couple pictures to enjoy of the hike. I do have a few pictures of me and my husband here, I usually try to keep us out of the pictures on this site, but It'll give you an idea of the gear/etc.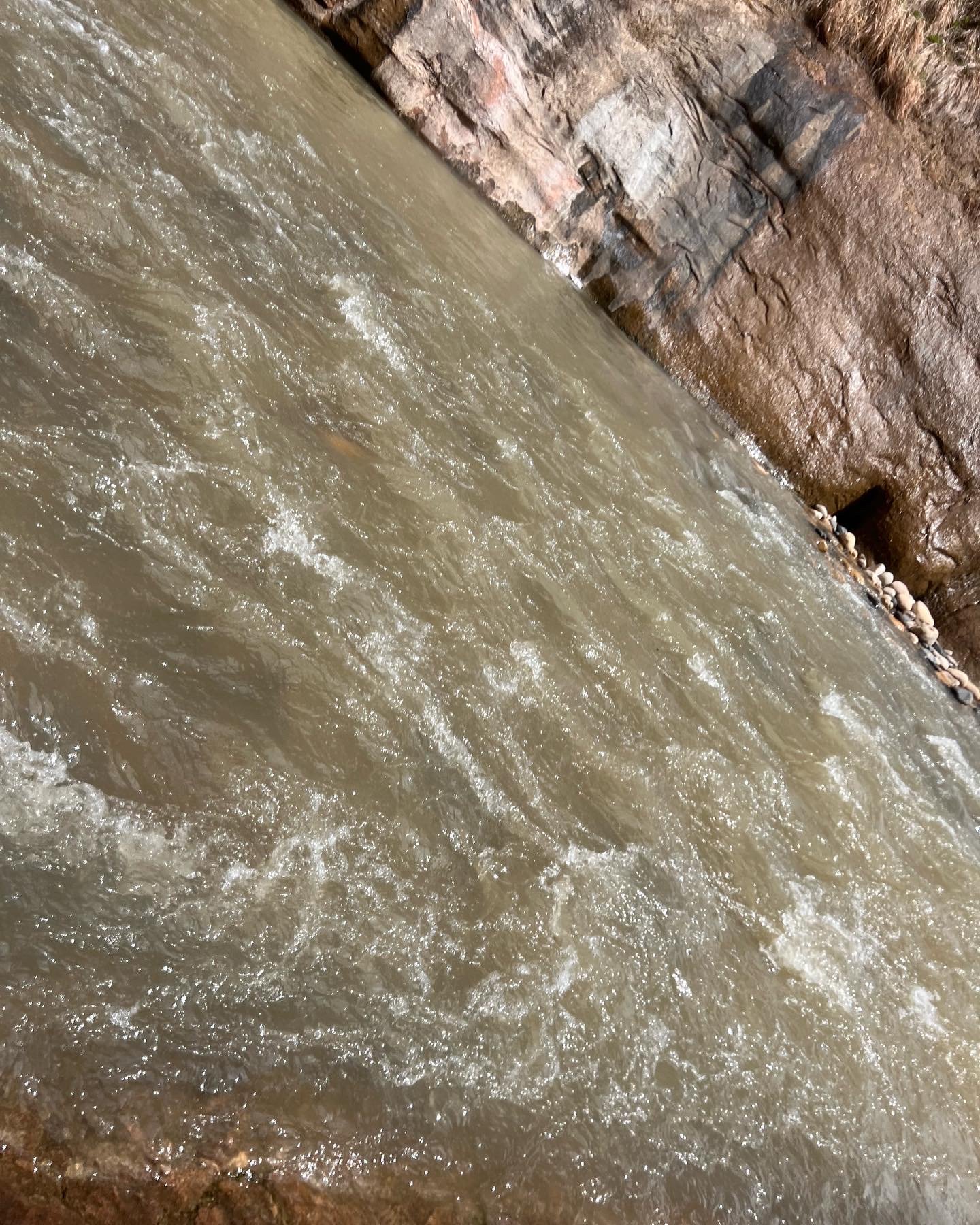 More Zion Hiking
Through the next two days, outside of changing hotels, we went to the park early and spent most of the day hiking. We found it very easy if we got there by 8am or 9am. Anytime after that, you will be waiting for busses and it'll be crowded everywhere.
Emerald Pools Lower trail was beautiful! I loved this trail. A slight incline and you walk to and under waterfalls. I turned around at the stone steps and went back down. You can continue and make it a loop. I don't like stone steps so we decided to turn and do another trail. Do not skip this trail. It is beautiful.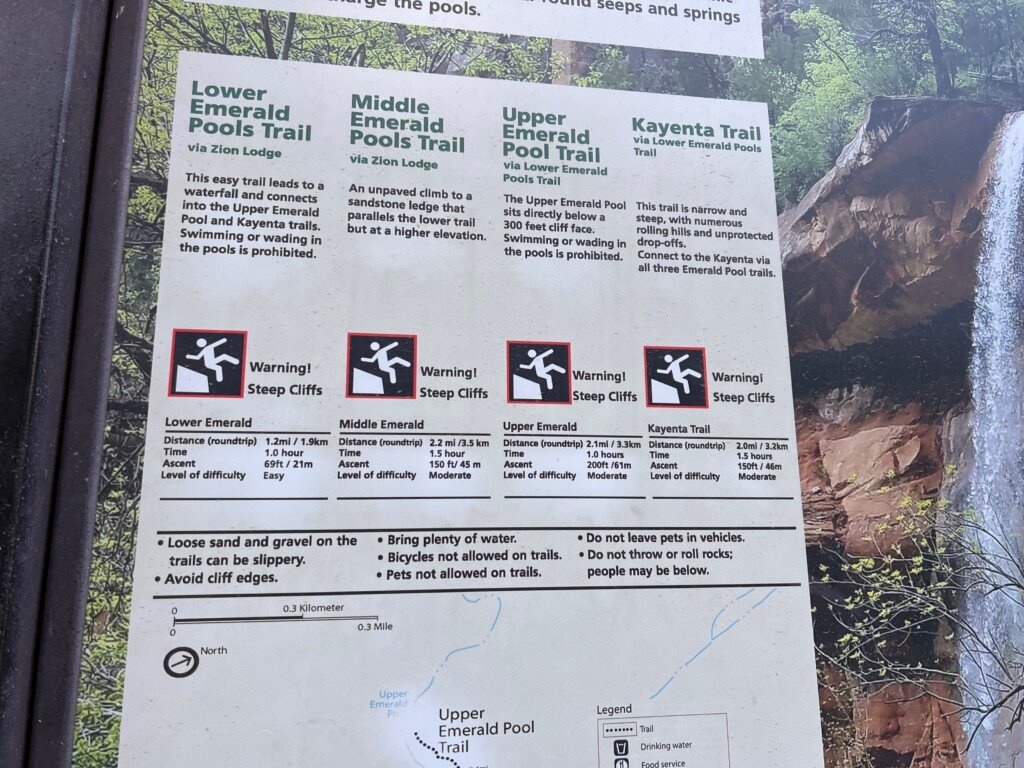 And more hiking…
We went and did about 3-4 other trails. I am have to go back and check all the trails we went on, but here's a glimpse at some of the beauty we saw.
Off to Vegas: Hilton Grand Vacations on the Boulevard Las Vegas
This is a timeshare deal. It was for 3 nights and we had it at the end of the trip. I didn't realize at the time I made this booking that we would have access to free Comped rooms in Vegas through our Wyndham Business Rewards card (which gives us Diamond status at Caesars). So, we could have had this cost at $0. But, I booked this super early. We could have chosen a better hotel, but I was looking for one without a casino. I would probably choose the Elara if it was available. This was so far away that it was not easy to get to the strip.
Cost: $198.94: $168.94 plus $15-25/day parking ($15 self park, $25 valet park) ( we cut our trip short by a day)
Our original plan was to go to Grand Canyon West when in Vegas. But, we decided to skip it. We were done with parks/etc.. We did drive to/through the Hoover Dam but didn't stop. The parking was $10 and it was crazy busy. I was done with all that so we just did a drive by. Instead we spent a really nice afternoon with some friends having lunch and lazing around in the hot tub and pool. This part of the vacation was just to get a quick relax before we had our 10 hour drive back home.
Hilton Vacation Club Timeshare presentation and shakedown
Well, the Diamond team seemed much happier and relaxed. I felt like the Hilton presentation (which was the same) was boring and just lack luster with no excitement buildup. Maybe because Hilton only had the guests with the presenter and not the salespeople in the room. Diamond had everyone which gave the presenter some people to work off of.
Well other than that, the base package that Hilton started with was $140,000!!! that was for 23,040 points a year. Yikes! They didn't say what the yearly maintenance fees was, but it would have been crazy. The last offer was $24,000 for 8000 points every other year. Insane. Nope, there wasn't anything they could do to have us pay that much just so we can pay for maintenance fees every year and not be able to book the vacations when/where we want (I'm following FB groups for HGVC and it appears to be a struggle). So, we walked and collected our 25,000 Hilton Honor points for doing the presentation.
And that's it!
Sorry, I'm not going to do a review on Vegas. We used to go all the time, but for us now, it's just not that fun. Too crowded, too expensive, too hot, too much pot smoke. Oh yeah, the pot shops are all up and down the street. I don't think you are supposed to smoke pot in public, but that didn't stop anyone. I think I got contact high a couple times.
So, our vacation was a big success for us. The costs of the rooms being so crazy cheap allowed us to do a couple nice dinners out and let us not fret about other costs as the occurred. If you are interested in the cards we used to get these points, here is what we used:
If you are interested in point hacking, join the 10x Travel site and facebook group. Then take their course. It has a lot of information. I don't agree with a lot of the people on the site where they won't redeem their points unless it gives them the best redemption. I tend to redeem my points when I need to use them. That's it. I do look at the different hotel brands and try to figure out which ones in the area give the best redemption, but like in the case of the Grand Canyon South Rim, the only chain hotel was Holiday Inn Express. And it was $350+/night. So, using the points for that was well worth it.
There are lots of other sites/groups that help like The Points Guy. In general, make sure you research and do the legwork needed.
If you read all the way through to the end, thank you! And I hope you got some information to help you on your future travels.