One more of my mom, Cherri's, classic party recipes is finally here with Cherri's Potato Salad Recipe. There are many ways to make potato salad, and as much as I like most potato salads, this one feels like 'home' to me.
One thing you will find with all of my mother's cooking: she didn't like sweet salads. Almost all of her salads, like Macaroni Salad, Cole Slaw, and this potato salad, all are not sweet. Vinegar and sugar are balanced out to create a tangy yumminess that makes you want more.
I think this recipe may have been passed down from my Dad's mother, but I'm not sure. All I know is this became one of our family sunday dinner staples whenever we had hamburgers, hot dogs, tri-tip, or almost anything grilled.
The hardest part of this recipe is giving the potatoes time to cool. I found that laying them out on paper towels allows them to cool faster and prevents the potatoes from continuing to cook.
Potato Salad
Print recipe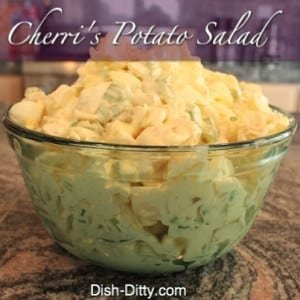 Ingredients
5lb Potatoes (boiled and cooled)
6 Eggs (hard-boiled)
1 Large Yellow Onion (diced)
1/2 Green Bell Pepper (diced)
4 Celery Stalks (diced)
2 cups Mayonnaise
1/2 cup White Vinegar
1 teaspoon Dry Mustard
1 teaspoon Salt
1/4 teaspoon Ground Black Pepper
1 tablespoon White Granulated Sugar
Note
Do not use Miracle Whip (too sweet) or any of the light mayonnaises (too watery).
This is a "dump" recipe so you may have to adjust some of the ingredients depending upon how the potatoes cook up.
My mom's original recipe says, "Omit the hard boiled eggs for an Orthodox Lenten dish." This is not true since the mayonnaise contains eggs and will then not be allowed during Orthodox Lent.
I have adjusted the measurements slightly from my mom's original recipe. Adjustments: 2 cups mayo instead of 1.5 cups, and 1/4 tsp black pepper instead of 1/8 tsp.
Directions
Step 1
Boil potatoes until they are just fork tender. You do not want to have them so tender they are falling apart. Allow the potatoes to cool.
Step 2
In a large mixing bowl blend the mayonnaise, vinegar, salt, pepper and dry mustard. Add diced onions, pepper and celery.
Step 3
Cut potatoes into cubes, add to mixture and toss to coat potatoes.
Step 4
Dice the hard-boiled eggs into the mixture and toss thoroughly. Adjust seasonings and store in the refrigerator until cool, about 2 hours, before serving.
Step 5
Optionally, you can reserve 1/2 of the eggs and layer them on the top of the potato salad and then sprinkle Paprika on top.