I'm always making different types of stir fry and Chinese dishes for dinner, mostly because it is quick and easy to just throw together dinner. This recipe is a little more involved, but not my much. Just form the Chinese Pork Patties  and dinner is ready in 10 minutes.
Enjoy!
Chinese Pork Patties
Print recipe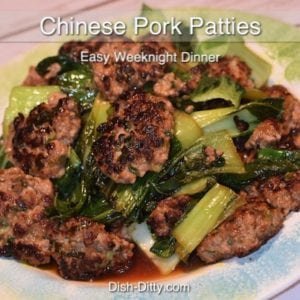 Ingredients
1/4 cup green onions (finely chopped)
1/4 cup fresh cilantro (finely chopped)
3 cups marinated thick ground pork (see recipe in notes)
1 tablespoon sesame oil
2 tablespoons cornstarch
2-4 tablespoons sesame oil
2-4 tablespoons vegetable oil
4-6 cups baby bok choy (cleaned and cut in half)
2 tablespoons light soy sauce
Directions
Step 1
Combine green onions, cilantro, marinated thick ground pork, 1 Tbl sesame oil, and cornstarch. Mix with your hands until well combined. Form into patties and place on wax paper. They will be a little soft, so be gentle when forming the patties.
Step 2
In a large wok or pan, heat 2 Tbl. sesame oil and 2 Tbl vegetable oil on medium high heat until hot. Pan fry the pork patties, turning when brown. Be careful as they may break apart if handled too roughly. Remove from the pan. If you have multiple batches of pork patties, you may need to add additional oil in between batches. Be sure to let the oil heat up if adding oil to the pan.
Step 3
Once all the meat patties are cooked, add the bok choy to the pan and cook and stir for about 1 minutes. Add the light soy sauce, and stir to combine. Add back the meatballs and toss with the bok choy. Cover, reduce heat, and simmer for 5 minutes. Serve hot.
---