Looking for a super chocolate gluten free brownie? These Double Chocolate Gluten Free Brownies are amazing and you will not miss the gluten at all.


Double Chocolate Gluten Free Brownies
Print recipe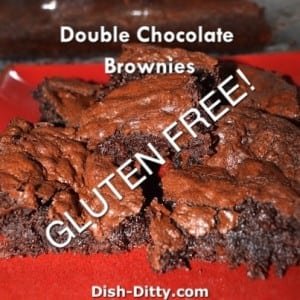 Ingredients
1 cup Semi-Sweet Chocolate Chips
1/2 cup Butter
3 Large Eggs
2 teaspoons Vanilla Extract
1/4 cup Oat Flour
1/4 cup Coconut Flour
3/4 cups All Purpose Gluten Free Flour
1 teaspoon Baking Soda
1/2 teaspoon Salt
1 cup Sugar
Directions
Step 1
Preheat oven to 350 degrees.
Step 2
In a medium bowl, combine the flours with baking soda and salt. Mix together thoroughly by using a whisk. Add the sugar and whisk together. Set aside.
Step 3
In a medium saucepan, heat the butter and 1 cup of chocolate chips on low heat until butter and chocolate chips are melted. Whisk together to make sure thoroughly combined and silky.
Step 4
Add the eggs, one at a time, and stir to combine. No need to beat the batter. Just mix with a spoon until the egg is combined. Stir in the vanilla.
Step 5
Add the flour/sugar mixture and mix until combined. Add the remaining 1 cup of chocolate chips.
Step 6
Spray a 9"x13" pan with Pam and pour in the batter. Bake at 350 degrees for 16-20 minutes, or until the edges just start to get cooked. The center will be a little sticky still, so don't use the toothpick test. If testing with a toothpick, the batter should not be liquid, but should still be sticky.
Step 7
Remove from the oven and let cool at least 15 minutes before serving.
---
More and more people are moving towards a gluten-free diet, which can sometimes be very difficult to manage, especially when dealing with desserts. These brownies are so easy and yet you would never know they were gluten free. YUMMY!
You may need to make two batches…
Enjoy!