Hot Fudge Pie… need I say more? Serve it with ice cream, whipped cream and maybe a chocolate or cherry sauce and you will be in chocolate heaven.


Hot Fudge Pie
Print recipe
| | |
| --- | --- |
| Serves | 8 |
| Prep time | 20 minutes |
| Cook time | 30 minutes |
| Total time | 50 minutes |
| By author | Dish Ditty |
Ingredients
1/2 cup Butter or Margarine (*)
3/4 cups Boiling Water
1/2 cup Unsweetened Cocoa Powder
1/3 cup Flour
1 teaspoon Vanilla
1 pinch Salt
1 cup Sugar
2 Egg Yolks
2 Egg whites
Note
* Original recipe said margarine, but butter works great too.
You can mix all ingredients ahead and put into the pie plate and refrigerate or freeze. If frozen, allow to defrost before baking.
Also can be made into small tartlets by using a tartlet pan. Other variations are to add walnuts and/or dust with powdered sugar
Directions
Step 1
Preheat oven to 350 degrees.
Step 2
Cream margarine and sugar; add the unbeaten egg yolks and beat well.
Step 3
Dissolve the cocoa in the boiling water and add to the sugar mixture. Cool slightly. Add the flour and mix well.

Step 4
Stiffly beat the egg whites, add the vanilla and salt. Fold into the batter and pour into a greased 8" pie pan.
Step 5
Bake for 30 minutes at 350 deg.
---
I have no idea of the origin of this recipe. When we entered the recipe into our family recipe database 25 years ago, we had no idea and put 'Unknown'. So my guess is that my mom got it from a friend and didn't know which one.
This pie is generally served hot out of the oven and is so moist and chocolaty that you will get your chocolate fix with one bite.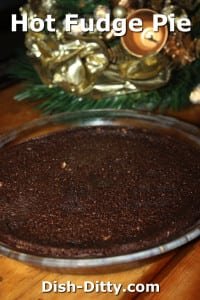 My sis was having fun with her tartlet pan and turned them into little tartlets, some with walnuts and others just dusted with powdered sugar. They work great as little bites or served in your cookie tin for Christmas. We served ours with ice cream, whipped cream and a cherry sauce.
You can make the pie ahead, refrigerate it and bake it when you start dinner. That way when dinner is done, the pie is ready to serve.
Oh my, I just gained 5 more pounds remembering eating this on Christmas eve… Enjoy!