A tropical healthy treat, this Pineapple Coconut Chia Seed Pudding is a light and refreshing dessert. My chia seed obsession continues…
I have been obsessed with chia seeds lately. Mostly with different pudding recipes, like this one. I've started making other things like jam and drinks, but pudding is my favorite. This one is so bright and light.
Enjoy!
Pineapple Coconut Chia Seed Pudding
Print recipe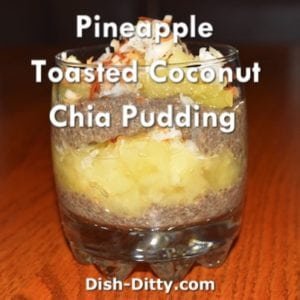 Ingredients
1 1/2 cup pineapple juice
1/2 cup toasted coconut almond milk (Califa)
1 tablespoon vanilla extract
2/3 cups Chia seeds
1 cup crushed pineapple
1/2 cup toasted coconut
Directions
Step 1
Combine pineapple juice, toasted coconut almond milk, and vanilla. Whisk in the chia seeds and make sure all the chia seeds are mixed in and not floating on top. Set a timer and let the chia seed mixture rest for 10 minutes.
Step 2
Using a whisk, stir the pudding to redistribute the chia seeds since most of the time they clump on the bottom. Whisk it thoroughly so that all the clumps are gone and the seeds should now be evenly distributed throughout the pudding. Refrigerate for 6 hours.
Step 3
To serve, layer the pudding with crushed pineapple and toasted coconut.
---