Sausage, Chicken & Peppers Pasta is a copy-cat recipe that I made up based on a dish we used to get from Vesuvio Italian Restaurant, in Santa Clara.

My husband always ordered the Sausage, Chicken & Peppers but switched out the red sauce with the white wine cream sauce. He loved that dish. Once the restaurant closed, I decided it was time to recreate that beloved meal. It's actually a very simple dish that I made on a busy weeknight.
So, here's the recipe, simple yet full of flavor.  Enjoy!
Sausage, Chicken & Peppers Pasta
Print recipe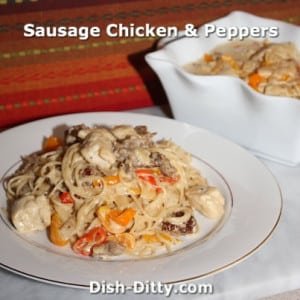 | | |
| --- | --- |
| Serves | 6 |
| Prep time | 10 minutes |
| Cook time | 15 minutes |
| Total time | 25 minutes |
| By author | Dish Ditty |
Ingredients
1/4 cup Flour
1/2 teaspoon Garlic Salt
1/2 teaspoon Italian Herb Seasoning
1/2 teaspoon Black Pepper
1lb Diced Chicken
3 tablespoons Garlic Olive Oil
1/2lb Italian Bulk Sausage
1/2 Onion (thinly sliced)
1 1/2 cup Dry White Wine
2 cups Heavy Cream
1/2 cup Parmesan Cheese (grated)
Directions
Step 1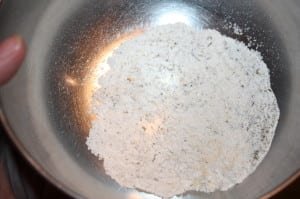 Mix the flour with garlic salt, italian herb seasoning and black pepper. Toss in the chicken and coat evenly. Cover and refrigerate.
Step 2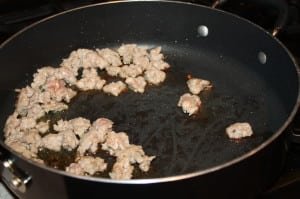 In a large pan, heat on medium-high. Add the Garlic Olive Oil and sausage. Cook on medium heat, breaking up the sausage. Cook until the sausage is fully cooked and browned.
Step 3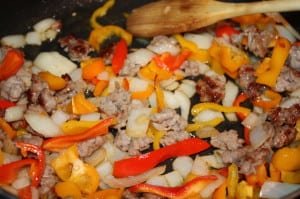 Add the onion and pepper and cook for 2-3 minutes or until the onions are translucent.
Step 4
Add the chicken, continuing to cook on medium high, stirring frequently, until the chicken is browned.
Step 5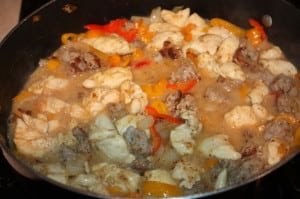 Add the wine, and cook for 3 minutes, allowing the wine to reduce.
Step 6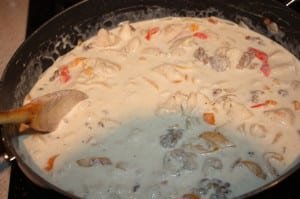 Add the heavy cream and parmesan cheese. Cook until bubbly. Reduce heat, cover and cook on a low simmer until ready to serve.