I love sushi.  Yes, I really do love sushi.  Any time, any place.  I love great sushi and I have a confession: I'll eat almost any sushi that doesn't smell or look old.
In general, I do not enjoy AYCE sushi restaurants.  I've found that most have one of five problems: too expensive, poor service (can't get the food to make it worthwhile), limited selection (only rolls), they don't have food for non-sushi eaters, or they are really poor quality (like at most buffets).
I finally found a GREAT AYCE sushi restaurant!
So, where is this great restaurant? It's the Oceano at the Peppermill Casino Resort in Reno, Nevada.  Yes, that's right.  Reno, Nevada.  Who would've thought that the "Biggest Little City" has such great sushi?  Well, they do.  There are several great sushi places in Reno, but for quality and value, go to Oceana during their lunchtime All You Can Eat sushi and you will not be disappointed. This may sound like an ad or that I was paid to write this, but I wasn't.  This really is a great restaurant.
Is it Expensive?
Not at all. It's only $17.95 for the AYCE lunch.  That's less than the cost of 2 deluxe rolls anywhere.
How is the Service?
Excellent! We went at 1p for lunch and it wasn't very crowded.  The service was excellent for us and we did not have to wave our waitress down to ask to order more.
What about Selection?
This has the largest variety I've ever seen.  The lunch comes with miso soup, cucumber salad (yummy), and as much from the AYCE menu as you can handle.  The menu includes nigiris (most AYCE do not), standard rolls, hand rolls and deluxe rolls.  (AYCE menu here) .
Anything other than sushi?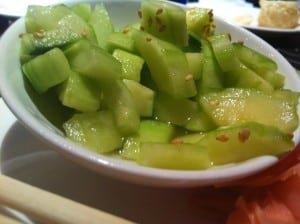 They have a full menu that is not just teriyaki and tempura (Regular menu here). Want a great steak? Get the Ribeye.  Want a hamburger? You will get a great restaurant style burger. See my Little Ditty on Great Steak and Sushi at the same place? Yes!
Quality?
I would rank the quality a 4.5 out of 5.  I'm giving it a 4.5 because the nigiris are on the smaller size (not tiny, just not generous) and without wasabi.  The rolls were delicious, big, and fresh.
We ordered 5 rolls and several sets of nigiri.  My favorite roll was the Oceana Roll: Spicy Crab, Scallop, Shrimp, Avocado, Scallion, Sriracha, Unagi Sauce. In addition, we had the Yoshi roll, Mountain roll, Rainbow Roll and the Tiberon roll.  All were delicious and fresh.  See their menu to get a full idea of what they have to offer.
I'm still looking for more AYCE Sushi Restaurants. So…
Do you have a favorite AYCE Sushi place?
Post your favorite AYCE Sushi restaurant picks here.  Only recommendations please.  If you don't like a restaurant, don't post it here.  Instead, Yelp it to let others know.
When posting, try to give these details:
Restaurant Name

Address

Lunch/Dinner/Both

Price

Link to Menu (or just give an overview)

And a quick write up if you have time…
More pictures of our sushi: