This is just so simple, but I'm putting it here since sometimes the simplest recipes are still worth writing down. Besides, I need to make a complete record for my son for when he grows up and moves out on his own.
This Buttered Noodle Recipe is a must have for parents as most kids will just gobble these noodles up day or night.
Buttered Noodles
Print recipe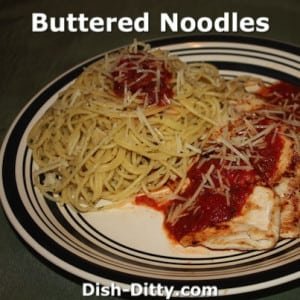 | | |
| --- | --- |
| Serves | 8 |
| Cook time | 10 minutes |
| By author | Dish Ditty |
This recipe is for my son. Really, most people know how to make buttered noodles, but with this technique you will never have too much butter.
Ingredients
1lb pasta (linguini pictured)
3 tablespoons butter
.5 teaspoon garlic salt
1 teaspoon dried parsley flakes (or 2 Tbl fresh parsley, chopped)
1/2 cup parmesan cheese (grated, to taste)
Directions
Step 1
Boil water and cook pasta according to package directions for "Al Dente" pasta. Remove and drain but DO NOT RINSE pasta.
Step 2
Keeping pasta in the colander, add the butter, garlic salt and parsley flakes and toss. Some butter may drip out, but that's ok. You only want the amount of butter that will lightly coat your pasta. Serve topped with parmesan cheese and with your favorite dish, like the Grilled Chicken Parmesan Recipe.