Brazilian BBQ is an experience, one that cannot compare to other restaurants. When I think of All You Can Eat (AYCE), I think of buffet style places like Fresh Choice or Asian Buffets. Those are nice on occasion, but they aren't special. Brazilian BBQ is truly an elegant experience.
We recently visited Pampas in Palo Alto, California. Pampas is an elegant restaurant that takes AYCE to a new level. This is a family friendly restaurant where the kids are never treated less than the adults. And the restaurant isn't stuffy quiet, so you don't have to worry about a little kid noise. However, if you do decided to bring your kids, plan on bringing a tablet or other electronic devices to help entertain the young ones for this will be a long dinner.
Now, onto the review…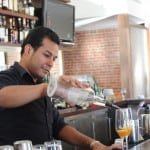 Let's start with walking in the door. You will be met with a beautiful lounge and bar with comfy couches and an area where bands play live music on weekend nights. The bartender was very nice and fun, helping us decide which drinks we wanted. The bartender even put plastic wraps over the juice cups with a straw for the kids, so they wouldn't worry about spilling.
The restaurant is decorated in warm woodwork with bright ceilings which give a comfortable airy feel. White tablecloths, tea candles, and modern decorations help the overall atmosphere of comfortable elegance.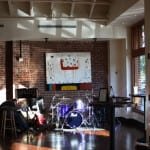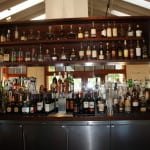 Once you sit down, you have to choose… go with the Rodizio (AYCE meat on a stick plus sides bar), the side bar only (AYCE), an entree, or an entree with side bar. What to do? What to do? I hope my notes on each choice will help you, and not make it harder for you to choose.
Sides Bar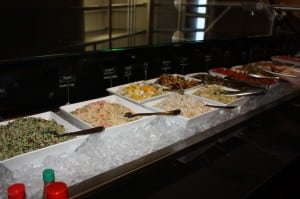 Here's what you'll get if you choose the Sides Bar. This is not a salad bar. It truly is a sides bar. You have several salads and dressings to choose from, yes. But you also have meats, cheeses, mashed potatoes, sauteed mushrooms, cooked carrots, asparagus, along with smoked salmon, and way too many things I can count. The choice of sides is huge. I started my first plate with salad and some smoked salmon (Ok, I put the smoked salmon on my plate each time I went). The second time I went for mashed potatoes, carrots, mushrooms and other traditional sides to go with my meal (and yes, smoked salmon). If you are doing the Rodizio, I'd suggest sticking with greens and lighter sides to offset all the meat you will soon be consuming.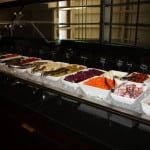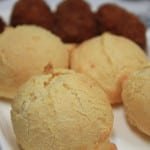 Rodizio — All you can eat Meat on a stick


Now, if you chose the Rodizio, you'll get back to your table with a plate load of food to see some delicious little breads and fried bananas. Personally, I'd like the fried bananas at the end, but they are delicious none the less.
You won't wait long before one of the Rodizio waiters will come to your table with a large skewer of meat and a big sword. Time to get your meat on! You'll find some tongs sitting on your bread plate. Just grab the tongs and as the waiter starts slicing the meat you want, you hold it with your tongs and put it on your plate. Easy!
As you will soon find out, there are 10-12 different types of meat that will be going around and rarely will you find yourself without meat on your plate. Just be careful not to take too much of one item, because there will be more, really, there will. Here's just a glimpse of the different meats that we were offered: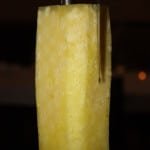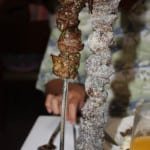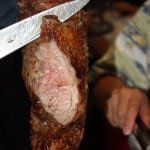 I'm not sure how they figured it out, but when we were near the end, they brought out the grilled pineapple. That was a great end to an over abundance of pure meat. Like I said, be sure to get greens at the sides bar to compensate for so much protein.
Entree

I have a secret: Just because you are going to Brazilian BBQ doesn't mean you have to have all you can eat meat. Not everyone wants the meat and in the case of Pampas, they have a wonderful chef that creates beautiful, fresh and elegant entrees and appetizers.
I usually get an entree or appetizer with the Sides bar. My husband and son are the carnivores. This time I chose the Market Fish which was a grilled halibut with a saffron sauce on a bed of spinach and roasted carrots. Delicious! I was amazed at how delicate the saffron sauce was with the flaky halibut. There is nothing better than having a fresh piece of fish cooked to perfection while looking so beautiful.
Dessert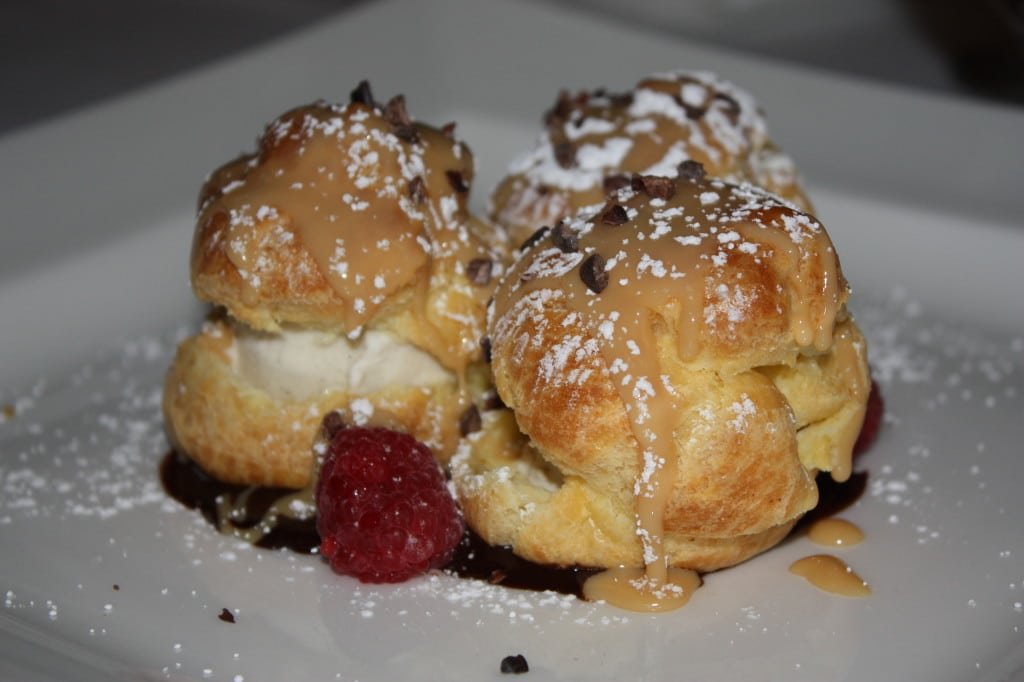 You aren't stuffed? You want dessert? Well, you won't be disappointed. They have only a few desserts to choose from, but they are a perfect end to a perfect meal. We ordered the Profiteroles com Chocolate (pictured above) and the Chocolate Torte (pictured below). I don't know why we ordered dessert, but we ate it! It was pure heaven. If you are a chocoholic, you will definitely want to hold back on the AYCE, and save a little room for dessert. Notice that the desserts aren't too big, they are really just the right size for one or two people.
Wine


How did I forget the wine? You will be truly impressed with the wine selection. You will find local favorites as well as regional ones as well. I have to admit, though, that I am not drinking wine at the moment (it's not agreeing with me), so I can't comment too much on it other than to say that they have an extensive collection that you will be sure to find something to enjoy.
Time to go…
So, now it's time to roll yourself out of the restaurant. Good luck, because you won't need to eat meat for a week after that meal. It was worth it, right?