"I cook with wine, sometimes I even add it to the food."  ― W.C. Fields
Chicken with Red Wine
Print recipe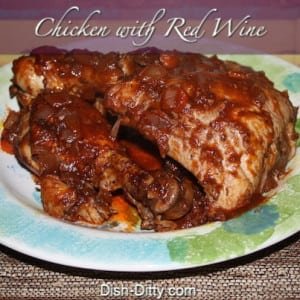 | | |
| --- | --- |
| Serves | 6 |
| Prep time | 25 minutes |
| Cook time | 1 hour |
| Total time | 1 hour, 25 minutes |
| By author | Dish Ditty |
Ingredients
3lb Chicken pieces (whole with skin on)
Salt & Pepper
3 tablespoons Butter (Divided 2Tbl + 1Tbl)
1 tablespoon Olive Oil
2 tablespoons Garlic (minced)
1/2 Onion
1 1/2 cup Red Wine
2 tablespoons Tomato Paste
1 teaspoon Thyme (dried (2 tsp if fresh))
1/2 teaspoon Oregano (dried (1 tsp if fresh))
2 Carrots (cut up)
Mushrooms (optional)
Directions
Step 1
Preheat oven to 325 degrees.
Step 2
Lightly season chicken pieces with salt & pepper. In 6 quart dutch oven, heat 2 tablespoons butter and 1 tablespoon of olive oil on Medium-high heat. In small batches, brown the chicken, turning to get both sides lightly browned. Place chicken on a plate after browning and set aside.
Step 3
Drain the excess fat. Add 1 tablespoon of butter, 2 tablespoons of minced garlic, 1/2 onion, and mushrooms (optional) to the pan. Cook for about 2 minutes, or until the onions and mushrooms become soft but DO NOT BROWN.
Step 4
Add to the onion mixture the red wine, tomato paste, thyme and oregano. Mix to get the tomato paste dissolved and then add the carrots and the browned chicken. Turn to coat the chicken in the sauce.
Step 5
Cover and bake at 325 degrees until chicken is fully cooked at 165 degrees internal temperature, about 1 hour.