IDAHO SUNRISE… a.k.a. BAKED EGGS AND BACON IN POTATO BOWLS by Gimme Some Oven was hands down a winner!
Ever tried a recipe you find on Pinterest or Facebook or just found through searching?  I have, and now I'm going to try to give props to my fellow food bloggers when I try something that works great. So head over to Gimme Some Oven for the full recipe. 
I've seen this on Pinterest a lot lately, and I'm not sure if Gimme Some Oven is the first to post. Most likely it's not a new idea, it was just a new idea to me. But it sounded and looked so delicious I decided to try it out when my big sis came to town.
Well, first things first, you need baked potatoes.  Try to find potatoes that can sit without rocking and are deep enough so that the egg doesn't leak out. Also take a look at where you pierced the potatoes for baking or testing. You don't want any holes in the potato bottom or the egg will leak out. Then take that potato and slice off the top like this: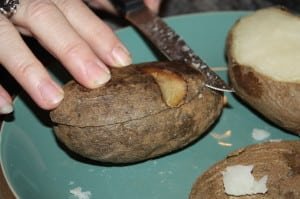 It will look like this after you slice off the top:
Scoop out the potato like you would to make potato skins. Be sure not to scoop so much that you leave any holes in the potato skins. Be sure to leave enough so that it has a barrier to keep the eggs inside.
Add a pat of butter inside each potato boat…
Crack an egg into each boat…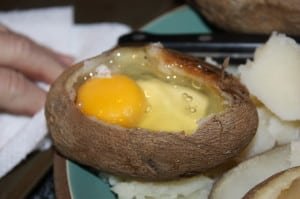 Add your ingredients, we added crumbled bacon, green onions and cilantro…
Top it with shredded cheese…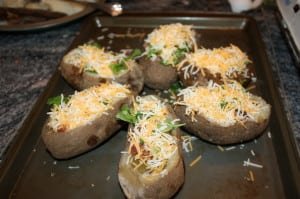 And Bake! Look how yummy…
So, now go visit Gimme Some Oven to get the full recipe. Because, don't you want this for breakfast tomorrow?