There's something about wrapping pork in bacon. The senses just go on overload and this Bacon Wrapped Smoked Pork Loin Recipe will make your taste buds sing.

Bacon Wrapped Smoked Pork Loin
Print recipe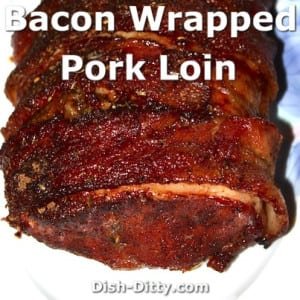 Ingredients
1 Pork Loin
Chicken Rub (See Notes for Recipe)
Garlic Olive Oil
Bacon (about 6-8 slices)
Brown Sugar
Note
Directions
Step 1
Pat dry the pork. Liberally rub on olive oil and chicken rub onto the pork. You want to fully coat the pork. Wrap the pork in bacon, overlapping to help the bacon stay on. Sprinkle with more chicken rub, place in a zip lock bag and refrigerate overnight.
Step 2
Remove from the refrigerator. Combine 6 tablespoons of brown sugar with 2 tablespoons of Chicken rub. Rub onto the wrapped pork.
Step 3
Smoke for 2 hours at 200 degrees. Increase temperature to 250 and smoke an additional 1-3 hours, depending on the size of the pork. Check the temperature every hour and remove when the pork is at least at 145 degrees.
---
Chicken Rub
Print recipe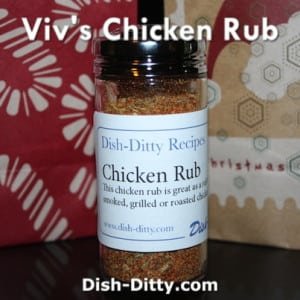 This is a versatile rub that I use on Chicken and Pork. It works great in marinades as well as in a dry rub for grilled, smoked and roasted chicken or pork.
Ingredients
1/2 cup Old Bay Seasoning
1/2 cup Granulated Garlic
1/2 cup Kirkland's Organic No Salt Seasoning
1/4 cup Hungarian Paprika
1/4 cup Garlic Salt
1/4 cup Herbes de Provance
2 tablespoons McCormick's Chipotle Chili Powder
1 tablespoon Ground Black Pepper
Directions
Step 1
Mix together well and rub onto chicken before smoking, roasting or grilling.
---
Summer is fast approaching (at least here in California) and nothing says Summer more than BBQ. Pork loin is one of those cuts of meats that is so delicious when cooked right, but so awful when overcooked or cooked too quickly. With this recipe, you will find a delicious and juicy pork loin… oh, and bacon! Can't forget the bacon.
Start off your summer with BBQ…  Enjoy!
---
---