Ground Beef Pie Recipe (poor man's Shepherds Pie)
This is a great way to use up leftover mashed potatoes and still have a hearty, warm meal. I got this recipe from my neighbor Jessica. She served it to my husband one night when he was a bachelor for the night.  He came home raving about it.  It's a simple meal and can be made in advanced and refrigerated to pop in the oven later (if you do that, increase the cooking time by 15 minutes).
Ground Beef Pie (poor man's Shepherds Pie)
Print recipe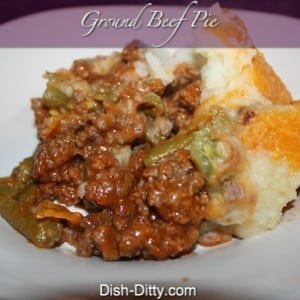 Ingredients
1 lb Ground Beef
1/2 teaspoon Garlic Salt
1 can Tomato Soup (undiluted)
1 can Green Beans (drained)
2-3 cups Prepared Mashed Potatoes (*or Garlic Mashed Potatoes)
1-2 oz Shredded Cheese (*I prefer Sharp Cheddar but any mix will work)
Note
I prefer to use leftover Garlic Mashed Potatoes.
Need a basic mashed potato recipe?  Use ours: Classic Mashed Potatoes.  To make them Garlic Mashed Potatoes, either put several whole cloves of garlic in the water while cooking the potatoes, or use garlic salt instead of salt, or add garlic powder.  Or, the best way is to roast some garlic and add the roasted garlic to the prepared mashed potatoes.
Directions
| | | |
| --- | --- | --- |
| 1. | | Brown the ground beef and drain excess liquid/fat. |
| 2. | | Add garlic salt, tomato soup, and green beans (drained). Cook until they are hot and bubbly. |
| 3. | | Pour mixture and spread evenly into a casserole dish. |
| 4. | | Top with mashed potatoes. Sprinkle with Cheese. |
| 5. | | Bake at 350 degrees for 30 minutes. |
| 6. | | Serve! |
(Visited 158 times, 1 visits today)