A delicious Chinese noodle dish that is similar to Chow Mein, this is a nice quick easy dish that can be used as a side dish or a main dish.

Ingredients:
Step 1:
* 1 pkg Fresh chow mein noodles
* 1 pkg Fresh pancit noodles
Step 2:
* 1 cup Marinated ground pork
* 1 tsp oil
Step 3:
* 1 tsp oil
* 4 cups chopped Nappa Cabbage
* 3 cups chopped Baby Bok Choy
* 1 cup chopped green onions
* 1 cup shredded carrots
* 1/4 cup soy sauce (light)
Step 4:
* 1/3 cup Lomein sauce
* 1 cup chicken broth
Instructions:
Step 1:
In large colander, mix both sets of noodles and rinse in extra hot water for about 1-2 minutes. Noodles should be mixed together.
Step 2:
Heat large pan and add 1 tsp oil and put onto highest setting that is safe for the pan you are using. Add marinated pork and cook for about 1-2 minutes or until pork is fully cooked. Remove from pan and set aside.
Step 3:
In same pan (do not clean first), add 1 tsp oil and vegetables. Cook for about 1 minute and add 1/4 cup soy sauce. Continue cooking for about 2 more minutes or until vegetables are mostly done. Add back in pork and combine.
Step 4:
Continue cooking vegetables with pork and add in rinsed noodles. Add 1 cup of chicken broth and continue cooking while mixing noodles and pork/vegetable mixture together. Add Lo mien sauce and cook continuing for about 3-5 more minutes continuing to move so as not to burn the noodles.
Remove and serve OR leave in pan without moving for about 1-2 minutes to brown and crisp the noodles.
Step by Step pictures: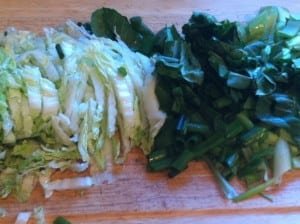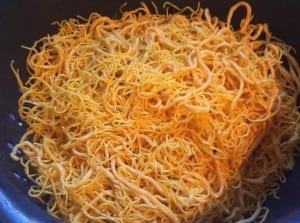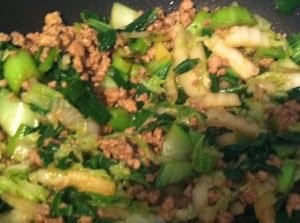 Pictures of ingredients: