I recently visited my sister in Pittsburgh, Pennsylvania and was reunited with my Polish heritage. I had forgotten how much I love good Polish food and was reminded when she took me to Pittsburgh's Strip District to a wonderful Polish Deli: S&D Deli. S&D Deli had the most amazing sauerkraut, sausages, cream of mushroom soup, and perogies. When in Pittsburgh, be sure to go there for your own Polish Sausage Heaven.

One of the most surprising dishes was the cherry perogies. So delicious and sweet. A beautiful ending to a great meal. I'm probably going to have to plan a trip to visit my sister soon just so I can go back to that deli. Their site does ship almost everything they have, so maybe I'll try that in a couple weeks.
I've been in search of a local Polish deli since visiting Pittsburgh and was only able to find one in San Francisco, which is an hour away. I really don't want to drive to SF just to get my polish craving satisfied. I was pleasantly surprised when I went into my local neighborhood vegetable stand, Oakmont Produce, to find they sell a huge assortment of sausages, sauerkraut, frozen perogies, and other polish foods.
This isn't like S&D Deli in Pittsburgh, but it does have a good assortment of Polish Fair that curbs my Polish cravings. I came out with four different sausages to try at our family gathering, perogies and sauerkraut. I will provide some recipes for preparing different polish foods in the months to come.
In addition to Polish items, Oakmont Produce has Persian, Russian, German, and other imported or hard to find Ethnic foods.
The critics are pretty harsh in my family, so here's a run down of the sausages and what was liked and not liked.
Pork Kobonosy
This is my favorite sausage. It is very strong in garlic and soft. Beware, though, as it is very strong in smell as well and may smell up your refrigerator! It's worth it, if you ask me.


Bosanska Sudzuka Smoked Beef Sausage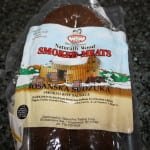 This sausage is not visually appealing. But, wow, it is delicious. I would compare it more to a salami than a kielbasa, but definitely worth putting on your sausage plate. Yum!


Schmalz Kielbasy Krestyanksiy
This is a very large kielbasa and very tender and delicious. My husband's favorite, this sausage is closest to what most would think of as a traditional polish sausage.


Chinkowa Kielbasa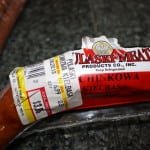 This was the looser of the sausages I bought. Very dry and just not tasty at all. It was like eating boiled ham. I would not suggest trying this sausage.


Pictures
Note:When making your polish sausage plate, be sure to serve it with a Spicy Cocktail Sauce.