I love making my own Chinese soups at home.  It is so easy to just whip up some Chinese soup of almost any kind that it is one of my favorite winter weeknight meals.  This is a classic restaurant style soup that your family will love.  Use this recipe as is, or modify it to be your special soup.
Chinese BBQ Pork Wonton Noodle Soup
Print recipe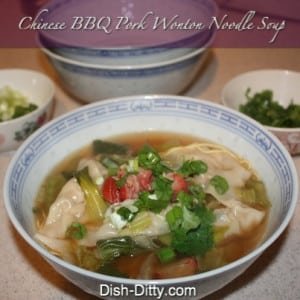 | | |
| --- | --- |
| Serves | 1 |
| Prep time | 10 minutes |
| Cook time | 20 minutes |
| Total time | 30 minutes |
| Region | Chinese |
| By author | Dish Ditty |
I love making my own Chinese soups at home. Perfect for a cold night and doesn't need a lot of preparation. You can use this as a kick start to your own home made Chinese noodle soup.
Ingredients
Per Person
3 cups Broth: Chicken, Beef or Vegetable
1 tablespoon Soy Sauce (Light)
1 tablespoon Sherry
1 teaspoon Sesame Oil
1 dash White Pepper
6 Snow Peas (Cleaned)
3 Baby Bok Choy
1 leaf Napa Cabbage
1/4 cup Chinese BBQ Pork (cut up)
4 Wontons (uncooked)
1 Serving Cooked Noodles
1 tablespoon Green Onions (chopped)
1 tablespoon Cilantro leaves
Note
You can buy frozen wontons, or make your own using our:
Directions
Step 1
Cook Noodles, rinse in cold water and set aside.
Step 2
In large soup pot, add broth, soy sauce, sherry, sesame oil, white pepper, snow peas, bok choy, and napa cabbage. Bring to a boil.
Step 3
Once soup comes to a boil, bring to a low boil (just above a simmer) and add the wontons and BBQ pork. Cook for 10-12 minutes or until wontons are fully cooked.
Step 4
In a large soup bowl, add noodles and pour soup over the noodles. Top with cilantro and green onions.
Need a recipe for wontons?
Here you go, use this recipe, but don't fry the wontons:
Chinese Fried Wontons
Print recipe
| | |
| --- | --- |
| Serves | 10 |
| Prep time | 30 minutes |
| Cook time | 30 minutes |
| Total time | 1 hour |
| Region | Chinese |
| By author | Dish Ditty |
Make your own Chinese Fried Wontons Recipe at home as either Fried Wontons or Wonton Noodle Soup. They are easier than you think!
Ingredients
Wonton Filling
1/8 cup Ginger (minced)
1/3 cup Green Onions (minced)
2 tablespoons Soy Sauce
1 teaspoon Seasoned Rice Wine Vinegar
2 cups Ground Pork
2 tablespoons Cornstarch
Wrap Wontons
1 Package Wonton Wrappers (Any size)
1 Each Egg (beaten)
Fry Wontons
Directions
Wonton Filling
Step 1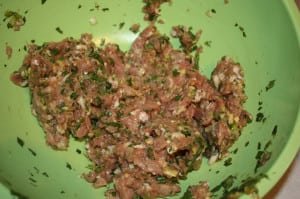 Mix all 'Wonton Filling' ingredients together in medium sized bowl; making sure it is well combined. This can be made ahead of time.
Setup Wrapping Wonton Station
Step 2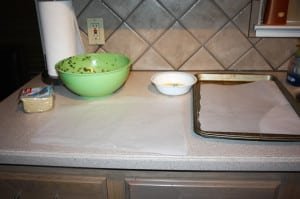 Start wrapping the wontons. To do this, you will need: Wonton Wrappers, Wonton Filling (above), a beaten egg, and parchment paper (or wax paper if you don't have that).

Set out all these ingredients, giving you a space to wrap the wontons. I usually setup a cutting board for wrapping the wontons and then have the parchment paper next to me. See the picture.

Wrap Wonton: Add Filling
Step 3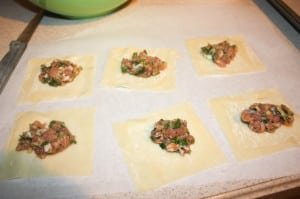 I find it easiest to set out 6-8 wonton wrappers on the cutting board.

Next, put a heaping teaspoon of Wonton Filling onto the wrapper, depending on your wrapper size. You don't want it to be so much that you can't seal the wonton completely.
Wrap Wonton: Brush Egg
Step 4
Using a pastry brush, dip the pastry brush in the egg and brush onto the edges of the wonton wrappers. It will help the wrappers stick together. You can also use a mixture of cornstarch and water.
Wrap Wonton: Fold Wonton
Step 5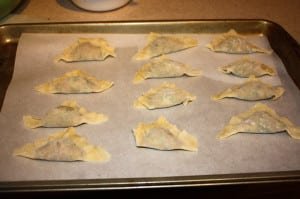 Now you can fold the wontons. There are tons of ways to fold a wonton. The easiest way is to fold corner to corner and then fold in the corners.

You can store these in an airtight container for frying later OR for use with wonton noodle soup.
Fry Wontons: Heat Oil
Step 6
Next step is to fry the wontons. This step depends on what equipment you have. I don't have a deep fryer and I didn't want to use too much oil. If you have a deep fryer, just follow the instructions on your fryer.

But for me, I just put about 1" of oil in a chicken fryer. Heat oil on medium heat to the optimum temperature that is between 350 to 375 degrees.

At this time, you should also put some paper towels onto a plate to use for draining the oil off of the wontons.
Fry Wontons: Begin to Fry wontons
Step 7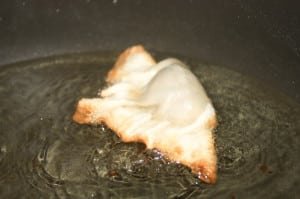 Once your oil is at temperature, carefully place 3-5 wontons into the oil and Fry until golden brown on the bottom side.
Fry Wontons: Flip
Step 8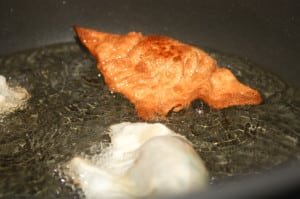 Next, carefully flip the wonton to cook the other side and cook until golden brown. Remove wontons from oil and place on paper towels to help drain the excess oil.
Serve Wontons
Step 9
Serve with your favorite dipping sauce.
Don
Step 10
Instead of frying the wontons, you can instead put them in your favorite soup base for Won Ton Soup.