Hog Wild BBQ Restaurant in Placerville, CA
Who would have thought that a BBQ joint off of 50 heading to South Lake Tahoe California in Placerville would be so amazingly good that I now will make sure I stop at Hog Wild BBQ whenever we are going to/from Tahoe.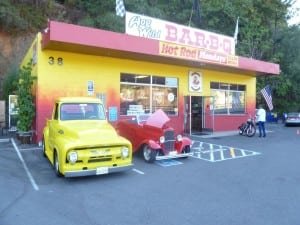 To start, my husband likes to find 'local flavor' when we go on trips. Usually this means a quaint diner that the locals like to frequent. So this last Saturday when we were on our way home from South Lake Tahoe, we had planned on eating a late lunch after we got out of the mountains. Placerville is a logical stop as it is a little bigger with a few more options and is easy to get in/out of because of the lights.
So, I made a left at the last street on Canal Street and immediately saw a big "BBQ" sign. Definitely local flavor. I like my BBQ, but sometimes it's too sticky sweet. But something called out to me and once I suggested it, both my husband and son were a resounding "YES!".
The minute I stepped into the place, I just knew it was going to be good. Jaime, the wife half of the husband/wife owner duo, was running the front of the restaurant and all smiles. The aroma of a smokehouse wafted from the back just enough to know that this was not going to dissapoint us. As we looked around, dozens of pictures circled the walls of the restaurant showing cool hotrods in front of the Hog Wild.
We sat down and the menu was what it should be for a small BBQ place. The selection was not as large as a chain restaurant like Dickey's BBQ, but it was just the right amount of options to satisfy most pallettes. If there were more options, I'd be worried at how a small restaurant can cook and serve fresh that many smoked BBQ items.
A few minutes of discussion and we decided what we wanted. My husband and I decided to split a 3-Meat Combo with Pulled Pork, Baby Back Ribs, and Beef Brisket with two sides: Mashed Potatoes with Country Gravy and Coleslaw (after I heard Jaime suggested it to the table next to us). My son chose the hamburger and Ranchero Pinto Peans.
Now, I'd like to show you a picture of our food, but once it came, there was no stopping us from digging in. My son's hamburger had to have been at least 1/2 pound and 3/4″ thick. The taste was to die for. It was definitely one of the best hamburgers we've tasted (the best probably being the Half Pound Kobe Beef Hamburger from Hendrys Boathouse Restaurant in Santa Barbara). The Ranchero beans were delicious, even though they weren't quite the canned baked beans my son prefers.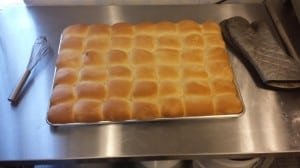 The three meat combo was the perfect amount for my husband and I. Let's just start with the Homemade Yeast Rolls. We had to order a second one because it was so fluffy and soft and delicious. Just one split between the two of us was not enough, even though it was fairly large. I almost asked for more to go, but held myself back. The Brisket was super tender and had the right amount of seasonings and smokey flavor. The Pulled Pork might have been better than my own pulled pork (recipe here). Not sure, but let's just say it was done to perfection and was tender and juicy without being fatty.
Then the Baby Back Ribs. Wow. Seasoning was perfect, smoke was perfect, tender, juicy, not fatty. Again, that's a big thing for me. If the meat is too fatty I won't like it. They were so tasty, there was no need to add BBQ sauce. But once you did add their delicious sauce, it just was pure heaven. I'm assuming they make their own sauce. But either way, I want the recipe or what they use because I'll be craving that sauce for a while now.
As we were leaving, Jaime tried to tempt us with their delicious desserts. No way were we going to be able to eat another bite. It was nice to hear that her father was the one who made the desserts for the restaurant. But still, even after drooling over the Chocolate Pecan Pie and Vanilla Buttermilk Pie, we resisted and walked out not knowing how delicious those desserts were.
Now, as I write this article, I'm trying to figure out how we can make a trip back to Tahoe just so we can stop by and pick up some BBQ to bring to our friends. Maybe Aaron & Jaime will decide to leave the cold winter weather of Placerville and go to a nice comfortable location in Santa Clara so that I don't have to drive so far to get my BBQ fix.
---
Restaurant Details
Restaurant Name: Hog Wild Bar-B-Que
Location: 38 Main St, Placerville, California 95667
Phone Number: 530) 622-3883
Website: http://www.hogwildbar-b-que.com/
Facebook page: https://www.facebook.com/restaurantplacerville
Special Events: Every 1st and 3rd Monday is 'Hot Rod Cruise Nights.  Bring your hotrod and join in the fun.  You may even get yours pictured on the wall inside Hog Wild.
---
About Hog Wild Bar-B-Que & Catering:
Aaron and Jamie Evans are the owners of Hog Wild Bar-B-Que and Catering. Aaron, a native born Texas boy, met Jamie, a native born California girl, from Placerville, back in 2000. They were married in South Lake Tahoe in 2002 and began their life together in Texas.

Now, they're bringing a little taste of Texas back to Jamie's hometown and the area.

For 16 years, Aaron was a key player for one of the largest catering outfits in the southwest United States, Eddie Deen & Company. He has been a part of two Presidential Inaugural Balls in Washington DC, the Dallas Cattle Baron's Ball (which is the largest one night fundraiser for the American Cancer Society in the United States) and many more high-profile events around the country.

At Eddie Deen's, Aaron learned the art of freshly smoked meats, tasty side dishes prepared from scratch, homemade yeast rolls and, of course, Southern hospitality.

Jamie was an instrumental part of the new home construction industry for 10 years in the DFW area. She always felt that she was not offering a house, but a home for a family to create a life in. Jamie is no stranger to hospitality, either, having grown up helping in her mom and dad's candy store as well as alongside Aaron at Eddie Deen & Company.

Now, they are making a home, here in Placerville, for their family of 4 wonderful boys.

Back in 2010, the original owners of Hog Wild, Kat and Jack, built it, literally, from the ground up after years of restaurant experience elsewhere. Since that time, the team has built a loyal customer base using quality scratch ingredients while having fun and making people happy while doing so.

Aaron and Jamie, hope to expand that goal while adding a Texas Twist. This is done through offering high quality products that hit the "sweet spot" between art and science—all the while, serving it with a genuine smile!
The opinions stated here are entirely my own. I did not get paid, offered incentives, or even asked to write this article.