Last year when we heard about the BBQ Competition in our hometown Santa Clara, we thought "Hey! Let's enter next year."  I really didn't think we would enter, but as it came up, my husband and son were so excited that I took the plunge and entered the contest.
Once I did that, my husband went a little crazy when we made the decision and bought this…
Once he bought that, I was stuck! I had to go through with it. So, go through with it we did. I tried out a couple new made up recipes for tri-tip and didn't like what I tried. I realized, that I should just go with a classic and simple grilled tri-tip. So, the weekend before the contest, I created a spice blend and tried it out with my little butter trick. It turned out good, but not great. My son's critique: It needs more seasoning, tastes good, but more seasoning. So, he gets 25% of the credit for the tri-tip. 🙂
I didn't have time to plan or practice anything for the chicken. So I just decided to marinade in beer and keep it simple too. The teriyaki choice wasn't the best, but everyone who tried it loved it. It just wasn't 'Kansas City'.
So the week coming up to the contest, we made lists, and started making piles of stuff to bring with us to the competition. It was 10x worse than any swim meet (and no, I don't go camping so no comparison there… hahaha). Just a quick glimpse of the packing we had to do: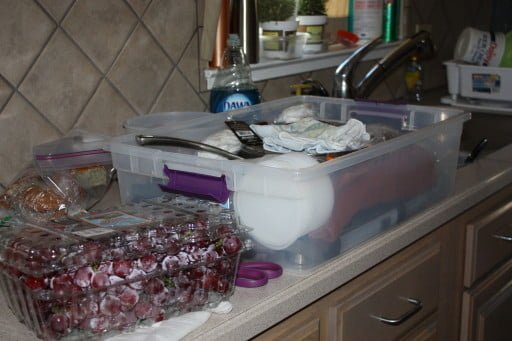 So, the morning of the competition, I was up at 4:30am to not only finish the packing for the competition, which was mostly the refrigerated items, but I also had to get my son ready and out the door for his swim competition. We were out the door with the SUV and PT Cruiser filled to the rim along with pulling our trailer/bbq. Once at the site (we got there at 6:45a), we had to unpack and setup. Whew!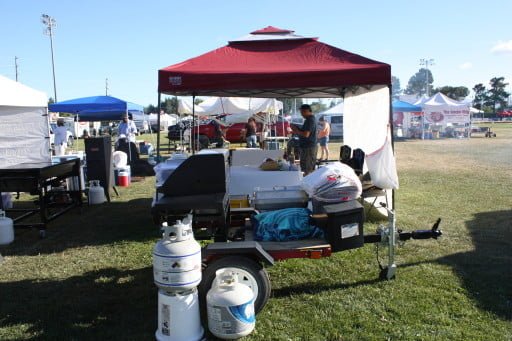 The remaining of the day was a lot of waiting. I didn't have a lot of preparation needed for either my tri-tip or chicken, so we walked around a bit, made some hot dogs and chili for lunch, and just relaxed (as much as we could). Then time for me to start cooking for the competition.
Once I started cooking, I felt 10x better and was so happy with the way my food turned out. I was about 7 minutes early on the tri-tip, mostly because I budgeted 10 minutes to slice the tri-tip, but it really only took me 2 minutes. So, when my husband delivered the tri-tip, he had to wait for them to take it.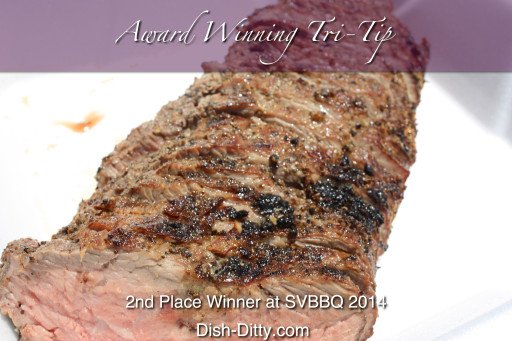 As you can see, we had to turn it in inside a styrofoam container. Nothing but the meat is allowed. No garnish, no sauce containers, no french fries… hahaha. Anyways, once the tri-tip was finished, we had only 30 minutes to get the chicken done. Most of the other competitors had multiple grills and/or smokers, like our neighbors setup: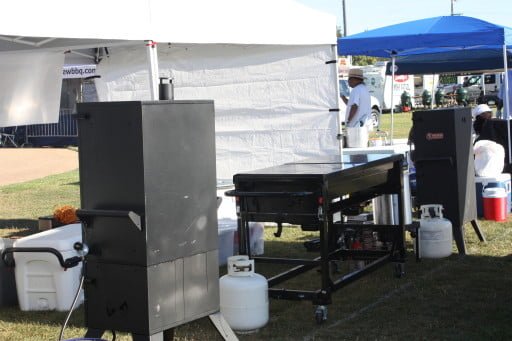 But, since we only had the one, the timing between the tri-tip and chicken was important. That's one of the reasons I needed to do a boneless chicken. So, the chicken was cooked and we were still a little early, by about 5 minutes, but chicken holds on indirect heat better than the tri-tip, so we just let it stay warm while we waited for the perfect moment to put it into the container.
Once that was over, and the chicken was turned in, I popped open a wine cooler! Yep. It was time to relax and wait for the awards ceremony. So, a couple of hours of hanging around, eating, and chatting with friends, the awards were being announced. They started off with the Team competitions and were doing 10 places for each category (there were 4: brisket, pork butt, ribs, and chicken).
I didn't want to sit in the sun, so we went back to our tent to wait for the Backyard competition. We heard them start the awards for the backyard competition, so we started walking back. I was excited when I heard QNQT, our other neighboring tent, got 3rd place in the Tri-tip. Then they said "And 2nd place goes to Dish Ditty"! WHAT?!?! We all looked at each other in shock and my son just started running up there. He's pretty fast so he got there first and had them wait for me and my husband to make our way through the crowds.
So exciting! I've never really entered any contests or competition, so it was really fun to get a trophy. My son says that he deserves 25% of the trophy since he helped me adjust the recipe. Yes, so Justin, you own 25% of the trophy, not sure which 25% he wants.
As the other awards were announced, all of our neighboring tents won one of the 6 prizes. And, as it turned out, our little section took 1st, 2nd, 3rd, 4th, and 5th place. We were definitely in the winning section.
Here's a full breakdown of the competition.
Then it was time to pack it up. My husband, bless him for his hard work, dragged everything to the car so we could leave early. Otherwise, we'd have to wait to bring our car onto the field at 8p, along with the other 60 competitors. We probably wouldn't have gotten home until 10p. But, with our grill that he can just pick up and roll away, we were out of there at 7pm.
So, are we entering the competition next year? You betcha! But, I don't think I will do more than one of these competitions a year. It was just a lot of work. Fun, but tons… of… work.
So, want my recipes? Here you go:
Award Winning Tri-Tip
Best BBQ Chicken
I hope you enjoyed my not-so little recap of my first competition. Have questions about a BBQ Competition? Feel free to ask. I'll try to answer as best as I can.