I know, I'm early, but some of these Christmas gifts need to be planned months in advance. Here are a couple great ideas for making your own foodie Christmas gifts.

Your Spice Mix
This was a huge hit last year with my friends and family. I made large batches of my Tri Tip Rub and Chicken Rub, bought some spice bottles online, made some stickers, and voila! Super easy present but one that is super personal and fun. Also, if you have the spice bottles, this is a great last minute gift. (I found spice bottles also at Big Lots for .80/each)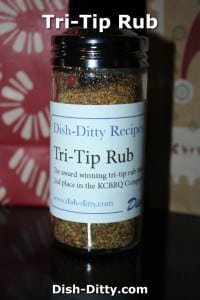 Infused Vodka or Limoncello
First, what's the difference between an infused vodka and Limoncello? Sugar. Infused vodkas are not sweetened. So infusing the vodka with lemon peels will give the vodka an amazing aroma and flavor, but will not be sweet.  Limoncello is lemon infused vodka with a sweet syrup. Serve cold and it is delicious.
Let's start with infused vodka. Step 1 is to start EARLY.  Best to start in September or October.
Next, you need is a high quality vodka (please don't listen to other people who say use cheap vodka… cheap vodka = cheap lemon vodka).
Then, you want to peel several lemons, remove the white pith, and place the yellow part of the lemon peel into the vodka. You can use a zester to do this, or peel the lemon and carefully remove the white pith with a spoon or knife (go to youtube for instructions).
Now set aside for 2 months, shaking occasionally. At this point, you have lemon infused vodka. Strain the vodka discarding the lemon peels.
If you want to make Limoncello, you need to create a syrup. I chose to add lemon zest to the sugar water while I was making the syrup to add additional lemon flavor. So, start with 1 part white sugar and 1 part water and lemon zest from 2 lemons (yellow part only) to this.  Place these items in a high sided sauce pan. On medium heat, slowly bring to a slow boil. It will take about 3-5 minutes. Continue boiling on a low slow boil for an additional 5 minutes, or until all the sugar crystals are dissolved and the liquid will coat the back of a spoon. Remove from heat.
While the syrup is still warm,  strain the lemon zest and rolled the lemon zest in super fine sugar for a delicious lemon zest candy that can be used for decoration on cakes and pies. Let the syrup cool completely.  See the lemon zest candy decoration on top of this lemon curd recipe? Beautiful isn't it? Heck, this could be used as a food gift as well!
Add the syrup to the lemon vodka and YUM! That's it. Bottle it, label it, and give it to your friends and family.
Ratio's: 750ml bottle of vodka + 2-4 lemon zest and 1 cup sugar + 1 cup water + 2 lemon zest
Homemade Vanilla
This year I've been making Vanilla to give to family and friends. I've spent well over 6 months making the vanilla with two separate batches of vanilla beans. My goal? A vanilla that is super dark like the vanilla I buy in the store.
Most of the homemade vanilla pictures I've seen are very light in color, which to me, means that it hasn't spent enough time extracting the vanilla beans. I want a strong vanilla that would match the expensive pure vanilla extracts.
So, what did I do to make this vanilla? TIME! Start in June at least, or March, or heck, in January.  The earlier the better, give your vanilla lots of time to pull out as much as the vanilla essences from the vanilla beans. Other secret? Double extract, meaning do two separate batches of vanilla beans over a span of many months.
Buy Grade B Madagascar Vanilla beans. I bought two 1/2 pound bags of vanilla beans and 1.5 liter Skyy Vodka. I chose vodka because I didn't want to start with a caramel colored liquor which would make it difficult to know when I got that dark caramel color I'm looking for. I chose Skyy Vodka because it comes in a dark bottle. When making vanilla, you do not want to use a clear bottle as the light/sun might cause the vanilla to turn.
I removed about 1 cup of vodka from the bottle (to make room for the beans), then I cut the first 1/2 pound of beans in half and added it to the bottle.  I sealed it, and several times a week, I shake and rotate the bottle to help mix up the beans.  After about 3 months, I strained the vodka, removed the beans (let them dry then place in sugar to make vanilla sugar, again, a great idea for a gift), and then cut the second 1/2 pound of beans in half and added to the vodka.  3 months later, rotating and shaking regularly. Then, strain (making more vanilla sugar, because by now you've used up all the sugar you made from the last batch), and voila! Vanilla is done. Bottle it in brown bottles, label and give as gifts.
More ideas…
Make a homemade granola, muffin mix, cookie mix, chocolate coated candy cane pretzel sticks, infused salts, infused sugars, infused oils (like garlic olive oil, bread dipping oil), homemade marshmallows, candied nuts…
What are your favorite gifts to give for Christmas?