I just want to start by saying this is by far the best couple vacation I've ever been on in my life. Close to the best vacation ever, but it is hard to say that since I have had some wonderful memories of vacations with my husband and son and I don't want to minimize the family time and fun we've had on those types of vacations. The reality is, this resort just blew my mind at how thoughtful and considerate they were with their service.
For information on how to book your Leblanc or Palace vacations, visit our article "The Nitty Gritty… Palace and Leblanc Resorts" explains more than you would want to know.
If you are interested in booking, it's best to book with a member. Before you do, please first read my article on what you need to know when booking with a member.
Before you go… pre-book spa and excursions.
If you have booked through a member, you will be given the ability to pre-book your excursions and spa services through their vacation planners or diamond concierge. At about 30 days before, you should be contacted by someone. If you aren't, contact the member you booked through to get your contact. The member, vacation planner, or diamond concierge will send you the current offered excursions, let you know which two trips are the 'free' trips, and give you the menu for the spa. All of this can be done through email. I strongly suggest you pick out a couple of your favorite excursions since some of them do fill up (like the Snorkel and Sea and Luxury Sunset Sailing at Leblanc Los Cabos).
Also, if you are traveling diamond, you will want to ask as early as possible to reserve one of the diamond cabanas. Or, if not, reserve one of the paid cabanas. Details below on the Pools and cabanas.
Traveling during Covid-19
I understand that some people will be extremely angry at me for going on vacation during this pandemic. I was not planning on this vacation being during a pandemic. I purchased it in August 2019 as non-refundable not knowing what was coming in store for us in February 2020. I had a choice of taking the trip, pushing the trip off by six months, or losing my money all together. My reason for deciding to go on my scheduled time was the following:
Waiting 6 months did not look like we would be in any better situation than we were in October 2020.
The occupancy was extremely low and would likely get busier as Mexico continued to relax their guidelines, so going with lower occupancy means it's easier to social distance.
I really didn't want to lose the money I put on this trip, a total of $4500 (we upgraded our room and went for 9 nights)
We were going with a diamond member, which means we had access to the diamond cabanas at the pool which was the perfect way to social distance
We followed all protocols including wearing masks for every human interaction that was not part of our group.
The people of Mexico really need money to live. All of the workers at the resorts were extremely happy to be working again. I know some won't understand this, but they make so little and have so little. Bringing money in and being generous with tips was one way to help out.
So, if you want to be angry with me, fine. Just realize that I took all the possible precautions. We both were tested for covid before we went, and had little to no interaction with others after taking the test. We wore N95 masks for 99% of my time in the airports, planes, and any transportation. We were first class on the plane and our airline, Alaska Airlines, was still reducing the passengers and leaving middle seats open. The resort went above and beyond for safety, and most of the people were good with wearing masks indoors. We also self quarantined after we got back and took a covid test then before we went back to our social distant stay at home quarantined lives.
The airports SJC->SJD
We traveled from San Jose California to San Jose Del Cabo in Baja Mexico. San Jose to San Jose.
When we got to the airport, there was only a few people in line to check their luggage. We were the only ones at the kiosks and then since we were first class, there was no one in front of us in line to check luggage. Even without first class, the line only had about 8-10 people.
Then the security line. No one there either. Again, we were first class, but I looked over to the non-first class line and there was no more than 10 people. Super fast to get through. Once through security, there was NO ONE at the airport. Almost like a ghost town. Even when waiting at the gate, there was plenty of room. Only bummer was over half the restaurants were closed, and those open had no seating to eat.
Arriving at SJD airport
When we arrived at San Jose Del Cabo Airport, we were the ONLY plane that was arriving. All 37 of us passengers. We walked straight through all the lines with NO ONE in front of us at all. The picture above was from the baggage claim area. NO ONE was there. When we walked to the customs, only 2 people in front of us and it took no more than a minute. No baggage scans, just walk right through. So strange.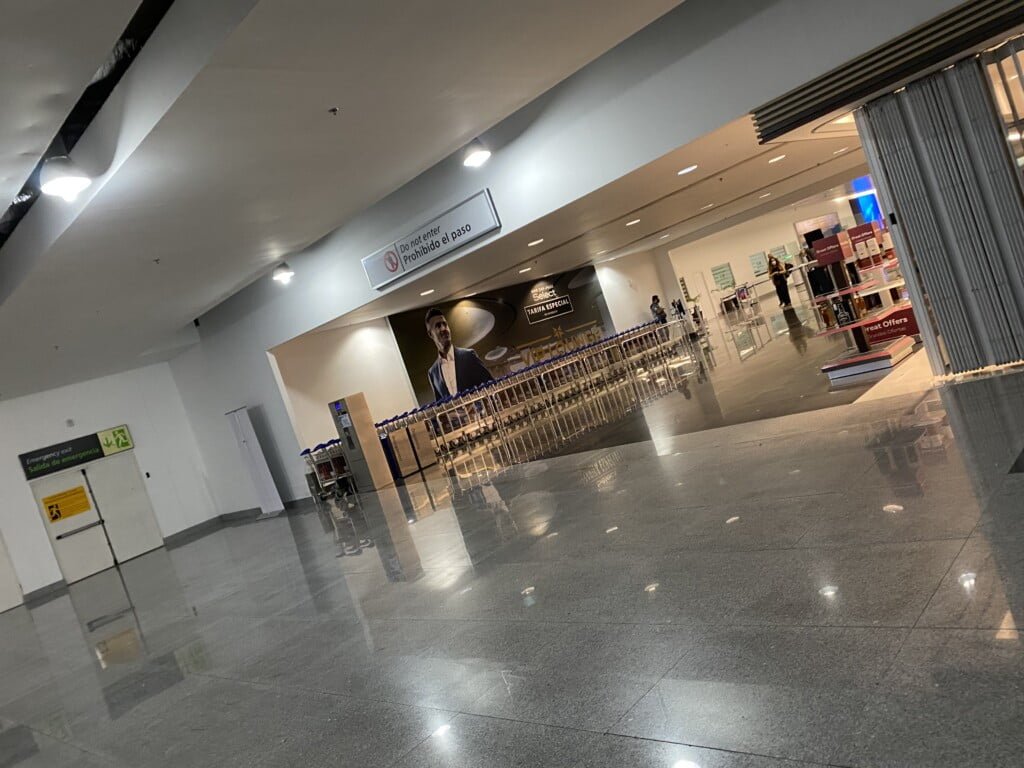 Just a reminder, when arriving at any airport in Mexico, there is a room you have to walk through that has a ton of people to try to get you to book your tours/etc. with them. DO NOT STOP! They will ask which hotel you are staying and say, Oh Joe over here will help you with that. Just don't engage and walk through. Or you will wind up paying money for something that you don't even know what it is, and likely get stuck in some sort of timeshare hell. So just walk through and get your transportation outside.
Since we were traveling through a member, and a diamond member at that, we had private transportation to our resort. The driver was there with a sign and our name. If you book through a member, you will get free airport transfers (unless it is booked under a BOGO offer, or something similar). If you book with a Diamond member, you will get free Private airport transfers.
Our driver took our temperature, gave us hand sanitizer, sprayed down our shoes, and set us on our way. The transport was a beautiful SUV that was extremely comfortable. The air conditioning (it was hot outside even at 7pm) was welcomed as we made our way to the resort. Our driver was pleasant and we were ready to start our vacation. The main road where the resort sits does not have a lot of places to turn around or cross over to the other side. Since the resort was on our left, you have to pass the resort and drive for several minutes before the driver can turn under the road and go back towards the resort.
Finally, we arrived…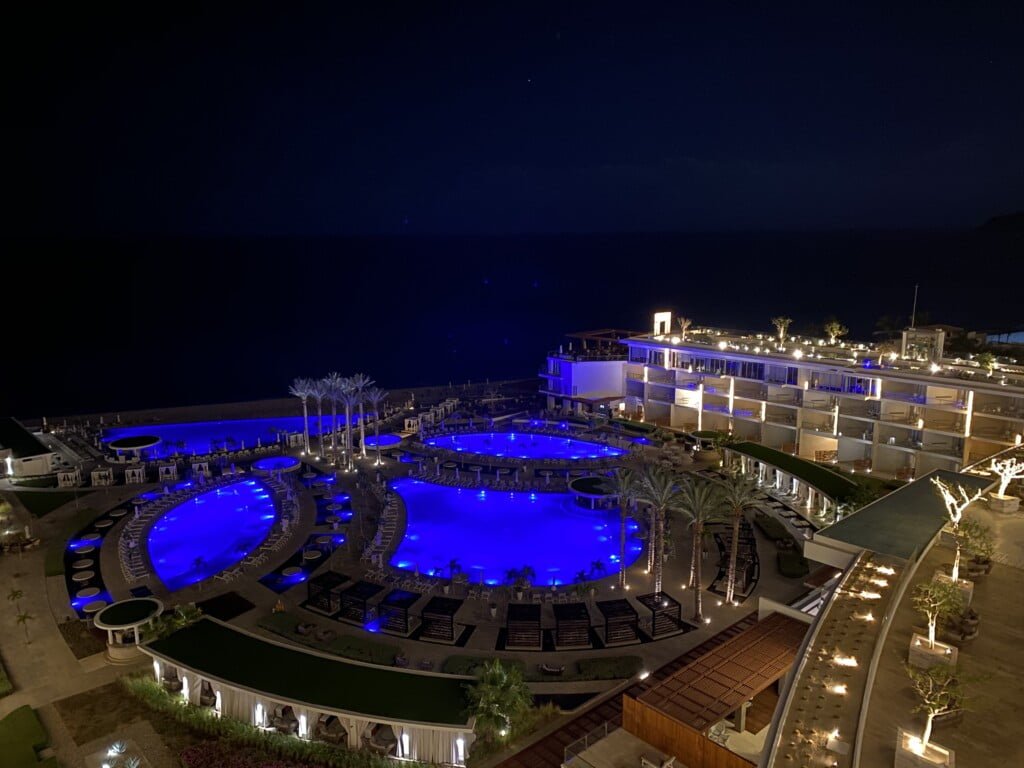 Once we arrived, another temperature check, hand sanitizer and walk through the shoe sanitizer. Now, I think that's a ridiculous thing, the shoe sanitizer, and does nothing to prevent the spread of covid, but it's no big deal. Hey, if anything it will help the resort keep the floors cleaner. There wasn't anyone else checking in, just us, and we immediately sat down and was given a mojito (the driver had asked us what drinks we liked and called it ahead). We were checked in within 10 minutes. When booking through a member, you will have more of a VIP service checking in.
Now this is something you need to know when going to the Palace resorts. The resort credits that you receive do NOT need to be 'activated'. As you are checking in, someone will stop by and tell you they need to talk to you to 'activate' your credits. Then they will offer a welcome breakfast, or lunch and try to get you to do their membership presentation. It is not required that you do this. You can say "NO". We have never needed our resort credits to be 'activated' and in most cases, we had a bunch of spa and excursions pre-booked and already applied to our account. I'll put more information in the other article about the membership.
Our room was so beautiful
We went straight up to our room and WOW, this room was incredible. We had upgraded to the Junior King Suite which sits on the corner of the building. We were in room 1023 on the 10th floor. The view was crazy beautiful and we had a very large balcony with both a table for eating as well as a large lounging bed.
I did a video tour of the room for those interested. This is the best room in its class for the views and size. In addition to the extra sized patio, it had a couch instead of just a chair and it had the romantic soaking tub (not Jacuzzi).
The food… be ready to indulge
One of the best parts of an all-inclusive is not having to worry about getting a good meal. If you go to one restaurant and don't like it, order something else or go to another one. The Palace and LeBlanc restaurants are all top notch and have unbeatable quality and service. You will not go hungry. I have no idea how I lost 2 pounds on this vacation, but maybe I should stay there longer to lose more weight!
Here is a quick rundown of the restaurants and bars at LeBlanc Los Cabos. In order of my favorite restaurants.
🍣 Blanc Asia
This is by far my favorite. The menu is extensive and has a variety of Asian cuisine, but definitely favors Japanese. I would like to see more classic Chinese dishes, but almost everything we had (don't get the crab cake bao) was amazing.
The menu at this restaurant is probably the largest menu of any of the restaurants at Leblanc Los Cabos. The options were extensive and, well, Asian food in general is my favorite.
The second night we were there, our group came back from the Luxury Sunset Cruise excursion and just went straight to the restaurant as we were tired and just ready to eat and go to bed! We had a party of 10 and the waiter just asked if we wanted them to just bring out the restaurant favorites. We said "sure!".
After asking how many ate sushi, we started getting plate after plate after plate of amazing food. From Shu-mai to Spider Rolls to Gyoza to fried chicken and rice, the food just kept coming. I was starved because I didn't feel comfortable eating the food on the boat. And I can eat a lot, but even I couldn't eat everything they brought out.
I apologize because I did not take any pictures that night of the food we had there. We were just exhausted and wanted to just enjoy ourselves and not have to worry about photographing every dish. We later went to that restaurant 2 other times, which is where these pictures came from.
As I said above, everything we had was amazing, except the Crab Cake Bao. I'll admit, I'm a crab cake snob, being originally from Baltimore Maryland. But this didn't work for me at all. The crab cake was a typical Culinary School crab cake (which to me is a mashed up crab with fillers and junk) with a strange overly tangy sauce inside a Chinese steam bun. I usually love asian fusion, but this one just wasn't palatable to me. Sorry! But everything else was insanely good. Definitely try the duck. Wow that was so good.
🍕 Blanc Pizza
This pizza was delicious! I don't eat a lot of pizza because, well, because it's not healthy and I try try really hard (fail frequently) to eat better. But when on vacation, a little pizza doesn't hurt. Loved the Shrimp pizza and the Chicken pizza. I really wanted to try the Carbonara pizza and will do that next time.
Also note that the pizza that is on the pool menu is coming from this restaurant. It is a great place to just sit and relax. Oh and the Arnold Palmer (1/2 unsweetened iced tea and 1/2 lemonade) was crazy good. I think they used limeade not lemonade. We couldn't get anything like it anywhere else.
🍤 Blanc Ocean
This restaurant servers the BEST BREAKFAST! Do not be put off by the healthy options. I loved their Gluten Free Oat waffles, the chia bowl, and the scrambled egg whites as healthy breakfast options. I also had their bagel and smoked salmon (asked for no goat cheese and extra cream cheese yum) and the Turkey sandwich. Wow that was a cholesterol and fat bomb and just amazing. I'm glad I only tried this on my last day or I would have gained 10 pounds just from this sandwich alone!
A lot of the pool service and room service dishes come from here as well. Definitely try the fish tacos, shrimp tacos, and the Shrimp Burger! OMG the shrimp burger is amazing.
The only dinner I had was the pre-planned Diamond dinner, so next time I need to plan a night to just eat dinner here.
☕️ Mezze
This is a phenomenal restaurant. If you aren't sure what Lebanese food is, it is like a cross between Greek and Persian. Amazing babaganoush (get the red one) and the rack of lamb and duck! OMG so good. But, the thrill is the Turkish coffee (super super duper strong) and their version of the Mayan coffee. Also they did a banana flambé which was to die for!
Again, this restaurant would just bring out dishes they thought you would like. Our first dinner was 8 of us and the second was 6 of us. Both times we had so much food coming out that we just got overstuffed. And then came the desserts! Wow. I don't even think the banana flambé was on the menu, and we didn't ask for it, but they started making it and it was incredible. I have some videos of these specialties being made table side, I'll post them onto youtube soon and update this post when they are available.
🍝 Blanc Italia
This restaurant is tucked away, you will not accidentally run into it. When you walk into the lobby on the 5th floor from the drop off, make an immediate left and it's down that hall on the right. Do not confuse this with the pizza place on the 1st floor by the pool.
Let's just start by saying "YUM"!!!! As was the case in all the restaurants at Leblanc, it did not disappoint. We were given a private room for our group. This was one of the cases where we just ordered off the menu and didn't say "just keep it coming!" 😂
That was a wise choice as the portions were perfect. They brought out a little bruschetta. Then gave us olive oil and balsamic for the bread which was a beautiful round loaf with cheese.
I started with the mushroom soup (not pictured). I didn't read the menu well, so I was expecting cream of mushroom, but it was a broth based. Wow it was delicious. I was glad it was a lighter soup.
Next, I had the Pappardelle al ragù di manzo: A real delight: pappardelle with beef ragù which takes 72 hours to make.
Decadent and full of umami (haha had to throw that word in). Very tender beef seasoned perfectly. I'll have to say there was more beef Ragu than I needed. But it was so delicious that it didn't matter. The pappardelle tasted freshly made and was perfectly al dente. We didn't have time to go back to this restaurant but I definitely want to try so many more dishes!
My husband had the Ossobuco con risotto milanese: Slowly cooked braised veal shank served with saffron risotto
It was tender and also seasoned perfectly. The risotto was creamy and tender. I will have to say that some of the risotto that we had elsewhere wasn't as creamy and was too crunchy (undercooked). But in this case it was perfect.
Next was dessert and their version of a Mayan coffee. They called it "Affogato", which generally is ice cream with a shot of espresso. But this was just over the top. It really is a show with a desert coffee as the finale.
As for the dessert, I had the Torta di cioccolato: A heavenly bite: chocolate cake with hazelnut crisp, chocolate ice cream and praliné sauce
Omg I died it was so good. All the desserts were so good. I'm glad I didn't over stuff myself so I had room. I think I could just go crazy and have all the desserts. I want them all now! But alas, I'm home now and no more decadent desserts for me!
🥘 Blanc International
This is a buffet for breakfast and lunch and a steakhouse for dinner. I ate here twice for breakfast, once for lunch and once for dinner.
The buffet is no longer self serve, which I like much better.Aside from dishes that are just pick up and go, you ask one of the servers to put what you want on your plate. A lot of cook to order items available here for both breakfast and lunch including burgers and tacos for lunch. This was a great way to get a quick meal without much fuss.
The dinner menu to me was not amazing, but I'm not a steakhouse gal. My husband loved his steak. This was our first night in and we had just arrived about an hour earlier. I wasn't feeling like eating much, so I just had the chicken skewers and tofu. The tofu should have been considered an appetizer and not a main dish as there was nothing served with it. It was delicious and light which was what I wanted, but not something that a vegan could eat as a main dish and get full.
🧈 Lumiere
This is the high end French restaurant. It is lower on my list since it is a little more strict in its dress code. My husband doesn't like dressing up for dinner, so this was a bit of a hurdle.
The food was great, and the desserts! OMG get the soufflé! Just be sure to have a nice dress for the ladies and long pants, close shoes (not sneakers) and a collared shirt for the men. It should be higher up on my list, but I'm going with my favorites and what I prefer to eat.
My only comment was the scallops were delicious, but the risotto under the scallops was a bit undercooked. It was crunchy and should have been creamy. Everything else was incredible.
🥐 Blanc Cafe
Just walk up and get a coffee, tea, croissant, chocolate, ice cream, little cakes/pies, bagels with lox, and I think they may have sandwiches? not sure of all they have but I did partake in some chocolates, ice cream, cakes, etc. Also can pick up some fresh fruit like apples and bananas. This really isn't on the bottom of my list, but it's just no where else to put it. Sorry there's no pictures here. I only came in here when I was in a rush as I was trying to stay off of coffee and sitting in that beautiful space smelling the rich coffee aroma would cause me to order one or two or three.
🏊‍♀️ Blanc Eclipse & Blanc Sol
Food by the pool and in the pool? YES! They have a great menu which is mostly served by Blanc Ocean and Blanc International and Blanc Pizza restaurants. Everything we had was great. If you want something that isn't on the menu, ask, they may be able to get it for you. Definitely try the Shrimp burger, as I said above under Ocean restaurant, and the Shrimp pizza. The options here are quite good.
If you are a diamond or resident band, you can pretty much ask for anything that the resort has to offer, and the servers will go out of your way to get it for you. Sorry I didn't take any pictures of the food we had here as again, I was just taking time to enjoy myself.
🔥 Blanc Fire
Great outdoor bar that overlooks the resort and ocean. Open from 5p-1am, this is a wonderful place to chill and listen to music while sipping your favorite cocktails. Apparently the Johnny Walker blue can be ordered through resort credits. This is where you can likely find your specialty liquors. Live music is also performed here (usually solo musicians like a violinist playing with background music).
🍾 Blanc Stage
Live music or DJ at this traditional bar with dancing. This was a fun place to dance, drink and play pool. This is a little more mellow than you'd think of for a nightclub, but definitely a fun party atmosphere. Lots of fun cocktails to try and the live music we heard was great.
Also there are TVs around the bar for playing sports. So this would be considered the "sports bar". When we went in the evening, it was more festive with live music one night and a DJ the other night.
🥂 Blanc Lobby
This is just a typical bar and is nicely situated when you enter the resort. Nothing special but it is another bar for you to wet your whistle.
💼 Blanc Business
This is a lounge that is available for a quiet space. There is one private room that looked like it sat 6-8 in a conference table. We just peeked in and no one was really in there. Unfortunately, unless you have the room booked, don't plan on taking meetings here as I didn't see any private spaces other than that one room (maybe I missed it?)
The Pools and Beach
All I can say is "wow". The pools and beach are simply stunning. I highly recommend getting up at sunrise one morning and just walking around as that is definitely the golden hour.
There are 4 pools and 2 large hot tubs. There are two swim up bars, one in the infinity pool and one in the middle pool. Both swim up bars have most well drinks, beer, wine, and sparking wine. If you are wearing diamond or resident band, you can pretty much ask for anything and the bartender will try to get it for you.
The pool attendants and servers
It's such a simple thing. But this resort makes sure everyone stays hydrated and you don't have to think about getting water.
At the pool they have 3 types of attendants.
One is the ones that help you get your towels and setup your chairs and umbrellas (Sebastian is the best!). If you aren't diamond and don't have a reserved chair or cabana (you have to ask in advance) come down after 7 and before 8. If you come before 7 and leave stuff, they will remove it. Please release it to the attendant when you are done so others can enjoy.
Next are the attendants that setup the waters on ice. This is for everyone, not just special bands. They are so good about just coming by and refreshing the ice and giving you more waters.
Then there are the servers (in white shirts). They will bring you drinks and food. Menus are on the app and they have a QR code to scan to get the menu as well.
So just a little about how this resort goes above and beyond. It's just these little things that makes an amazing experience for everyone.
The Cabanas
There are five categories of cabanas and reserved chairs. Reservation of the cabanas need to be made in advance with your diamond concierge or the vacation planners.
DIAMOND CABANA Infinity Pools: These cabanas are just two chairs, two small tables under a canopy. These are great for social distancing and nice and quiet. The view is slightly obstructed since these are behind the lounge chairs around the infinity pool, but still lovely. The pool attendants can put up an umbrella to increase the shade if needed (which I definitely did). There is one diamond cabana right in the middle of the infinity pool, I'm sure that's for resident members but it is by reservation only.
PAID CABANAS Infinity Pools ($250 resort credits + 16%/$40 room charge): The paid cabanas are very nice and large. Enough room for 6 adults and is completely enclosed, has a TV, a fan, several lounge chairs, a couch and table. The cabanas by the infinity pool are a great location and has a nice view of the infinity pool and a slightly obstructed view of the beach.
Round In-Pool Bed: I'm not sure if these are available for all, but as a diamond member, the pool attendant reserved one of these beds for me for the whole time we were there once he saw me swimming in the morning and I was putting my stuff on the bed.
PAID CABANAS interior pools ($250 resort credits + 16%/$40 room charge): The paid cabanas around the other pools are the same as the ones next to the infinity pool, but they are just surrounding the other pools. So farther from the beach/ocean, but still beautiful and comfortable.
DIAMOND CABANAS interior pools: These cabanas are just two chairs, two small tables under a wooden cabana. I didn't see anyone using these as they were more isolated and for me, they have too much sun since the top is slatted wood not a canopy. I'm sure when it is busy, those will be well used.
The Beach
First things first, there is NO SWIMMING ALLOWED IN THE OCEAN AT THE LEBLANC BEACH. The beach is stunningly beautiful and the ocean looks so inviting BUT DO NOT SWIM in the ocean right there. Even if you are a strong swimmer.
The topography of the beach/ocean is very different. If you walked straight into the ocean, you will walk only a couple of feet before there is a steep drop off. That drop off creates an extremely strong surf that crashes onto shore and pulls out extremely strong. In addition to that, there are some extremely strong rip currents that can pull you under and out. So just do not do it.
We found that there was a swimmable section about 300 yards up the beach where there was a lifeguard. The topography is the same, with the short low water with a drop off. The difference is that it is surrounded by two rock formations on each side which protects it from the strong rip and undercurrent. So once you get through the strong current at the drop off, it was calm and a wonderful place to swim. I will say, have someone on shore to help you get out as I wound up crawling (laughing the whole way) to try to get out of the water as every time I stood up, a new crazy strong wave would knock me down and try to tear me back into sea.
One other thing to note, the beaches outside of the ones at Leblanc, are very rocky and uncomfortable to walk with barefoot. Bring water shoes to help you walk on that rocky shore.
The Spa and Hydrotherapy
The spa at Leblanc Los Cabos is beautifully architected while still maintaining practicality. Spa services can use resort credits depending on the type of credits you have. Come back cards do not work for the spa and most reservations have a limitation on how much of the resort credits can be used at the spa (between $350-500 on average). We booked during a promotion where all of the resort credits could be used at the spa, so you can look for those types of deals.
The Water Journey (aka Hydrotherapy) was pretty amazing. The men and the women water journey is separated, so going alfresco is fine for that portion. When you meet up at the pools, you will need a bathing suit to go in there.
You will have an attendant that will guide you through the water journey. At each station the attendant asks if you want 5, 7 or 10 minute. You will start in the dry hot sauna. Then move to dry cold room where you first are supposed to rub crushed ice over your body. Then you put on aloe Vera. Next they have you put on a face mask/cream and some conditioner in your hair. Then you go to the steam room and YIKES! I couldn't last the whole time. Lastly they put you in this shower that has 4 sets of jets with each set having 4-6 jets. Starts at your feet and starts cold. The jets turn off/on with about 7 sets of jets going up and down your body moving from hot to cold. Don't worry if it's too cold it's just for a minute. Oh there was a cold shower somewhere in there too.
Then you can go to the pools which are coed or you can stay in the women's only area. There are three pools. The one on the left is the cold pool. Yes freezing cold. The middle large pool is warm but not hot. The one on the right is the hot tub but it's not that hot. Should be hotter, probably only about 98 degrees while the big pool was around 85-90 degrees.
They had curtained areas with two lounge chairs in each curtained section. You can meet up with your partner after doing the water journey and relax together in semi private space and enjoy the pools together while you wait for your services.
I did not take pictures in the other areas of the spa due to privacy reasons.
Available Tours and Excursions
As with anything, the tours and excursions can change at any time. I'll list the ones that were available at the time I went and give a quick review of the ones I did go on. The pricing was as of the time I went in October 2020.
Golf at The Nicklaus Design golf course at Club Campestre: $299/pp Resort Credit + 16% fee + $5/transportation
Luxury Sunset Sailing: $149/pp Resort Credit + 16% fee + $5 transportation + cost of pictures (all downloaded for $50)
Snorkel & Sea adventure: Free tour for members and their guests. Otherwise it's $149/pp Resort Credit + 16% fee + $5 transportation + cost of pictures (all downloaded for $50)
Todos Santos Day Trip: Free tour for members and their guests. Otherwise it's $139/pp Resort Credit + 16% fee
San Jose Wonder Evening tour: $139/pp Resort Credits + 16% fee
ATV Desert Tour: $130/pp Resort Credit + 16% fee + $20 park entrance fee + cost of pictures (all downloaded for $110'ish) + upgraded cars (see review below)
Beach Horseback riding for beginners: $130/pp Resort Credit + 16% fee + $20 park entrance + cost of pictures (unknown)
Dolphin Ultimate Gold: $149/pp Resort Credit + 16% fee + cost of pictures
Upgrade to Royal Swim with Dolphins (when combined with Dolphin Ultimate Gold): $79/pp Resort Credit + 16% fee
Wines around the world wine tasting: $150/pp Resort Credits + 16% fee
Chef Dinner: $226/pp Resort Credits + 16% fee
Romantic Dinner: $452/per couple Resort Credits + 16% fee
Tequila Tasting: $150/pp Resort Credits + 16% fee
For the beach horseback riding, just know that there are options to do this right on the property. Daily there would be someone walking the horses along the beach in hopes of someone wanting to do horseback riding on the beach. I do not know the cost.
Also note that some of the tours include free tequila tasting, so it might not be worth paying for that.
Luxury Sunset Sailing
The tour is offered through Cabo Adventures. All the tours we had with them were run well. I never felt like we were extorted for extras and everything they said was included was included.
The transportation to Cabos San Lucas was only about 20-30 minutes long and everyone was required to wear masks on the bus. Once off the bus you go sign in and pay the $5 transportation. Wait a few minutes and off to the sailboat you go. Just a couple of minutes of walking around the harbor and you go onto the boat.
Once everyone is settled in, you are given a fruity drink and off they go. Drinks are offered as well while you are there. I wasn't in the mood to drink (I don't like drinking on boats) and it was really windy and choppy that evening. So, the Dramamine was working double time and I didn't want to make it worse by adding alcohol to the mix.
About 20 minutes in, we are given "dinner". It was just fine but again, I didn't want to eat much. I can't even really remember what it was, some salad, rolls, a chicken thing, I don't know. My husband liked it and everyone else seemed to enjoy it, but I just nibbled on the rolls.
The food/drinks wasn't what made this trip spectacular. It was being on a sailboat out in the Sea of Cortez at sunset. This was so beautiful and we had the best time. The tour was a couple hours long. It didn't need to be any longer or shorter, they planned the timing just right.
This tour allowed us to use our phones plus they took beautiful photos of us. We were able to download purchase all the photos for our group of 10 for $150 ($50 if for a couple). Other than tips and splitting the photos, the only out of pocket expense was the 16% on top of the $149/pp resort credit and the $5 transportation fee . It was definitely worth the money.
ATV Desert Tours
This tour was run through Cactus Tours and it did not allow go-pros, cameras, etc.
The ATVs that were part of the resort credits was the lowest level ATV that was a manual transmission. Upgrades were expensive, but worth it. We upgraded to a 2 person car and did a private tour, added $300. They had a photographer following us around and took great pictures and videos, but it wasn't worth another $104 for all to be downloaded. For the $300, the photos should have been included.
We loved the tour, but felt like everything was more $$. Next time, I think I would just pay to use Cabo Adventures directly as they don't seem to nickel & dime us for everything.
Snorkel & Sea Adventure
This was my favorite of the tours. Also run through Cabo Adventures, the process was the same as the Sailing trip. Once on board the boat, we were whisked around to get to a fairly secluded snorkeling spot.
They had a boat sitting there with all the toys on it. Everything was included: sanitized snorkel gear, life jackets (required when on the boat but you can snorkel without them if you prefer), Standup paddle boards, single and double kayas, as well as the sea scooter.
We had a treat as we spotted a whale while we were on our way to the snorkeling destination. The boat stopped as we all sat in awe for a couple minutes until the whale dove down and was out of site.
This tour also allowed us to use our cameras as well as they had a photographer taking photos as well as he got in the water and took photos and videos with the go pro. We had so much fun, but I'm a big water person and love snorkeling and swimming. I loved that I didn't have to wear a life vest while snorkeling, otherwise you can't dive down.
Definitely do this tour if you can. Especially since it is free to members and their guests.
That's it!
If you've read this far then I know you will be booking a trip to this amazing resort soon. Just remember to read my article on how to book through a member so you have all the necessary information before you book.
DISCLAIMER: I am not getting any compensation or benefits by providing this review or these recommendations. This is 100% my thoughts and feelings and experiences.