Fall is HERE! That means it's time for Pumpkin everything! Here's a quick and Easy Pumpkin Chocolate Cake Recipe for you to bring to your next party or pot luck.


Easy Pumpkin Chocolate Cake
Print recipe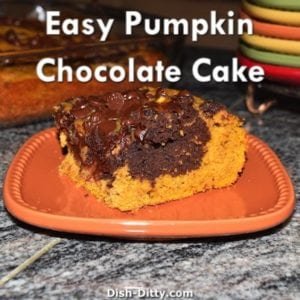 Ingredients
1 box White Cake Mix
5 Eggs
1/2 cup Butter (melted)
1 can Pumpkin (15 oz can)
1/4 cup Cream Cheese
1 cup Semi Sweet Chocolate Chips
1 1/2 teaspoon Pumpkin Pie spice (or mixture of cinnamon, ground ginger, ground cloves and ground nutmeg)
2/3 cups Powdered Sugar
Directions
Step 1
Preheat oven to 350 degrees.
Step 2
In one bowl, mix together 3/4 of the pumpkin, 4 eggs, melted butter and 1 tsp pumpkin pie spices together. Add the box cake mix and mix well. Pour 2/3 of it into a 9x13 pan sprayed with Pam.
Step 3
In another bowl, melt 3/4 cup of chocolate chips in the microwave, in 30-45 second increments, stirring until just melted (do not burn). Add to the remaining 1/4 pumpkin cake mix and mix well. Pour on top of the pumpkin cake mix, spreading lightly (it need not be even).
Step 4
In another bowl, combine the remaining pumpkin with 1 egg, softened cream cheese, 1/2 tsp pumpkin pie spice and 3/4 cup of powdered sugar. Mix well and pour on top of cake. Sprinkle with remaining chocolate chips.
Step 5
Bake at 350 degrees for 22-26 minutes, or until center is fully cooked. Cool and serve.
---
I don't usually go crazy making everything pumpkin during the Halloween and Thanksgiving seasons, but today I wanted to make a dessert, I had a box cake and a can of pumpkin. This is the result. Easy and better than just a simple pumpkin cake.
Enjoy!