This is a simple preparation for calamari steaks that is easy to do on a busy weeknight. If you like fried calamari appetizers, this is so much easier.
Fried Calamari Steaks
Print recipe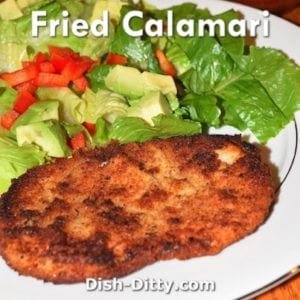 Ingredients
6 whole calamari steaks (pounded, if desired)
1-3 teaspoon seasoned lemon pepper (as desired)
1/4 cup cornstarch
1/2 cup water
2 eggs
1/2 teaspoon salt
1 cup Italian seasoned breadcrumbs
1/2-1 cup olive oil (for frying)
Directions
Step 1
Season steaks with seasoned lemon pepper.


Step 2
In one bowl, combine cornstarch and water. In a second bowl, beat the eggs adding 1/2 teaspoon salt. In a third bowl, add the Italian seasoned breadcrumbs.
Step 3
Dip calamari in cornstarch mixture, then egg, and then bread crumbs. Place on wax pepper. Let the calamari rest for 15 minutes. Pan fry in small batches using olive oil.
---
Spicy Cocktail Sauce
Print recipe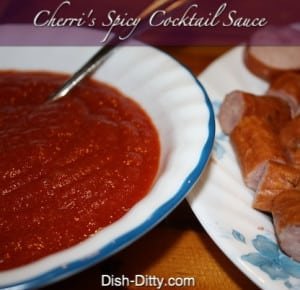 Ingredients
1 jar 15oz Heinz Chili Sauce ((NOT the cocktail sauce))
1 teaspoon Lemon Juice
1 teaspoon Sugar
2-5 tablespoons Horseradish (either homemade or 'extra-hot' from the store)
---
Not a lot of people know about calamari steaks. Some might say they "taste like chicken" 🙂 They really don't, but the consistency is a nice meaty consistency, as opposed to other white fish which is more flaky. There is very little 'fishiness' which means that there is little smell when cooking. That's perfect for me since my husband is not a fan of me cooking fish at home..
This tastes great when served with Cherri's Spicy Cocktail Sauce.
Enjoy!