Some recipes need a lot of love and time, and Mike's Gumbo is one of those recipes. Not for the weak of spirit, the love you pour into this Gumbo will determine how much your family and friends love it.


Gumbo
Print recipe
Ingredients
1-2 Crabs (Depending on size, enough for 1lb of crab meat)
1lb Shrimp
1 Duck
Beau Monde Seasoning
Dried Basil Leaves
Dried Oregano Leaves
Ground Yellow Mustard
Ground Black Pepper
Dried Thyme
Dried Parsley
Chinese 5-Spice
Salt
Cayenne Pepper
White Pepper
Ancho Chile Powder
Duck Fat or Bacon Fat
Butter
Olive Oil
2 Onions (diced)
4 Celery Stalks (diced)
2 Carrots (diced)
1 Green Peppper (diced)
3-4 Garlic Cloves (smashed)
1.5lb Sausage (andouille or other spicy sausage)
1 cup White Wine
1-2 cup Flour (for dredging)
32oz Chicken Stock
2-3 Potatoes (skinned and diced)
2 Bay Leaves
1/2 Duck
1-2 Turnips (diced)
1lb Mussels
8oz Bag of Frozen, Chopped Okra
8oz Bag of Frozen Baby Lima Beans
8oz Bag of Frozen Peas
Ground Gumbo File ((optional))
1lb Raw Shelled Shrimp
Directions
Steam Some Crab
Step 1
Start by steaming a couple of crabs. Or you can buy some pre-steamed crabs. Pick the crabs and separate the meat (save for the gumbo) and the shells (save for the stock). Steam a pound of shrimp to use the shrimp shells for the broth. Have a nice snack of the shrimp.
Render Duck Fat
Step 2
You will want to render the duck fat. There are lots of instructions online for this like this one.
Make the Crab Seafood Stock
Step 3
Put the shells from crabs and the shells from a dozen shrimp in a pot with about 5-6 cups of water. Bring to a boil. Cover and simmer for about 1 hour, occasionally skimming the white foam. Remove from heat, cool and strain. Reserve 4 cups of the broth for the Gumbo.
Step 4
Set up your seasonings. You will need the following seasonings, which make up the
MAGIC MIX:
- Beau Monde Seasoning
- Basil Leaves
- Oregano Leaves
- Ground Yellow Mustard
- Ground Black Pepper
- Thyme
- Parsley
- Chinese 5-Spice
- Salt

When I ask for the MAGIC MIX, you will use several dashes of each seasoning. You will also need a PEPPER MIX:
- Cayenne Pepper
- White Pepper
- Ancho Chile Powder
- Black Pepper

When I ask for FAT, use a combination of Duck Fat (or Bacon Fat), Butter, and Olive Oil. Any mix of that is good, but try to get more than one type of fat to provide more complex flavors.

You will notice that all the layers have seasonings so that the flavors will build upon each other.
Step 5
Dice the following vegetables...
Make a Mirepoix
- 2 parts Onion
- 1 part Carrots
- 1 part Celery
Make a Holy Trinity
- 3 parts Onion
- 1 part Green Pepper
- 2 parts Celery

Smash...
- 3-4 Garlic cloves.

In a CAST IRON SKILLET, sauté the above vegetables with FAT and the MAGIC MIX. You will want to sauté the vegetables until they are translucent. Add a light sprinkle of PEPPER MIX. Remove from the skillet and put into a big stock pot or skillet.
Brown the Sausage
Step 6
Slice the sausages and cook with the MAGIC MIX in the same skillet as the vegetables. You will want the sausages to be browned on both sides. Add a light sprinkle of PEPPER MIX. Then add the sausages to your stock pot.
Deglaze the Pan
Step 7
After moving the sausage and vegetables into the stock pot, using the same cast iron skillet, deglaze the pan with 1 cup of white wine. Cook down for about 5 minutes and add to the stock pot.
Brown the Chicken
Step 8
After deglazing the pan with wine, dredge the bone-in, skin-on chicken thighs (about 3-4) in flour. Add FAT to the cast iron skillet and brown chicken with MAGIC MIX in batches, adding FAT as needed. Once the chicken is browned, add a light sprinkle of PEPPER MIX and then add the chicken to the stock pot.
Make a Roux
Step 9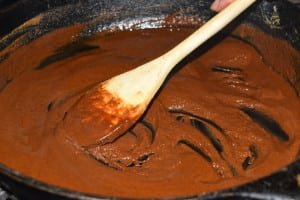 In the same cast iron skillet, make a Roux. Start by adding about 1/2 cup of FAT and then slowly add a 1/2 cup of flour. You will want to constantly stir with a wooden spoon for about 20 minutes on a low setting. You are looking for a deep dark brown roux.
Add the stock
Step 10
Once the roux is dark brown, gradually add 32 ounces of chicken stock to loosen the roux from the pan. Stir broth into the roux until it is a smooth sauce. Add the roux/broth mixture to the stock pot. Add 32 ounces of your crab seafood stock to the stock pot. Add the Duck to the stockpot.
Cook the Soup
Step 11
Add about 2-3 diced potatoes, 1-2 diced turnips, 1/2 cut up duck, PEPPER MIX, and 2 bay leaves to your stock pot. Bring just to a boil, reduce heat and put on a simmer. Taste to see if you want to adjust the seasonings. Cover and cook for about 2 hours, stirring and tasting occasionally.
Steam your Shellfish
Step 12
Steam 1 pound of mussels and 1 pound of clams. Any mussels or clams that don't open, just throw them away. Remove the meat and throw away the shells. Save the meat for later.
Remove the bones
Step 13
Remove the chicken and duck (if using) and pull the meat off the bones. Put the meat back in the soup and discard the bones.
Add Frozen Vegetables
Step 14
Add one 8 oz bag of frozen okra, one 8 oz bag of frozen baby lima beans, and one 8 oz bag of frozen peas; cook for about 5 minutes.
Add Seafood
Step 15
Add all the seafood you have: mussels, clams, 1 pound raw shelled shrimp, 1 pound crab meat. Cook for about 5 minutes, or until the shrimp is pink and the seafood is hot. Adjust seasonings as needed.
Serve it
Step 16
Serve in a bowl over rice with Pure Ground Gumbo File to sprinkle on when served. This seasoning is ground Sassafras leaves and will thicken the gumbo. Do not cook the gumbo with this seasoning, just sprinkle on, as desired, at the table.
---
My sister's beau, Mike, took on the challenge to make dinner for one of our Sunday dinners. He didn't take that task lightly, and chose to make his family favorite Gumbo recipe. Very rarely is there a dish that has so much preparation, but boy is the time and work worth the effort.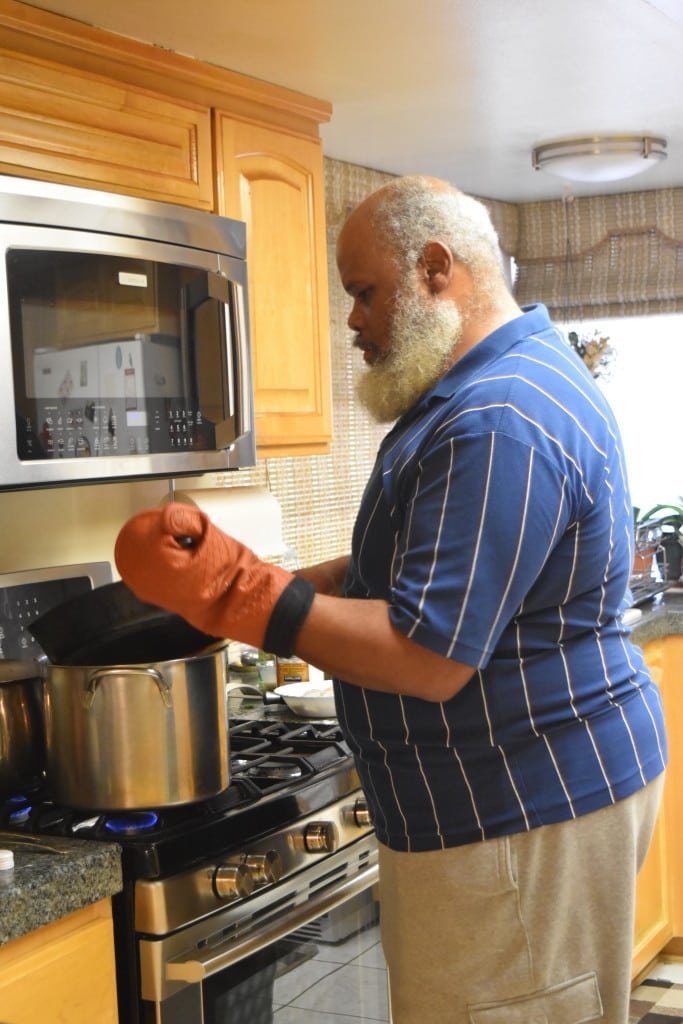 Mike spent the entire morning and afternoon chopping, cooking, steaming, frying and just pouring in his heart and soul to this amazing Gumbo. I was there as support to take pictures, record the process, and keep the kitchen organized. I wasn't able to take pictures of all the steps (missed some as they started cooking before I got there). But I got a few candids.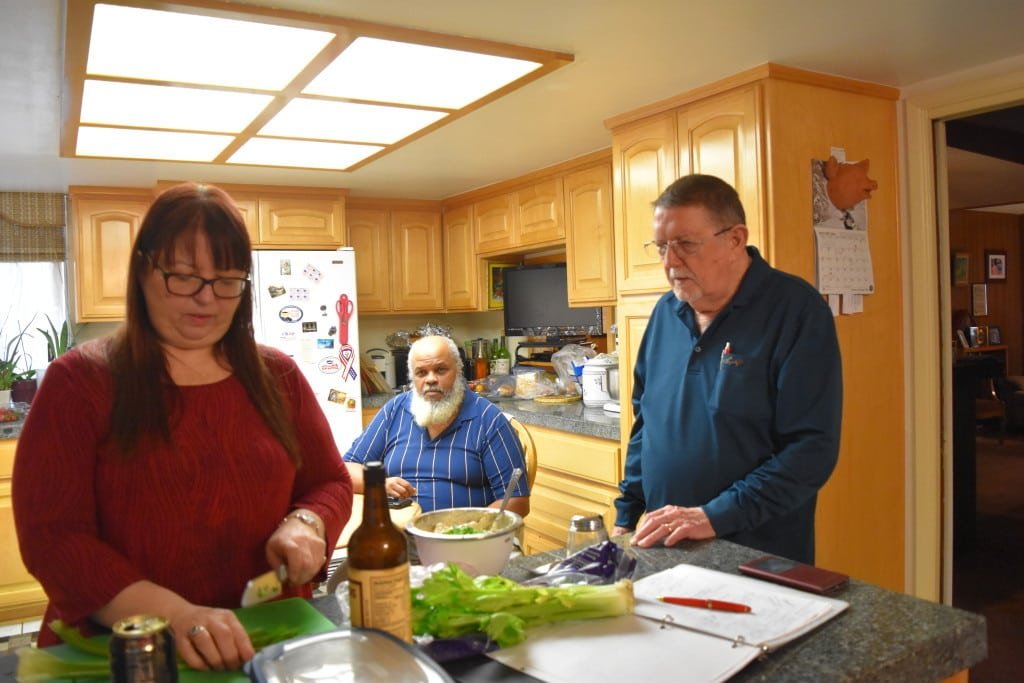 If you do decide to take on the challenge of this incredible gumbo, plan on devoting all day to prepare it, but be sure to take a few breaks. Here's Mike taking a little break…
Thanks again to Mike. It was a fun afternoon and a wonderful dinner.
Enjoy!
---