So so yummy.  This is one of my favorite lunch dishes since I can make a single serving easily.
This recipe was created by me one day when I was at work trying to figure out what to have for lunch. My work is amazing and has a well stocked kitchen.  I really was in the mood for Pad Thai, but I was not willing to go out.  So, I found a package of miso udon noodles and decided I wanted to make something that would make me stop craving that darn Pad Thai.
So, I cooked up the udon noodles, only using a tad bit of the miso and all the dried herbs.  I then drained the liquid and combined it with a mixture of crunchy peanut butter and the sweet chilli sauce.  I then added a cooked chicken breast patty cut up and Voila! Lunch is served.
Quick & Easy Peanut Sesame Noodles
Print recipe
Ingredients
1/2lb Spaghetti Noodles
1/3 cup Peanut Butter
1/2 cup Sweet Chili Sauce
2 tablespoons Soy Sauce
1 tablespoon Sesame Oil
1 teaspoon Rice Wine Vinegar
1 tablespoon Cilantro Paste
Optional
Green Onion (chopped)
Cilantro Leaves
Crushed Peanuts
Cooked Chicken or Fish
Directions
Step 1
Cook Spaghetti noodles according to package directions.
Step 2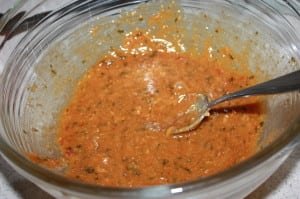 While spaghetti is cooking, in large bowl combine peanut butter, sweet chili sauce, soy sauce, sesame oil, rice wine vinegar and cilantro paste. Mix well to combine so that there are no peanut butter clumps.
Step 3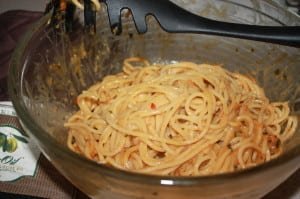 When pasta is done cooking, drain but do not rinse. Toss with peanut mixture to coat noodles. Add cooked chicken and top with peanuts, cilantro and green onions (if desired).
Step 4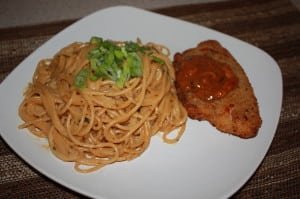 Optionally, you can reserve a little peanut sauce to add on top of your cooked chicken or fish to serve on the side.
Step 5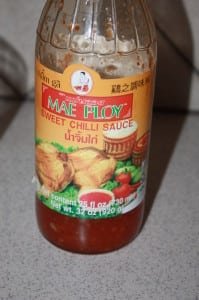 Here's the sweet chili sauce I used.