I think you will find that I like recreating my favorite dishes from restaurants. This recipe is created from Johnny Carino's Spicy Chicken & Shrimp dish that is so very delicious and way too spicy for me. The restaurant has a blog where they occasionally put recipes. This recipe is on the blog (see source), but I tried it and the recipe was just not right.  The chicken and shrimp had to get cooked down way too much to let the milk/cheese sauce thicken. A bit of a dissapointment.
But, never fear, I took the recipe posted and reworked it so that it can be an easy weeknight meal and it tastes just like what you would get at the restaurant.  It is great for guests. You can add other vegetables like asparagus, zucchini, etc and you can choose to do only shrimp, only chicken, or none.  It's a very versatile dish.
Spicy Shrimp & Chicken Pasta (Johnny Carino's Copy Cat)
Print recipe
| | |
| --- | --- |
| Serves | 4 |
| Prep time | 15 minutes |
| Cook time | 15 minutes |
| Total time | 30 minutes |
| Region | Italian |
| Website | Johnny Carino's |
This recipe is a mild version of Spicy Chicken & Shrimp dish found at Johnny Carino's Restaurant which is super delicious and but way too spicy for me. It is very versatile by changing up the vegetables and/or the meat like asparagus, zucchini, or prosciutto.
Ingredients
1/2 cup Milk (1%)
1 jar Alfredo Sauce ((or make 1.5 cups from scratch))
1/2 cup Pecorino Romano Cheese (grated)
2 Chicken Breasts (thinly sliced)
1lb Shrimp (deveined and peeled with tail on)
1/2 cup Dry Vermouth (or dry white wine)
1 cup Mushrooms (sliced)
2 tablespoons Butter
6 Sun-dried tomatoes (rehydrated in water and then chopped)
Cayenne Pepper (to taste)
Fresh Basil (thinly sliced for garnish)
.75lb Penne Pasta
Note
As a side note, my husband does not like mushrooms, so the pictured recipe is mushroom-free. I suggest adding the mushrooms if you like them (and have them) as it does improve the flavor of the dish.
Directions
Step 1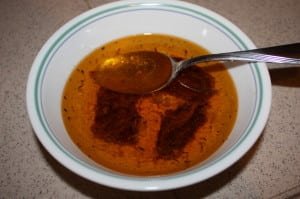 Place sun dried tomatoes in water to hydrate about 1/2 hour before you start cooking. Prepare your vegetables, chicken, shrimp and pasta. Set everything next to the cooking area for easy assembly.

Step 2
In small sauce pan, combine milk, romano cheese, and alfredo sauce. Bring to a slow simmer and cook for about 2-3 minutes. Cover and remove from heat.
Step 3
(Cook each person's pasta individually. You can choose to cook it all at once, but the shrimp and chicken will dry out. So, for the next few steps, you will want to only use 1/4 of each ingredient.)

In large pan, sauté 1/2 Tbl butter with 1/4 mushrooms, 1/4 sun-dried tomatoes and 1/4 green onions for about 2-3 minutes.
Step 4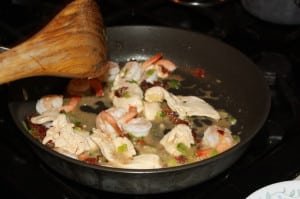 Add 1/4 of the chicken and cook for about 2 minutes or until chicken is about 1/2 cooked. Add 1/4 shrimp and 1/4 of the wine to the pan and continue to cook until shrimp is pink and no longer translucent.
Step 5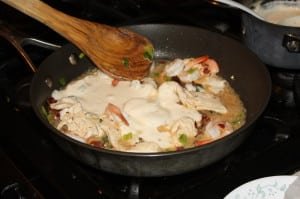 Add about 1/4 of the sauce to the shrimp and chicken mixture and add cayenne pepper to taste. For me, I like just one small dash, my husband gets 2-3 dashes.
Step 6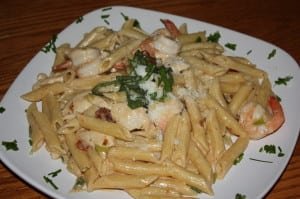 Bring chicken, shrimp and sauce mixture to a boil and toss in the pasta. Cook for about 1-2 minutes making sure pasta and sauce are well combined. Remove and serve with basil garnish.