What is velveting chicken? It's a process where you pre-cook marinated chicken so that when you use it in your stir fry recipes, it is tender, juicy and not over cooked or dried out.
Velveting Chicken for Chinese Stir-Fry
Print recipe
| | |
| --- | --- |
| Serves | 4 |
| Prep time | 5 minutes |
| Cook time | 20 minutes |
| Total time | 25 minutes |
| By author | Dish Ditty |
Ingredients
1 Egg White
1 tablespoon Cornstarch
2 teaspoons Chinese Cooking Wine (or Cream Sherry)
1 teaspoon Seasoned Rice WIne Vinegar
1/4 teaspoon Salt
2 Chicken Breast (boneless, thinly sliced)
Note
Velveting chicken can be done in advance and chicken can be refrigerated for use in stir fry recipes later.
Directions
Step 1
Whisk together egg white, cornstarch, wine, seasoned rice wine vinegar, and salt.
Step 2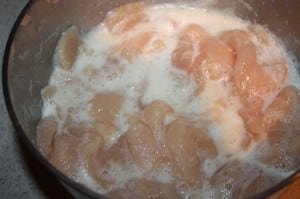 Mix in the thinly sliced chicken. Cover with plastic wrap and refrigerate for 1 hour.
Step 3
Wipe off excess liquid. Drop in small batches into boiling water.
Step 4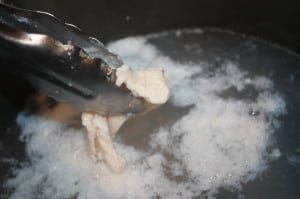 Boil for about 1-2 minutes, or until chicken is fully cooked. Remove from the water quickly, do not over cook.
Step 5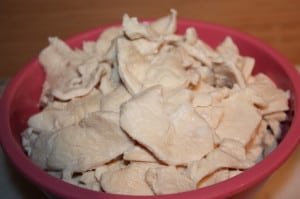 Use this chicken in your stir fry dishes to create a soft tender white chicken as seen in dishes like Snow White Chicken with Snow Peas.
Step 6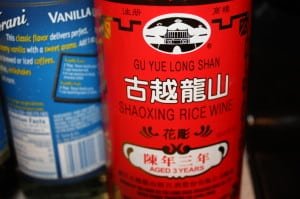 Picture of typical Chinese Wine
Updated on Jan 3, 2015
I have spent many a night cooking Chinese food and so many times I wondered "how in the world does the Chinese restaurants get their chicken so tender?". Well, come to find out, they use this process called "Velveting" to process the meat so that it comes out consistent and perfect ever time.
There are several ways to velvet chicken. The other way is to do something similar, but instead of boiling water, you cook the chicken in oil. Another way uses baking soda and is a quicker marinade.
** Update 1/3/2015: I tried the baking soda method tonight and it was so easy and simple. I added about 1/4 cup of baking soda with 3/4 cup of water and added the sliced chicken. Then I let it sit while I prepared the vegetables/etc. It sat for no more than 20 minutes. Then I rinsed it and added the wine/vinegar/sugar/salt marinade with cornstarch and stir fried it. Wow! Super soft and delicious. I'll create a separate post later for this method, but I suggest you try it.
I will be presenting several recipes in the future that use this technique. So, look for recipes labeled 'Snow White Chicken and…'.
You can also use this method for beef, however, I haven't tried it.  I think beef may need a different wine as well as a longer marinade. Once I try it, and it is successful, I will post it and hopefully inspire you to try out your hand at some home cooked Chinese recipes.
Enjoy!