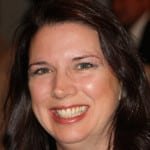 Many people assume that German food means sausages, Weiner Schniztel, and Sauerbrauten. Yes, those are some of the "standards", but that is just the tip of the iceberg when exploring the German culinary options.

If you are looking for a wonderful dinner out, then you need to check out Teskes Germania Restaurant in downtown San Jose California. It definitely has the best German food in the SF Bay Area. This is a family run establishment with a full bar and a fantastic menu that goes way beyond the standard fare.   
Try the Rahmschnitzel, veal cutlets in a light cream sauce with Spatzle (German noodles) and red cabbage. Feeling hungry yet? Not yet, then Try the Schweine Haxe, a baked pork shank.  
In the summer time, Teske's celebrates with Summer Fest where they have live bands and a special menu. In my recent trip, I decided to be adventurous and try something new off this menu. So I tried the Paprikagulash, cubed tender beef in a spicy paprika sauce. YUMMM!
Don't forget to order a German beer with your dinner, my favorite is Bittburger. Or, if you like wine they have a great wine list.
Teskes is not just a great place for dinner, it's also a great place to host an event. It is a beautiful and fun venue for weddings, anniversaries and other special occasions. The hostess, Cynthia, goes out of her way to make everything perfect. And don't forget, the patio is perfect for dancing.
I had my wedding reception at Teskes and every year my husband and I celebrate our wedding anniversary there. We even held my parents' 50th wedding anniversary at Teskes and it was the best party of the century.
So, next time you are trying to figure out where to go to dinner, go to Teskes Germania Restaurant, and tell the Baumann family I sent you!