This is a dish I've adapted from "Elisa Celli's Italian Light Cooking" cookbook.  The original recipe was a pasta side dish using broccoli rabe (or rapini).  Not having that on hand, I substituted broccoli, and a few modifications later ended up with a very easy and FAST complete dinner.  My kids LOVE it, and ask for it if I don't make it at least once a month.
Weeknight Broccoli Chicken Pasta Dinner
Print recipe
| | |
| --- | --- |
| Serves | 6-8 |
| Prep time | 15 minutes |
| Cook time | 15 minutes |
| Total time | 30 minutes |
| By author | Jammin' Judy |
Quick and easy weeknight dinner using broccoli, chicken and pasta that the entire family will like.
Ingredients
1lb Rotini or Farfalle Pasta (You can substitute what you have on hand, long noodles not recommended)
2 - 3 tablespoons Olive Oil (Amount depends on the size pan you use)
1lb Boneless Chicken (Cube or slice the chicken)
4 Green Onions (Sliced)
4-5 cloves Garlic (minced or crushed)
1/2 teaspoon Black Pepper
1 teaspoon Italian Seasoning
1 teaspoon Marjoram
1 cup Sliced Mushrooms
1 head Broccoli (chopped (or 1 lb frozen))
1/3 cup White Wine or Dry vermouth
1/2 cup Shredded Parmesan Cheese (Can use grated or)
Parmesan Cheese (for serving)
Optional
1/2 teaspoon Red Pepper Flakes
Note
You can make this recipe in less than an hour (I've been able to make it in 30 minutes when I'm using one pot to boil noodles & one to cook the rest of the ingredients) and you can substitute easily with what you have on hand.  I have made this with leftover cooked chicken (my original inspiration), chicken thighs, chicken breast, and omitted the chicken altogether for my vegetarian friends.  If you are using cooked chicken, skip step 2 and add it when you add the broccoli. You can also substitute other noodles, however I do not recommend the "long" noodles (fettuccini, angel hair, etc.).   Don't have fresh broccoli?  No problem, just use frozen!  Don't have marjoram or like it spicy?  Omit it and add extra Italian Seasoning if needed!  Be creative, and enjoy a healthy, easy dish the whole family will enjoy.
Directions
Step 1
Boil the noodles according to the package directions until cooked al dente. Drain and set aside (optional: reserve 1/4 C cooking water).
Step 2
In a large sauté pan, heat the olive oil over medium-high heat. Add the green onions & garlic and cook until soft & fragrant (1-2 minutes).
Step 3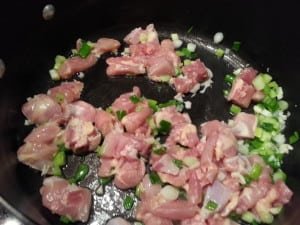 Add the chicken and cook (stirring frequently) until almost cooked through (~5 minutes).
Step 4
Add the Italian Seasoning, marjoram, pepper, and red pepper flakes and stir until spices distributed
Step 5
Stir in the mushrooms and broccoli and cook 1 minute. Add the wine or vermouth and bring to a boil.
Step 6
Cover, reduce heat to low (keep a simmer going!) and cook until the broccoli is cooked through but still firm (~5-10 minutes depending on the pan).
Step 7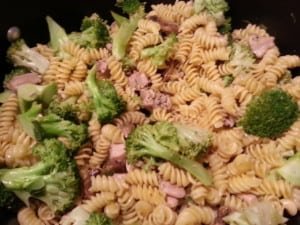 After the broccoli is cooked remove from heat. Combine the noodles & chicken/broccoli mixture in a large bowl (or large pan if you are doing this in one pan like I do).
Step 8
Mix in the parmesan cheese, adding reserved liquid as needed to make creamy.