Pancake mix? No way!  Use this simple recipe which will give you delicious pancakes every time with ingredients you most likely already have.  No need for Bisquick, Aunt Jemima, or Krusteaz. You can make the perfect pancake every time.
This recipe was handed down from my Grandma to my Dad.  He is now 83, and this is one of his favorite breakfasts that he makes himself.  We call it "fail proof" because you really can't mess it up.  You can use other types of bread if you like, but you may need to adjust the milk depending on how much bread you use.
I just made these again this morning before school/work.  It really is easy and quick.  I didn't measure and put a little too much flour, so I added more milk and an extra egg.  No problem. Fail proof.
Bread Pancakes
Print recipe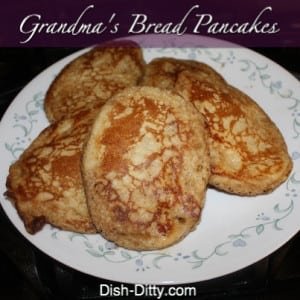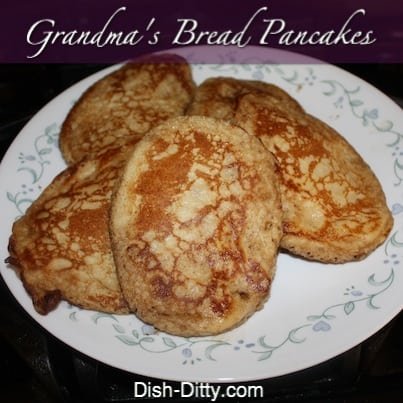 | | |
| --- | --- |
| Serves | 4 |
| Prep time | 10 minutes |
| Cook time | 10 minutes |
| Total time | 20 minutes |
| Allergy | Wheat |
| By author | Mary E. Hayes |
Ingredients
4 Slices White Bread (With or without crusts, doesn't matter)
1 cup Hot Milk
1/2 cup Flour
1/2 teaspoon Salt
1 tablespoon Baking Powder
2 Eggs (beaten)
2 tablespoons Butter (for frying)
2 tablespoons Oil (for frying)
Note
This recipe came from my Grandma Hayes.  My dad grew up eating these and loved them.  Now I love them too.  I was hooked on using Krusteaz for my pancakes, I mean just add water, right?  But once I started making these pancakes myself, I realized how super simple and fail proof they are. I'm never going back to boxed pancakes again.
Directions
Step 1
In a mixing bowl, pour the hot milk over the bread slices and mush up the bread. I found it helpful to use a whisk to completely break up the bread and create a good base.
Step 2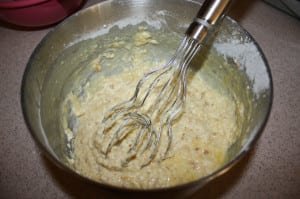 Mix together the flour, baking powder, salt. Add flour mixture to the bread/milk mixture. Then add the beaten eggs and mix well. At this point the batter should be able to pour, but not be runny. If it is too thick, add 1/4 cup of milk to thin it out. The thicker the batter, the thicker the pancakes.
Step 3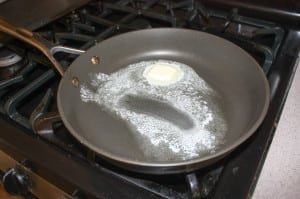 Heat 1 tablespoon of butter and 1 tablespoon of oil in a medium sized frying pan.
Step 4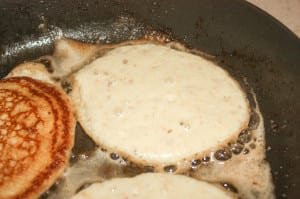 Drop spoonful's of the batter into the hot butter/oil and fry on one side until bubbles appear in the pancakes. Double check to make sure the bottoms of the pancakes are golden and flip to cook the other side.
Step 5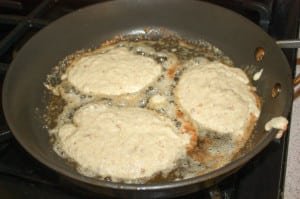 Once the pancakes are cooked on both sides, remove from heat. Repeat step 4, adding additional oil and butter if needed, and cook all pancakes.