Probably the best tasting apple pie I've ever made. The bourbon sauce tossed into the apples before baking really kicked up the pie making this Apple Bourbon Pie Recipe my new favorite.


Apple Bourbon Pie
Print recipe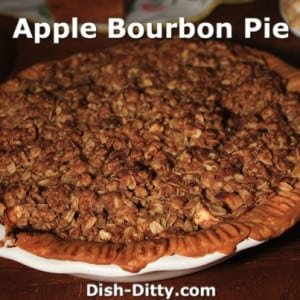 | | |
| --- | --- |
| Serves | 8 |
| Prep time | 30 minutes |
| Cook time | 45 minutes |
| Total time | 1 hours, 15 minutes |
| By author | Dish Ditty |
Ingredients
Crust
Filling
6-8 Large Granny Smith Apples (Peeled and sliced)
2 1/2 tablespoons Flour
1/2 teaspoon Ground Cinnamon
1/2 cup Bourbon
1/2 cup Apple Cider
1/2 cup Brown Sugar (loosely packed)
3 tablespoons Butter
1 teaspoon Vanilla Extract
2 Cinnamon Sticks
Topping
1 1/2 cup Old Fashioned Oats
3/4 cups Brown Sugar (loosely packed)
1/4 cup Flour
1/4 teaspoon Cinnamon
1/4 teaspoon Salt
6 tablespoons Butter
Directions
Preheat
Step 1
Preheat oven to 375 degrees
Filling
Step 2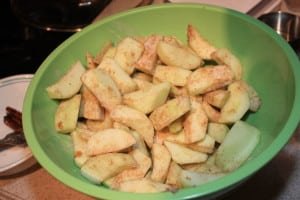 Mix together the 2 1/2 tablespoons flour with 1/2 teaspoon cinnamon. In a large bowl, toss the apples with the flour/cinnamon mixture. Set aside.
Step 3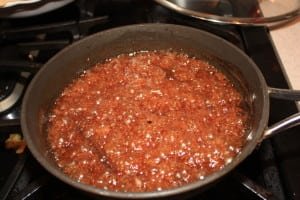 In a saucepan, combine the bourbon, apple cider, brown sugar, butter, vanilla and cinnamon sticks. Bring it to a boil and then reduce to a simmer. Cook for 5- minutes, or until the sauce is thickened.
Step 4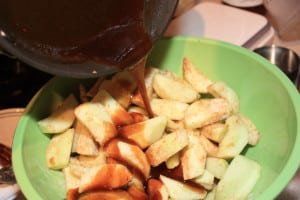 Pour the sauce over the apples and toss to coat evenly.
Step 5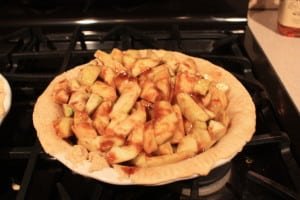 Pour the apples into the partially baked pie crust. If you use an unbaked pie crust, it may get soggy. In addition, you may find that you need to cook the pie much longer to fully bake the crust, causing the apples to loose shape.
Topping
Step 6
To make the crumble topping, in a large bowl, combine the oats, sugar, flour, cinnamon and salt. Add the butter and use your hands to mush and crumble it together. I like to put on food service gloves as it does get a little messy. You want to mix it for several minutes to make sure that the flour and butter is well incorporated into the oats.
Step 7
Sprinkle the crumble topping onto the apples, being sure to cover the pie evenly and to the edges.
Bake it!
Step 8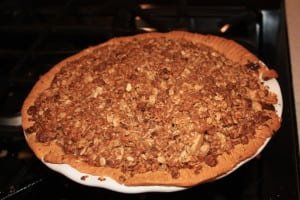 Bake at 375 degrees for 30-45 minutes, removing from the oven when the topping is golden brown.