When I make this Beef with Bok Choy Recipe, I make a big batch because my family likes it so much, they want it for lunch the next day and leftovers the next night. If you have a smaller family, half this recipe. It's also a beautiful dish to serve to guests and it is quick to cook, so you'll have more time to spend with your guests.

Beef with Bok Choy
Print recipe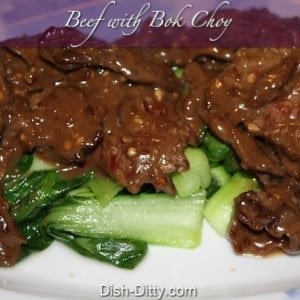 | | |
| --- | --- |
| Serves | 8 |
| Prep time | 15 minutes |
| Cook time | 15 minutes |
| Total time | 30 minutes |
| By author | Dish Ditty |
Ingredients
1/3 cup Wine (white or red)
1/3 cup Light Soy Sauce
1/4 cup Sesame Oil
1/4 cup Oyster Sauce
2 tablespoons Minced Garlic
1 teaspoon Ground Ginger
1/4 teaspoon White Pepper
1.5lb Beef (sliced thin - a little marbled but not fatty)
3 tablespoons Vegetable Oil (divided)
3 tablespoons Cornstarch
6 cups Baby Bok Choy (cut up or whole)
Water
Salt
1/2 cup Beef Stock
Directions
Preparation
Step 1
Do this in at least one hour in advance or as much as the night before.

Step 2
Wash and cut baby bok choy, or just clean baby bok choy if you like it whole. I prefer bite size vegetables, but the dish looks prettier if you leave the baby bok choy whole. Set aside.
Step 3
In medium sized bowl, combine wine, soy sauce, sesame oil, oyster sauce, garlic, ginger, and pepper together. Slice your beef in about 1 to 1.5 inch long thin slices and place in marinade. Cover and refrigerate for about 1 hour. (To be honest, I've done this step and only marinated it for about 10 minutes while I prepare other parts of the meal and it has been delicious as well, but the one hour marinade will make a tastier dish)

Cook it!
Step 4
Remove bok choy and beef mixture from the refrigerator. Placing a strainer over a bowl, strain the liquid from the beef, reserving 1/2 cup of the liquid for use when cooking. With strained beef, add 3 Tablespoons of cornstarch and mix until you no longer see the white powder from the cornstarch.

Step 5
In large wok or pan, heat pan and add 1 Tablespoon of the vegetable oil. Add baby bok choy to pan and a couple dashes of salt. Cook on high, adding 1 or 2 Tablespoons of water if needed to keep the vegetables slightly moist. When vegetables are done to your preference (I like them slightly wilted but not mushy), remove them and set aside.
Step 6
In same pan, remove any liquid (no need to wash) and heat 1 Tablespoon of oil and half the beef mixture. Cook on high for about 3-4 minutes, or until the beef is browned and mostly cooked. Do not overcook. The beef is sliced thin and only needs a couple of minutes on high to fully cook. Add 1/4 cup of the reserved liquid and 1/4 cup beef stock. Stir and cook on high for one minute while to create a nice sauce. Remove from pan and repeat to cook the 2nd half of the beef mixture. I generally don't wash the pan in between, just remove as much of the beef liquid as possible.

Step 7
On large platter or bowl, layer the bok choy with the beef mixture on top. Serve with Rice. You can mix the two together if you prefer, but I like the way it looks when the beef sits on top of the vegetables.

Pictures