My dad is awesome. At 84, he's still kickin' and cookin' chicken'. Last night he reworked a recipe he wrote back in the 1980's when microwave recipes were in fashion. And the result was phenomenal.


Ginger Chicken
Print recipe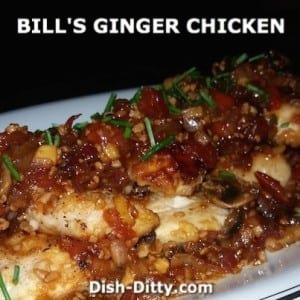 Ingredients
1lb Chicken Breast Tenders (See Note 1)
1 cup Cream Sherry (See Note 2)
2-4 tablespoons Extra Virgin Olive Oil
1/2-1 cup Flour (for dredging - see Note 3)
Salt & Pepper (to taste - See Note 4)
1 cup Mushrooms (washed and sliced)
4 Shallots (diced, or 1 medium onions)
2 tablespoons Ginger Root (about 1.5 -2 in., Peeled and minced)
1 Tomato (chopped)
2 tablespoons Garlic (minced)
1/4 cup Soy Sauce (low sodium)
2 tablespoons Chinese Oyster Sauce
4 dashes Tabasco Sauce
1 cup Green Onions (1/4 in. slice, green stems included)
Note
1. Boneless Chicken thighs or breasts cut into 2 in. strips can also be used.
2. Although Extra Virgin Olive Oil may be used, the lighter oils are preferred as they do not smoke at the frying temperature need for the chicken
3. Use Gold Medal Wondra flour, if available.
4. Finely ground Sea Salt and ground whole Peppercorns preferred.
Directions
Step 1
Place the chicken pieces in 3/4 cup of Cream Sherry. Cover and set aside. Prepare your vegetables while you let the chicken soak in the sherry. Prepare all vegetables before starting step 2 below:
Step 2
In a large pan, add olive oil and heat on medium high. Drain the chicken and dredge in the Wondra flour. Arrange pieces in the hot oil and lightly sprinkle with salt & pepper. When brown, carefully flip and lightly sprinkle the browned side with salt & pepper.
Step 3
In the same pan on medium heat, add the onions, mushrooms, ginger and garlic. Sauté until the onions are translucent. Add the tomatoes and cook for another 2-3 minutes, stirring constantly.
Step 4
Add the soy sauce, oyster sauce, and Tabasco sauce. Cook for another 3-5 minutes on medium until liquids are reduced in half. Add the remaining 1/4 cup cream sherry. Cook again, for 3-5 minutes, or until the liquid is reduced.
Step 5
Add the chicken back into the pan and turn to coat. Cover and cook for about 2 minutes to heat the chicken back up and coat with the sauce.
Step 6
Before serving toss in the Green Onions and Plate and garnish with a few whole fresh chive stems.

Pairs well with rice.
---
Ginger Chicken (Original Version)
Print recipe
Ingredients
1lb Chicken Breasts (skinless, cut in 1)
1 cup Mushrooms (sliced)
1 Medium Onion (diced)
1/4 cup Ginger Root (minced)
1 Whole Tomato (chopped)
1 teaspoon Garlic (minced)
1/2 cup Soy Sauce (low sodium)
1/4 cup Chinese Oyster Sauce
4 dashes Red Pepper
1 tablespoon Cornstarch
1 cup Green Onions (chopped)
6 cups Cooked Rice
Directions
Step 1
Mix all ingredients, except the copped green onions, in a microwave dish. Microwave on high for 10 minutes, stirring at least once during the process. Before serving, toss in the green onions. Serve with steamed rice.
---
Bill In The Kitchen Making Ginger Chicken!
A beautiful Chinese inspired dish that is full of flavor, I think this is going to quickly become one of our family favorites. The original recipe? As far as microwave recipes go, it is very good. This new recipe? Amazing.
I added both recipes so you can choose which recipe to try (try the new one!).
Enjoy!
---