Chewy, chocolatey goodness can be found in Bill's Walnut Fudge Cookies. More Please!


Walnut Fudge Cookies
Print recipe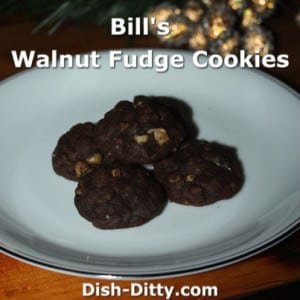 Ingredients
1/2 cup Walnuts (chopped)
1 cup Butter (softened)
1 1/2 cup Sugar
2 Eggs
2 teaspoons Vanilla Extract
2 cups All-Purpose Flour
2/3 cups Cocoa Powder
3/4 teaspoons Baking Soda
1/4 teaspoon Salt
2 cups Semi-sweet Chocolate Chips
Note
This dough will be a bit stiff but he does use a stand mixer on stir. Be sure to cream the sugar and fat good!
1. Use half butter and half crisco same measurement
2. Use half dark brown sugar and half granulated sugar
3. Bill used mini semi sweet chips NOT milk chocolate
4. Of course nuts are optional
5. It calls for a teaspoon size cookie, Bill has used an 4 oz ice cream scoop works fine
6. Bake to 8 minutes or until just spreading, you want the puffed up coming and real soft and fragile out once they cool they will firm up unless you want them crispy like then bake to 10 minutes they will spread out in the oven.
Bill has played with this recipe, and he has even ground oat meal and substituted half of the flour with it and it was great.
Directions
Step 1
Preheat oven to 350 degrees F (175 degrees C).
Step 2
In large bowl, beat butter, sugar, eggs, and vanilla until light and fluffy. Combine the flour, cocoa, baking soda, and salt; stir into the butter mixture until well blended. Mix in the chocolate chips and walnuts. Drop by rounded teaspoonfuls onto ungreased cookie sheets.
Step 3
Bake for 8 to 10 minutes in the preheated oven, or just until set. Cool slightly on the cookie sheets before transferring to wire racks to cool completely.
---
This recipe is not from Bill of Cherri & Bill. This Bill is one my sister's friends. My sister made this for the family last year for Christmas. I've been waiting… It took my sister a full year to get me this recipe, but I finally have it, and now so do you!
Enjoy!
---