Water is in short demand here in California. This pasta dish was created with that in mind. No wasted water!

California One Pot Pasta
Print recipe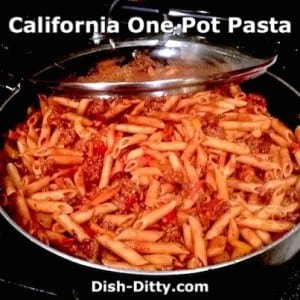 Ingredients
1lb Lean Ground Beef
1 teaspoon Italian Seasoning
1 teaspoon Garlic Powder
1/2 Yellow Onion (diced)
1/4 Pepper (green or red) (diced)
1/2 cup Red Wine
1 cup Shredded Carrots
1 jar Marinara Sauce (any kind)
Water
1lb Penne Pasta
Directions
Step 1
Brown ground beef in a large pan. Add garlic powder, italian seasoning, onions, peppers and shredded carrots. Cook until onions and carrots are softened. Add wine cook and 1 minute. Add 1 jar sauce, 1 jar water and bring to a boil. Add 1 pound pasta, stir and when bubbly, cover, turn to low and cook covered for 15 minutes. No wasted water!
---