This is a Guest Ditty I have been waiting for. Cynthia makes some of the best butter chicken I've ever had and I finally was able to tease the recipe out of her.


Cynthia's Butter Chicken
Print recipe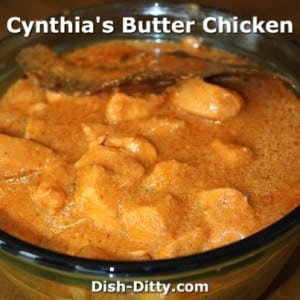 Ingredients
1lb Boneless Chicken Breasts (cubed)
1 Package Shan Butter Chicken Masala Seasoning (more or less to taste)
6-8oz Plain Yogurt
2 teaspoons Ginger Garlic Paste
1 teaspoon Salt
2/3 cups Butter
1/4lb Cashew Nut Paste (See notes)
1 1/4lb Fresh Tomatoes (blanched, peeled & pureed)
1/2 cup Ketchup
1 teaspoon Kasuri Methi (crushed between the palms)
2-3 Green Cardoman
3 Cloves
1 Small Piece of Cinnamon
Salt to taste
1/2-1 cup Cream (optional)
Directions
Step 1
In a large bowl, mix the yogurt, garlic paste, and salt together. Add the diced chicken, mix well, cover, and refrigerate for at least 3 hours, preferably overnight.
Step 2
Prepare your cashew nut paste by following the recipe below. Puree the tomatoes with the ketchup.
Step 3
To get the authentic flavor you can grill the chicken pieces before adding to the gravy. But to save time/energy, you can also cook in the oven. When grilling/or in oven don't throw away the marinade add it to the gravy in the step below.
Step 4
Heat butter in sufficiently large pot/pan and low heat, add the cashew nut paste and fry till the rawness goes and turns lightly brown. Add the tomato/ketchup puree. Keep sautéing continuously and cook on low heat for 5 minutes. Now add the chicken , kasuri methi and the aromatic spices, keep stirring continuously and let it simmer on low heat. Add fresh cream if desired.
---
Cashew Nut Paste
Print recipe
Ingredients
1 1/4 cup Raw Cashew Nuts
1+ cup Warm Water
Directions
Step 1
Soak coarsely chopped cashews in 1 cup of warm water and cover for 45 minutes.

Drain and process in a blender (not a food processor) adding 2 to 3 tablespoons water, as needed, to make a smooth paste.

Transfer to an airtight container and store in the refrigerator 4 to 6 days or 4 months in the freezer.
---
If you are not familiar with Butter Chicken (also known as Murgh Makhani), it is a traditional Indian dish made with chicken simmered in a mild curry sauce. Generally pink or orange in color, it is a very pleasant smelling and looking dish. Because of the type of curry, it generally does not have an overpowering scent like some other curry dishes.
Last weekend we had a reunion with my son's old swim team friends. We were a pretty tight nit group and we all worked hard to keep the team running so our kids could have the best environment for their sport. As our kids separated from the team, we found that we still really enjoy hanging out with each other, so last weekend was our summer reunion.
I asked everyone to bring something that they could share with us at Dish Ditty. But, to Cynthia, I specifically asked for her Butter Chicken recipe. She has been making this for us since I joined the team and it is one of the things I look forward to at our gatherings (the next is Jerly's Pancit).
I haven't made this myself yet, but now I have the recipe and can try it out. I'm so excited! Now, time to get cookin'! ENJOY!
---