This is one of my father's favorite beef roast dishes that my mother used to make. It's a delicious and tender beef roast that is full of flavor. A beautiful dish that is perfect for serving for a dinner party or even as a pot luck dish.
Rolled Shoulder Medley
Print recipe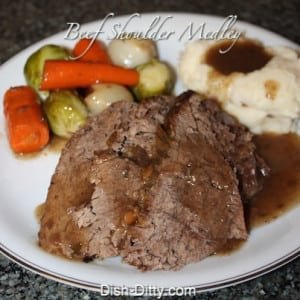 | | |
| --- | --- |
| Serves | 8 |
| Prep time | 15 minutes |
| Cook time | 4 hours |
| Total time | 4 hours, 15 minutes |
| By author | Cherri via Dish Ditty |
Ingredients
4-5lb Rolled Boneless Beef Shoulder Roast
1/4 cup Flour
2 tablespoons Oil
2 teaspoons Salt
1/8 teaspoon Pepper
1/4 teaspoon Dried Thyme (or 1-2 teaspoons of fresh thyme or one bunch of thyme leaves)
2 Beef Bouillon cubes (Sodium free works well)
1 cup Water
1 cup Red Wine
6 Medium Carrots (peeled and quartered)
1lb White Pearl Onions (peeled)
20oz Brussel Sprouts (cleaned)
Directions
Step 1
Salt & pepper the roast and then roll it in flour until coated on all sides. Heat oil in Dutch oven over Medium heat. Brown roast for about 15 to 20 minutes, turning as necessary. Add thyme, bay leaf, bouillon cubes, water, and wine. Cover tightly. Simmer over low heat, turning occasionally for about 3 hours and 15 minutes or until roast is tender. You can also choose to bake at 300 degrees in the oven.
Step 2
Add carrots and onions to roast mixture. Cook for 10 - 15 minutes. Add Brussels sprouts; simmer for another 15 minutes longer. Place roast in center of large heated serving platter and surround with vegetables.
Step 3
For the gravy, remove the bay leaf and spoon off fat from surface of gravy. Bring gravy to a boil. You can either simmer the gravy until reduced to desired consistency, or you can thicken with cornstarch and water mixture. Spoon some of the gravy over roast and vegetables. Serve remaining gravy in bowl.