My mom, Cherri, made the best stuffed peppers.  All the recipes coming from her cookbook were created to feed our large family of 8 plus friends.  When it was stuffed peppers night, we would always have friends wanting to join us.
This is one of two stuffed pepper recipes.  The second recipe, posted right after this one, is my dad's adjusted version of this recipe: 'Bill's Stuffed Peppers'. It was created for a couple picky eaters who don't like onions or rice.  Oh boy.  But, it's a delicious rendition, although this version is my favorite.
One thing you will notice about this recipe is that it uses uncooked rice.  Please note that because the rice isn't cooked, the mixture will feel a little wet due to the milk.  This is needed so that the rice will get soft.  Some recipes call for cooked rice.  I've tried those recipes, but nothing comes close to my mom's recipe.
Try either recipe or both.  What's your favorite?
Stuffed Peppers
Print recipe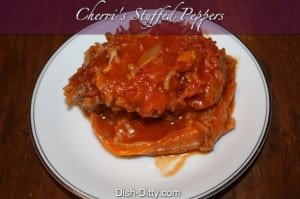 | | |
| --- | --- |
| Serves | 12 |
| Prep time | 20 minutes |
| Cook time | 2 hours |
| Total time | 2 hours, 20 minutes |
| By author | Cherri via Dish Ditty |
Ingredients
2lb Lean Ground Beef
1 cup White Rice (uncooked)
2 Eggs
1 Onion (diced)
1 1/2 cup Milk
1/2 teaspoon Salt
1/2 teaspoon Pepper
4-6 Peppers (Green, Yellow, Orange or Red)
1 can Tomato Soup (28 oz)
Directions
Step 1
Preheat oven to 350 degrees.
Step 2
In large bowl, mix together ground beef, eggs, onion, rice, milk, salt and pepper. It will be fairly wet, but that is necessary since you are using uncooked rice.
Step 3
Cut the peppers in thirds or half, depending on the size of your peppers. You can choose to make larger whole stuffed peppers, but we found that it is too large for most people. So a half or third of a pepper is about right.
Step 4
Fill the pepper shells with the ground beef mixture and arrange them evenly in a large roasting pan. Try not to overlap the peppers.
Step 5
Pour the tomato soup over the stuffed peppers and add a little water (about 1/4 cup) to the can, swish around the can to get the remaining soup, and pour over the peppers
Step 6
Cover and bake at 350 degrees for 2 hours.
Step 7
Serve with Mashed Potatoes or cooked rice.