Hamburger heaven as a Chinese Stir-Fry. Super easy, cheap and fast.

Chinese Hamburger Stir-Fry
Print recipe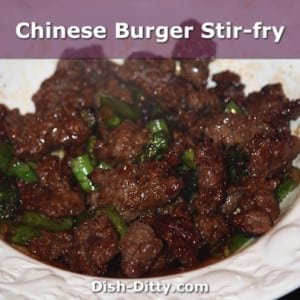 Ingredients
Marinade
2 cups Ground Beef (93% lean)
1 1/2 tablespoon Tri-tip Rub
2 tablespoons Light Soy Sauce
1 teaspoon Sesame Oil
2 tablespoons Lo Mein Sauce
Stir-Fry
3 tablespoons Vegetable Oil
1/2 bunch Asparagus
Sauce
3 tablespoons Soy Sauce
1/2 teaspoon Seasoned Rice Wine Vinegar
1 teaspoon Sesame Oil
2 tablespoons Lo mein sauce
Directions
Step 1
Combine 'Marinade' ingredients and let set for about 5 minutes while you prepare the asparagus.
Step 2
Pre-cook your asparagus by wrapping it in a wet paper towel and cooking in the microwave on high for 1 minute. Cut into 2" strips.
Step 3
In a small bowl, combine the sauce ingredients and set aside.
Step 4
In a large wok or pan, heat 3 tablespoons of oil. Add the marinated ground beef in large chunks, do not break up as you want it to be like little bites of hamburger. Cook on medium-high until brown.
Step 5
Add the asparagus and sauce mixture. Cook for an additional 1 - 2 minutes. Serve hot over rice.
---