A simple quick cookie you can make when you are in need of a sugar fix but don't want to have sugar! Chocolate Banana Oat (No Sugar Added) Cookies Recipe is also a great gluten free cookie.
Chocolate Banana Oat (No Sugar Added) Cookies
Print recipe
Ingredients
1 Banana
1 Egg
1/2 teaspoon Vanilla
1 dash Salt
1 tablespoon Unsweetened Cocoa Powder
1/2-3/4 cup Original Oats
1/8 cup Ground Flax Seed (Optional)
1/2 cup Flaked or Shredded Coconut (Optional)
Directions
Step 1
Mash the banana and mix it with the egg until well combined. Add the vanilla, salt and cocoa powder and mix well. Add the remaining ingredients, using just enough oatmeal to give the cookie batter a thick consistency.

You can add flax seed (for added protein and fiber) and coconut (not 100% no sugar added if you are adding coconut). If you aren't as concerned about the sugar, you can also add semi-sweet chocolate chips.

Drop onto parchment paper and bake at 350 degrees for 12-14 minutes.

Refrigerate leftovers.
---
I make these cookies regularly as it really curbs my craving for chocolate. Super easy, super quick, and super tasty. Perfect when you are looking for a No Sugar Added Cookie Recipe.  Enjoy!
---
Recipe without Chocolate Chips: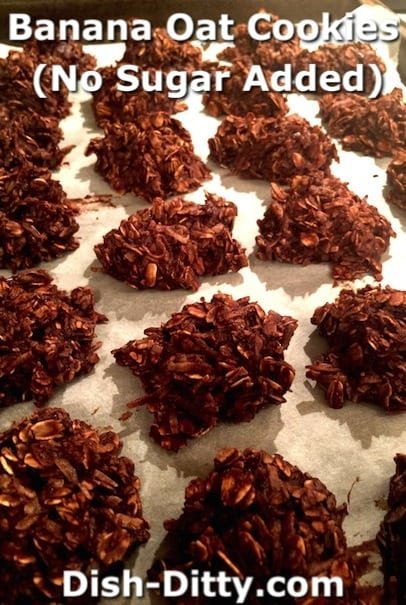 ---
Recipe With Chocolate Chips: