Low carb breakfasts can get pretty boring really fast. This is one way I keep my breakfasts interesting with my Black Bean Breakfast Skillet.


Black Bean Breakfast Skillet
Print recipe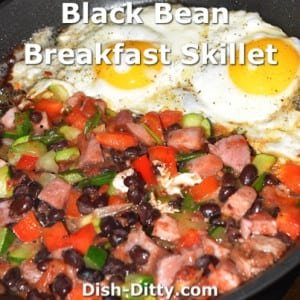 Ingredients
3 tablespoons Butter (divided (or use Pam))
Zucchini (diced)
Red Bell Pepper (diced)
Green Onion (diced)
1/4 cup Ham (diced)
2 Eggs
Salt & Pepper (to taste (eggs only, there's enough salt in the hash))
1-2 tablespoon Salsa
2 heaped tablespoons Black Beans
Directions
Step 1
In a medium skillet, melt 2 tablespoons of butter (or spray liberally with Pam cooking spray). Add the vegetables and ham and cook for several minutes to get the vegetables softened.
Step 2
Push the hash over to the side and add the remaining butter. Let it melt and then crack two eggs into the butter. Add a couple dashes of salt & pepper to the eggs.
Step 3
Add the salsa and black beans to the hash. Stir and cook the hash and eggs, stirring the hash occasionally, until the eggs are cooked to your liking.
Step 4
Optionally, you can add some cheese to the hash and/or eggs and give it 30 seconds or so to melt before serving.
---
Yes, beans have carbs so it's not 100% low carb. I do allow myself 'good carbs', thinks like beans, fruit and occasionally oats (without sugar of course). For me, this is a great hearty breakfast full of vitamins, protein and fiber to fill me up.
Enjoy!
---