Looking for a healthy satisfying treat? This Cookies & Cream Chia Seed Pudding Recipe takes just a couple ingredients and a little time to set, and you will be pleasantly pleased.

Cookies & Cream Chia Seed Pudding
Print recipe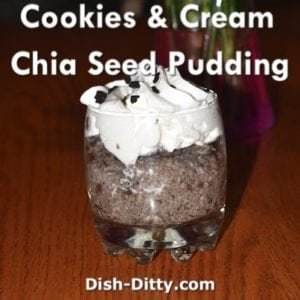 Ingredients
2 cups almond milk (or milk of your choice)
3 tablespoons honey
1 1/2 tablespoon vanilla extract
1/2 cup chia seeds
1/4 cup Oreo cookie crumbs
Directions
Step 1
Mix the almond milk and honey together, making sure the honey is completely dissolved. Then stir in the vanilla and chia seeds, making sure the chia seeds are all mixed in. Let mixture stand for 10 minutes. Then, using a whisk, stir the mixture again to make sure all the chia seeds are un-clumped. Yep, un-clumped. They get settled to the bottom, so take a few minutes with a whisk and try to get a smooth mixture. Then stir in the Oreo cookie crumbs. Refrigerate for 6 hours before serving.
---
My quest to make a good chia seed pudding has turned into an obsession to make as many flavors as I can. This by far is the most decadent one so far.
Enjoy!